September 08, 2011
CMU Receives Historic Gift From Trustee William Dietrich; CMU Names H&SS After Dietrich's Inspirational Mother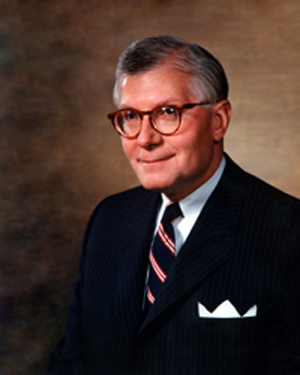 Businessman, scholar, philanthropist and longtime Carnegie Mellon trustee
William S. Dietrich II
yesterday announced plans to bequest a $265 million fund to support CMU — the largest gift in CMU's history and one of the 10 largest by an individual to a private higher education institution in the United States. The gift is believed to be the 14th largest gift to higher education worldwide.
The historic gift will support interdisciplinary education and research initiatives across the university and across the globe, such as studies connecting technology and the arts, and names the College of Humanities and Social Sciences the Marianna Brown Dietrich College of Humanities and Social Sciences after Dietrich's late mother, a homemaker who inspired and supported Dietrich throughout his life.
"This day is not about Bill Dietrich. It's about my mother,
Marianna Brown Dietrich
, and it's about western Pennsylvania, and it's about Carnegie Mellon," Dietrich said during yesterday's ceremonial announcement.
"My mother's life centered around her family and her unconditional love for her family. … The happiness of her little family, my father, my sister and myself took precedence over all else. … My mother would be thrilled to have her name associated with this wonderful school, and it is my hope that in naming this college for her you will remember some of the values that made her life so meaningful."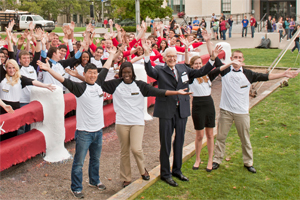 Calling Carnegie Mellon "a special place," Dietrich said he is making this landmark gift to the university because of its global approach and the quality of its faculty and students, who bring interdisciplinary thinking and complex problem-solving strategies to real-world problems.
"This university puts Pittsburgh on anybody's world map of great research cities," Dietrich said. "Brilliant people come here as students and faculty, and their presence in our community adds something extraordinary. They attract firms like Google and Intel, they create new companies and new ideas. They add to the city's vibrant artistic and cultural life. They win Tonys and Oscars and Nobel prizes. They never stop exploring. They never stop looking for a better way to do something, and they never stop working to make things better tomorrow than they are today."
CMU President
Jared L. Cohon
used "phenomenal" among several superlatives to describe the gift — taking inflation into account, it's larger than the Andrew Carnegie gift that founded the university in 1900 — and said it will benefit the entire university allowing CMU to extend its impact around the world.
"Bill understands the special character of Carnegie Mellon with the unique ability of our faculty to work collaboratively at the intersections of science, technology, art, humanities, business and policy," Cohon said. "This remarkable gift will give us the resources to enhance and extend those collaborations, expand the university's impact in the world and enrich the education of our students."
Cohon said the gift also represents a statement of the progress H&SS has made under the leadership of Dean
John Lehoczky.
"It's also a statement about Carnegie Mellon's commitment to the future of humanities and social sciences at this university," he said.  
During a ceremony, a plaque with an engraved image of Marianna Brown Dietrich was unveiled. It will be installed inside the main entrance of Baker Hall. Dietrich was presented with a replica of the Fence, which was painted with the words "Thank you, Bill!"
The Dietrich gift brings the university's Inspire Innovation Campaign total to approximately $950 million, which is 95 percent of the campaign's $1 billion goal. The campaign will continue until June 30, 2013.
For more on Dietrich and yesterday's historic event, including video clips and photos from the announcement, the celebration at the new Marianna Brown Dietrich College of Humanities and Social Sciences, and a concert, go to
http://www.cmu.edu/dietrich
Pictured at the top is William S. Dietrich II.
Above, Dietrich celebrates in front of the Fence with students.