February 02, 2023
INI Staff Recognized at College of Engineering Awards Ceremony
By Ann Lyon Ritchie
Media Inquiries
Reenie Kuhlman
Director of Strategic Communications
Carnegie Mellon University's College of Engineering celebrated staff achievements at the annual Staff Recognition Luncheon and Awards Ceremony on Thursday, January 20.
Three Information Networking Institute (INI) employees were nominated for Staff Recognition Awards honoring outstanding work: Rachel Amos, director of career services and employer relations, for the Inspirational Leadership Award; Miroslava Angelova, director of business operations, for the Continuous Excellence Award; and Christa Jones, director of marketing and events, for the Spirit Award.
Faculty and staff from the INI attended and showed support for awardees. INI Director Dena Haritos Tsamitis applauded INI team members for their award nominations and years-of-service awards.
"Much of the work our staff does to make INI successful is behind the scenes, so it's not often we are able to provide the recognition that is deserved, but it's important work that has a profound impact on our work here at INI, at the university and in our community," said Haritos Tsamitis. "I'm extremely proud of our staff who apply their talent, knowledge and dedication to make the extraordinary happen for INI students every day."
Amos won the Staff Recognition Award for Inspirational Leadership, an award that "recognizes an individual who inspires others. They influence without authority, often putting the interests of others ahead of their own and serve as 'a champion for staff.'" Her recent achievements included developing a Canvas course about career services and impressively providing counseling and guidance to a record-breaking 258 INI students who sought internships last summer.
Joanne Peca, associate professor of the practice and INI associate director, nominated Amos.
"Rachel is a key member of my team and the INI as a whole; her sincerity toward student goals, her tireless enthusiasm and career counseling talent are key components in the first-rate experience the INI delivers our students. She is a strong leader for our students as she guides them into their careers and is an inspiring leader for our staff at CMU as she exemplifies excellence and dedication," Peca wrote in her nomination letter.
---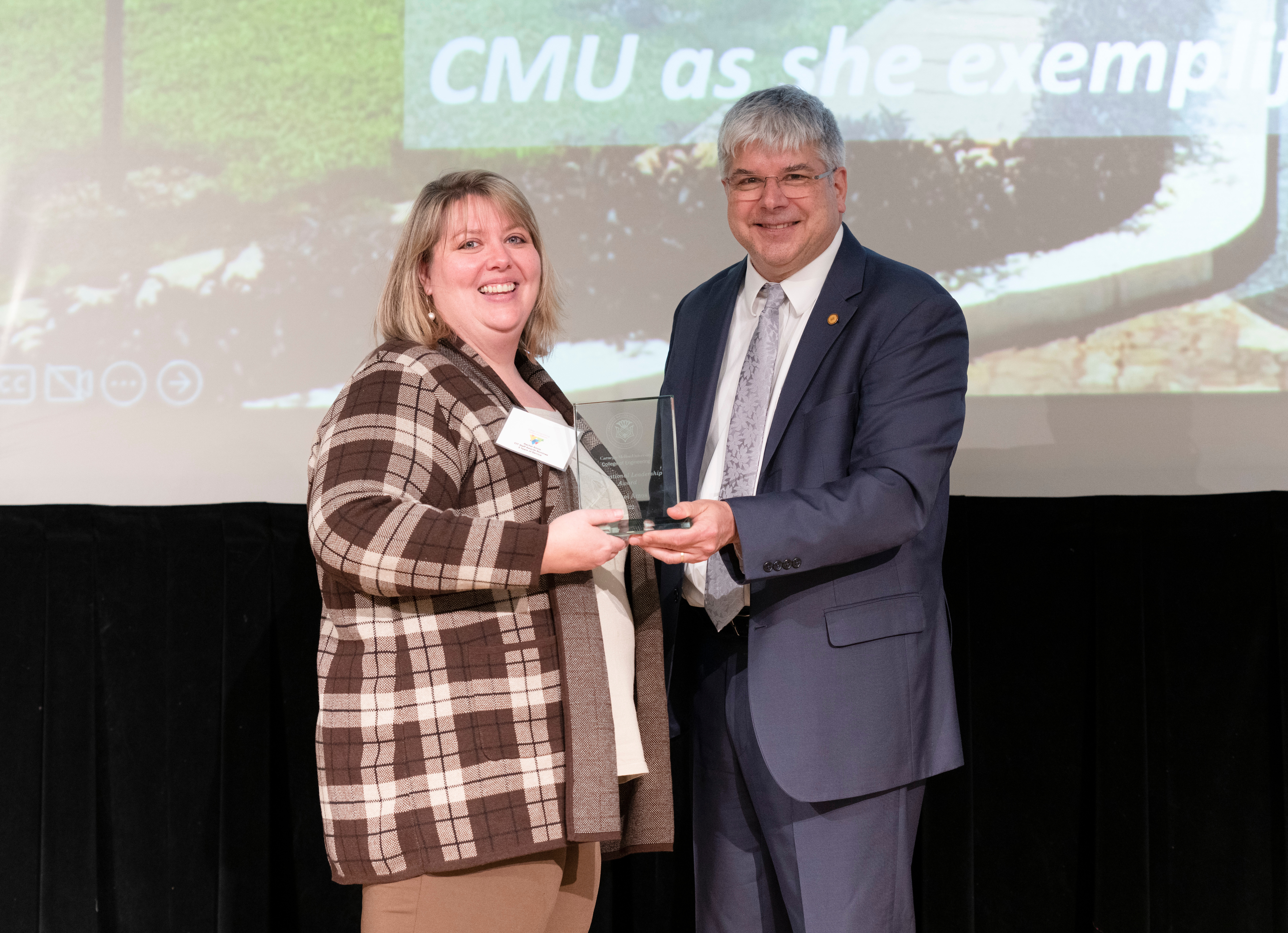 Rachel Amos receives her award from William Sanders
---
William Sanders, the Dr. William D. and Nancy W. Strecker Dean and a professor in the College of Engineering, presented Amos with an engraved award and monetary prize. The college hosts a staff appreciation event annually, and at this years' event the following INI employees were also recognized with a years-of-service award: Christa Jones (20 years), Miroslava Angelova (15 years), Nicholas Tsamitis (15 years) and Rachel Amos (five years).