February 06, 2020
Three INI students will represent CMU at RSAC 2020
Pragati Mishra, Samuel Sabogal Pardo, and Wai Tuck Wong are RSA Conference Security Scholars
By Deana Lorenzo dlorenzo(through)andrew.cmu.edu
Media Inquiries
Jessica Shirley
Director of Strategic Communications
Every year, the RSA Conference (RSAC) draws over 40,000 people from around the world to San Francisco for five days of sessions, workshops, and networking with the biggest minds in cybersecurity right now.
The theme of this year's conference is what RSA defines as "the most powerful tool to prevent cyberattacks:" the human element.
The conference, which takes place February 24-28, will be an opportunity for some of the brightest up-and-coming talent in the security field to showcase their research. Among them will be three students from the Information Networking Institute (INI): Pragati Mishra, Samuel Sabogal Pardo, and Wai Tuck Wong.
These students will represent Carnegie Mellon University (CMU) as part of the RSAC Scholar Program, which connects top cybersecurity students from 40 universities with their peers, industry experts and conference attendees. 
The INI has supported the RSAC Security Scholar Program since 2016, and with this year's cohort, has sent a total of 15 students to represent CMU at RSA over the past five years.
"This program is a key part of RSA's mission to spur professional growth and inspire the next generation of security leaders," said Dr. Dena Haritos Tsamitis, INI director and member of the RSAC Advisory Board. "It's been exciting to see the Scholar Program become what it is today: an invaluable opportunity for future innovators to exchange new ideas and share impactful work."  
first time at RSA? read advice from our director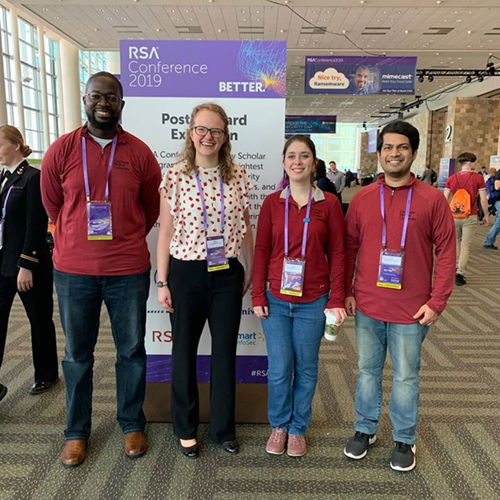 Last year, CMU had a big showing at RSAC: four students from the INI presented their research, and eight faculty and staff members from across the university spoke about topics ranging from security and human behavior to the security of robot-produced code. For RSAC 2020, CMU continues its strong representation with several speakers from the Software Engineering Institute (SEI), Emerging Technology Center (ETC), and CERT Division, as well as a keynote presentation by Dr. Lorrie Cranor, director of Carnegie Mellon's CyLab Security and Privacy Institute.
The INI students will demonstrate their work at a poster board session on Wednesday, February 26, 2020 from 12:00 PM to 1:00 PM in Moscone North.
Security Scholar Pragati Mishra, a bicoastal student in information security, hopes that she will be inspired by new ideas at RSAC. "It would be a great opportunity to hear about the latest research in the field, get exposed to cutting-edge solutions, and make connections that can be useful for life," she said.
At the poster session, Mishra will be sharing her research on the security of wearable tech, particularly the fitness tracker Mi Band 4. "Mi Band 4 is a very popular option with more than one million units sold, and its security has not been researched much," she explained.
"[RSAC] is going to be a great learning experience!" added Master of Science in Information Security (MSIS) student Wai Tuck Wong. "I personally am looking forward to the Human Element track in the conference. We learn about the technical and management aspects of security in school, but not so much the psychology and the people involved in security—as they often say, the weakest link in cybersecurity is often the person sitting in front of the computer screen!"
Samuel Sabogal Pardo, an MSIS student in his second year, is priotizing networking at RSAC. "It is a great opportunity to share the results of your research with other people that could take it further to advance the frontiers of knowledge," he said. "I hope to connect with people and share those contacts with my friends at the INI."
---
About RSA ®C Security Scholar Program
RSA ® Conference Security Scholar occurs during RSA ® Conference and connects 80 of the brightest up-and-coming cybersecurity students with leading experts, peers and Conference attendees. The goal of the program is to share knowledge, experience and connections to enrich the discourse on how to stay ahead of cyberthreats. Learn more: https://www.rsaconference.com/securityscholar.
About RSA Conference
RSA ® Conference is the premier series of global events where the world talks security and leadership gathers, advances and emerges. RSA Conference events are where the security industry converges to discuss current and future concerns and get access to the people, content and ideas that help enable individuals and companies to win, grow and do their best. It is the ultimate marketplace for the latest technologies and hands-on educational opportunities that help industry professionals discover how to make their companies more secure while showcasing the most enterprising, influential and thought-provoking thinkers and leaders in security today. Learn more: www.rsaconference.com