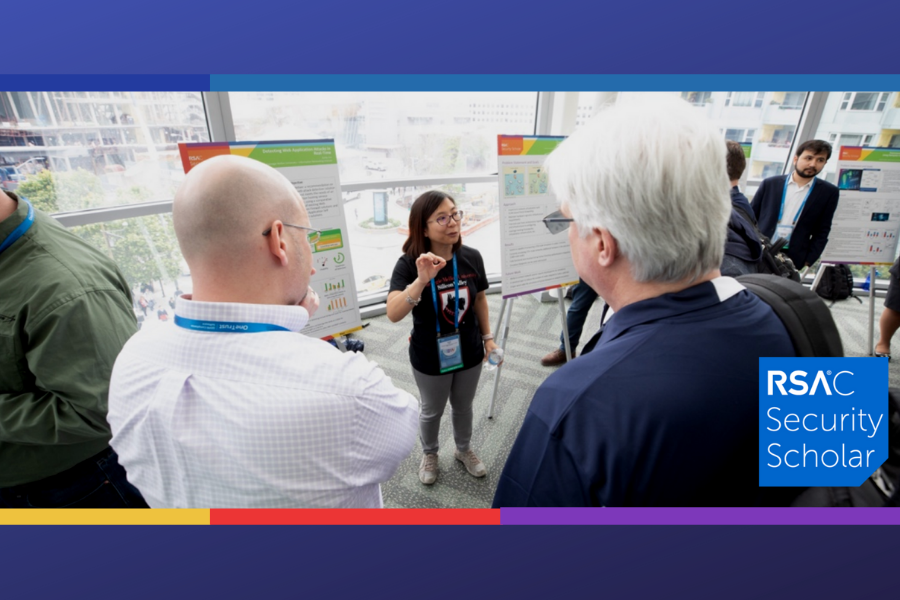 February 27, 2019
Four INI students will represent CMU at RSA Conference 2019
Nicholas Amon, Ankit Jena, Jamie Thorpe and Era Vuksani are RSA Conference Security Scholars.
By Jessica Shirley jshirley(through)cmu.edu
Thousands of cybersecurity professionals are headed to San Francisco from March 4-8, 2019 for RSA® Conference (RSAC) 2019. Among them will be four Information Networking Institute (INI) MS29 students selected as RSA® Conference Security Scholars : Nicholas Amon, Ankit Jena, Jamie Thorpe and Era Vuksani.
The scholar program connects the brightest up-and-coming cybersecurity students from 40 universities with leading experts, peers and conference attendees. Since 2016, Carnegie Mellon University (CMU) has sent eight INI students from diverse backgrounds through the RSAC Security Scholar Program.
"The program has been an extraordinary learning experience for INI students these past three years," said Dr. Dena Haritos Tsamitis, Barbara Lazarus Professor in Information Networking, director of the INI and member of the RSA Conference advisory board. "These scholars are future thought leaders in the cyber workforce and I believe the experience of sharing knowledge and connections within a diverse community is essential to advance our ability to stay ahead of cyber threats."
In addition to a full conference pass, the RSAC Security Scholars have access to a customized and exclusive itinerary that includes reserved seating at the opening keynote, an invitation-only dinner with leading experts in the field and a private showing of the RSA Booth on the Expo floor. Each will also participate in an open poster session, during which Conference attendees are encouraged to drop in and meet the scholars.
The INI students will demonstrate their work at a poster board session on Wednesday, March 6, 2019 from 2:00 PM to 3:00 PM in Moscone West, Level 2. 
"RSA Conference is one of the largest conferences in cybersecurity and being amidst so many well-known security researchers and professionals will be a fantastic learning experience," said Ankit Jena, a bicoastal information security student graduating in May 2019. "We also get to meet with other security scholars from the best schools across the country, which will be an amazing opportunity to not just network, but also learn about their research." 
Jamie Thorpe, a CyberCorps Scholarship for Service (SFS) student, is particularly looking forward to sharing the work she did last summer as part of an internship at Sandia National Laboratories.
"The group I was working with was looking to explore network resilience analysis in a field outside of cyber, and chose a set of efficiency and resilience metrics designed to apply to carbon flow through biological networks," said Thorpe. "My task was to design and build an application to apply these metrics to a cyber network, and to determine whether the pre-defined tools were directly applicable or needed to be adjusted for a new type of network."
"I hope to just have a great all-around experience and to hear about cool work in cybersecurity," she added.
Fellow SFS student Nicholas Amon's research topic also stems from his summer internship experience. At the Mitre Corporation, he developed strategies and techniques to improve the performance of security operation centers (SOC).
"This research position allowed me to understand the operation of modern SOCs and the challenges they face in staying if not ahead, abreast of the adversary," said Amon. "It has provided me a platform to launch my career as a security professional."
---
Photo Caption: Goldy Lim, 2018 RSAC Security Scholar and MS28 bicoastal information security graduate, showcases her research from her  practicum project at CMU Silicon Valley:  "Detecting Web Application Attacks in Real Time."
About RSA ®C Security Scholar Program
RSA ® Conference Security Scholar occurs during RSA ® Conference and connects 80 of the brightest up-and-coming cybersecurity students with leading experts, peers and Conference attendees. The goal of the program is to share knowledge, experience and connections to enrich the discourse on how to stay ahead of cyberthreats. https://www.rsaconference.com/securityscholar
About RSA Conference
RSA ® Conference is the premier series of global events where the world talks security and leadership gathers, advances and emerges. RSA Conference events are where the security industry converges to discuss current and future concerns and get access to the people, content and ideas that help enable individuals and companies to win, grow and do their best. It is the ultimate marketplace for the latest technologies and hands-on educational opportunities that help industry professionals discover how to make their companies more secure while showcasing the most enterprising, influential and thought-provoking thinkers and leaders in security today. www.rsaconference.com