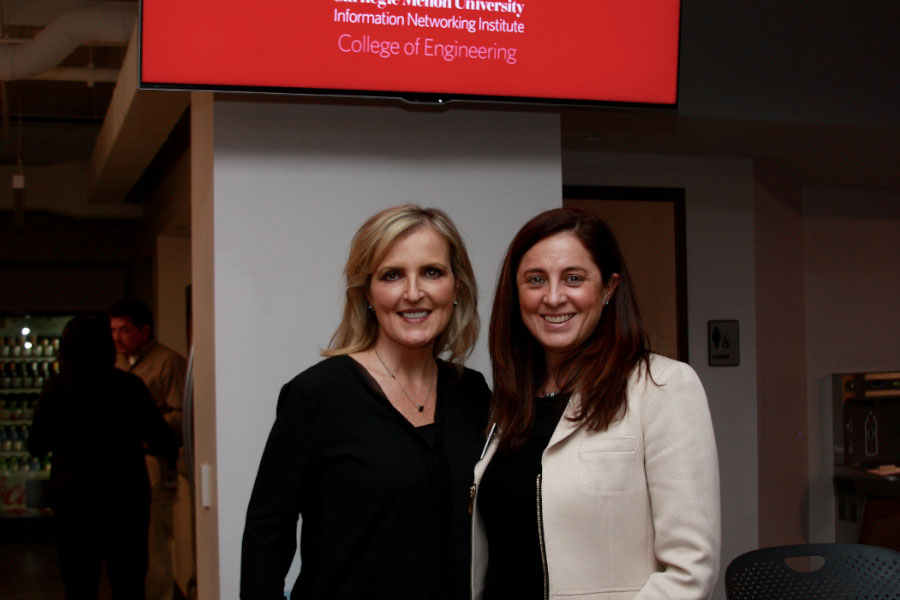 February 01, 2016
Talking 'diversity in tech' with CMU alumni
By Jessica Corry jcorry(through)andrew.cmu.edu
With a degree from one of the most prestigious institutions in the world, graduates of Carnegie Mellon University (CMU) are poised to do great things. Indeed, CMU alumni are among the most successful, innovative professionals in fields from robotics to business to theatre arts and more, and that is why it is so important that they engage in conversations about diversity in the workplace.
On Saturday, January 30, members of the alumni community did just that. Hosted by the Information Networking Institute (INI), in collaboration with the CMU Alumni Association, "Diversity in the Tech Industry" was an informal evening of networking, cocktails and talks led by INI director Dena Haritos Tsamitis and alumna Roseanne Silva (MS02).
Citing an American Association of University Women statistic, Tsamitis noted that the United States will need more than 1.7 million more engineers and computer scientists over the next 10 years.
"Society simply cannot afford to ignore the perspectives and talents of half the population," she said. "I challenge myself regularly to help inspire the next generation of female and male leaders who will create a more inclusive environment in both technology and enterprise."
Tsamitis charted the founding of Women@INI 10 years ago, along with the INI's myriad initiatives to foster diversity and create a supportive environment for all underrepresented minorities. Increasing the number of women at the INI, from 6 percent in 2002 to 34 percent in 2015, is but one example of the impact of these initiatives. Most notably, alumna Hiral Shah (MS19) was inspired by WINI to create a similar organization at Apple, called Women@Apple-Tech.
"An alumna founding a women's organization at a major company like Apple is a shining example of how our members pay it forward," Tsamitis said.
Another alumna with long-lasting impact is Silva, who was among the second graduating class in 1991.Today, she is a Senior Vice-President and Business Chief Technology Officer at PNC. As a leader in her field, Silva has sought out ways to give back to her alma mater. In 2012, she created an Andrew Carnegie Society (ACS) Legacy scholarship that supported one INI student. She also serves as the chair of the INI's Alumni Leadership Council and took part as a guest speaker for the 2014 "Lean In" series hosted by WINI. According to Silva, she would not be where she is today without the support of parents and teachers who believed in her abilities.
She and Tsamitis agree that a culture shift is still underway to ensure all young girls have that same level of support if they aspire to careers in STEM.
"INI was a phenomenal choice for me and part of why I am here today, and why I put my money, time and talent on the table, is because I really believe in this organization," Silva said.
For photos from the event, visit the INI's Flickr: https://flic.kr/s/aHsksREjwz