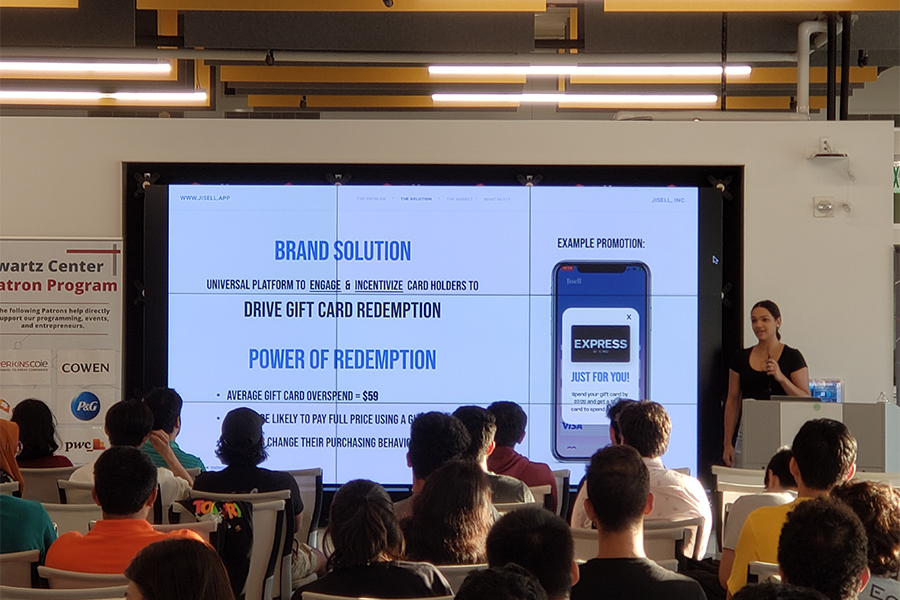 November 21, 2022
MSTV Alum Reflects on Swartz Fellowship Experience
Alex Cusell (MSTV '22) spent the summer as a Swartz Fellow working on her startup, Jisell.
By Jess Ignasky jignasky(through)andrew.cmu.edu
Alex Cusell (MSTV '22) may have graduated from the Integrated Innovation Institute's Master of Science in Technology Ventures program in May, but her work within Carnegie Mellon University was far from over.
Earlier this year, Cusell was accepted to the Swartz Center for Entrepreneurship's VentureBridge program, an initiative focused on helping Carnegie Mellon alumni founders succeed in their entrepreneurial ventures. The program provides seed funding, office space, access to a large network of mentors and innovators, and help with startup growth and future large scale funding rounds. 
We spoke to Alex about her experience as a Swartz Fellow, working in the VentureBridge program and what is next for Jisell.
---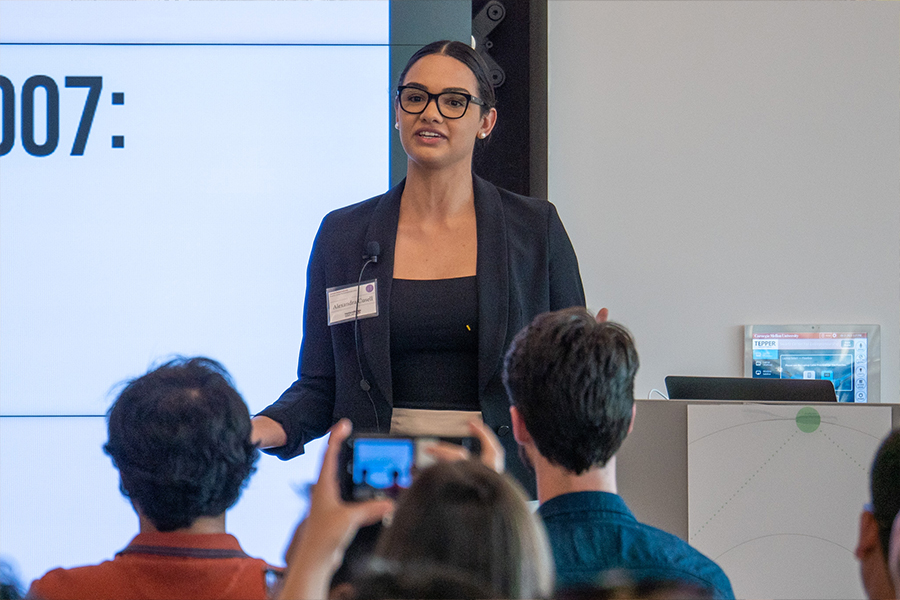 Alex speaking at VentureBridge Demo Day

iii: What was your experience like with VentureBridge over the summer? 
A: I was lucky enough to have graduated from Carnegie Mellon University's Silicon Valley campus, so I was living in San Jose when I got the fantastic news that Jisell was accepted to VentureBridge. Being based in Silicon Valley for the length of the program was so rewarding. I had the great pleasure of getting to know Namrata Banerjee, Senior Director of VentureBridge, extremely well. 
Namrata and the rest of the VentureBridge team organized many events in the Bay Area for the fellows to have fun and get to know each other better. We also got to network with VentureBridge alumni who gave us endless tips and tricks and walked us through their journey. We were also provided with an office space in the Bay Area, which was such a cool experience.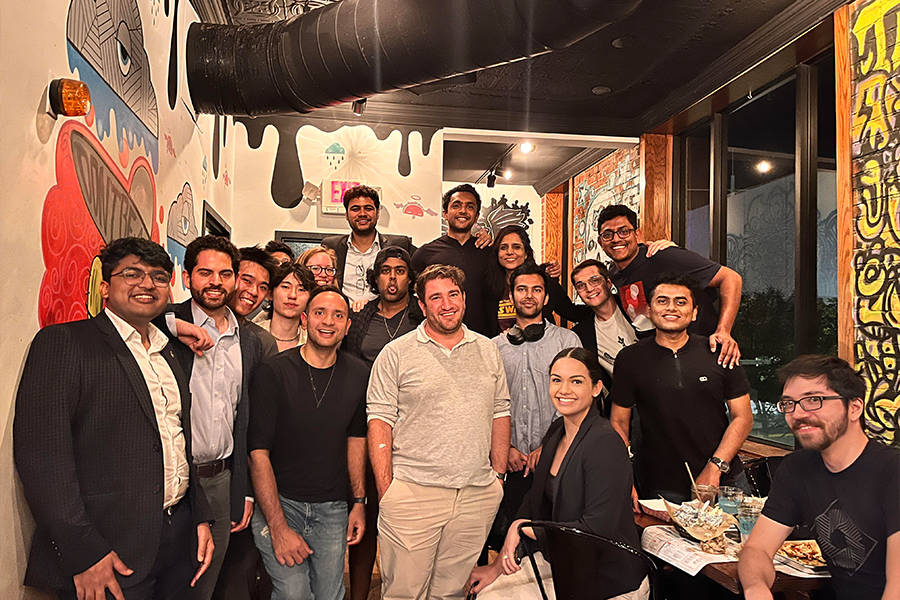 Alex and other Swartz Fellows in Silicon Valley
iii: What was your mentorship matching experience like? Do you still engage with your mentor while working on Jisell now? 
A: The mentorship provided by VentureBridge is unmatched! I had so many great mentors throughout the program. There were dozens of people who took me under their wing and supported me in any way they could. Especially Anna Fuller, a full-time founder and VentureBridge alumni working on a fantastic company of her own. 
Anna has been supporting my journey for quite some time now and I don't know where I'd be without her. She takes the time to sit down with me and walk me through step-by-step what I can do to skyrocket Jisell's success.
iii: Did you have the opportunity to engage with Swartz Fellow alumni during the summer? What was that experience like? 
A: I am constantly in communication with the great people I met through the Swartz Fellowship program. It's great to catch up with them when I'm in Pittsburgh. I frequently rely on the Swartz Fellow community whenever I need help with anything deeply business related. For example, working on calculating customer lifetime value. Because I have a technical background, it's so important to me to have this community of people to turn to whenever I need help or just want to verify my thinking.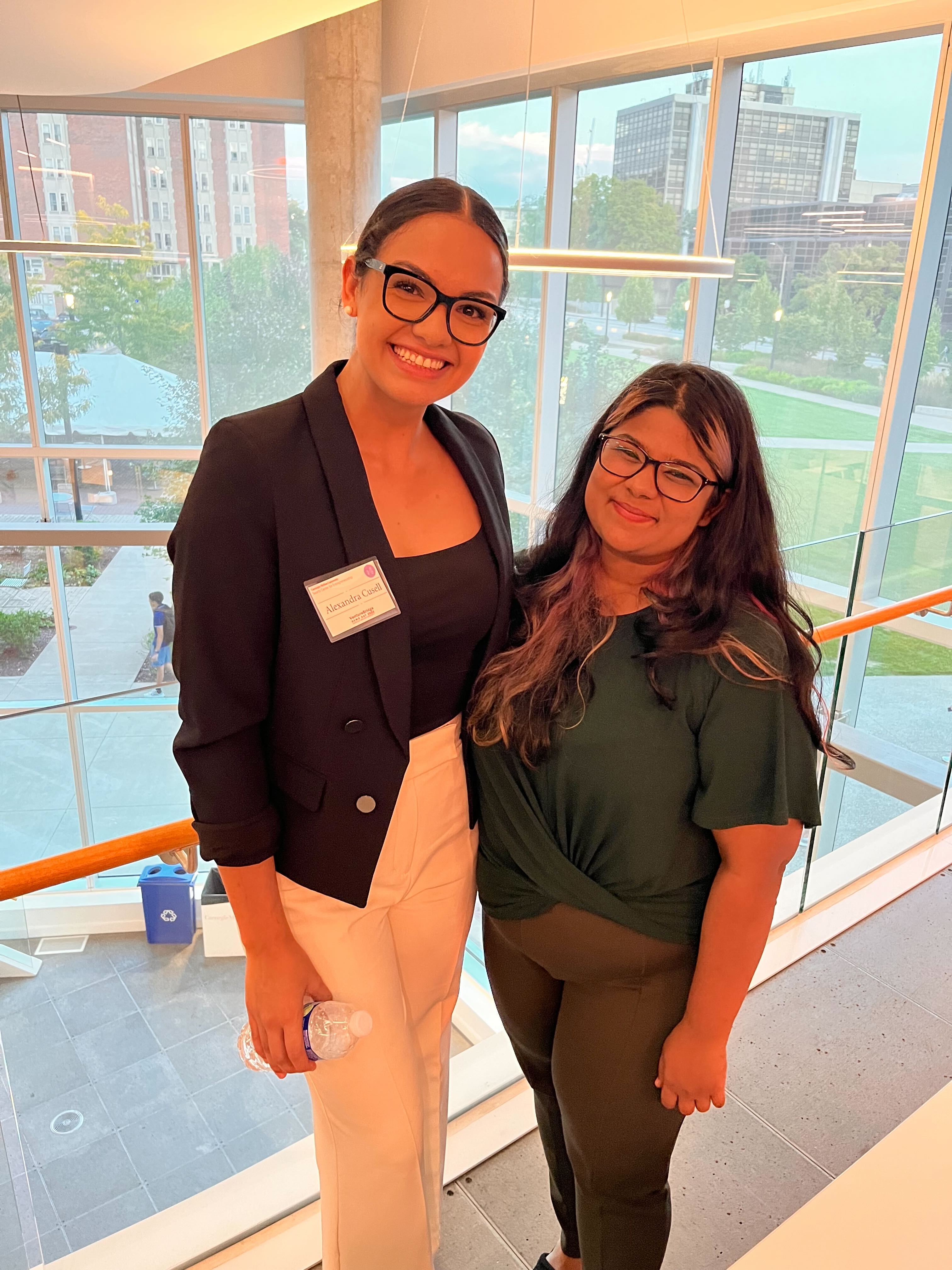 Alex at VentureBridge Demo Day 2022
iii: When we last spoke about Jisell, you were working to build a team to help you with AR development. How did that process go? 
A: Finding the right people is TOUGH, but it is probably the most rewarding part of what I do. Having a great team that believes in the shared vision and supports you is everything. It was very important to me that we not sacrifice our team culture for development work. We were able to find someone who contributed significantly to our AR development. Unfortunately, he was no longer able to stay on the team as he and his wife are expecting their first child. 
For a lot of the development, I rolled up my sleeves and explored an area I had never really been exposed to before: augmented reality. When things weren't working, all I wanted to do was bang my head against the wall. I got through it though, and it was really rewarding to know I stepped way out of my comfort zone and succeeded!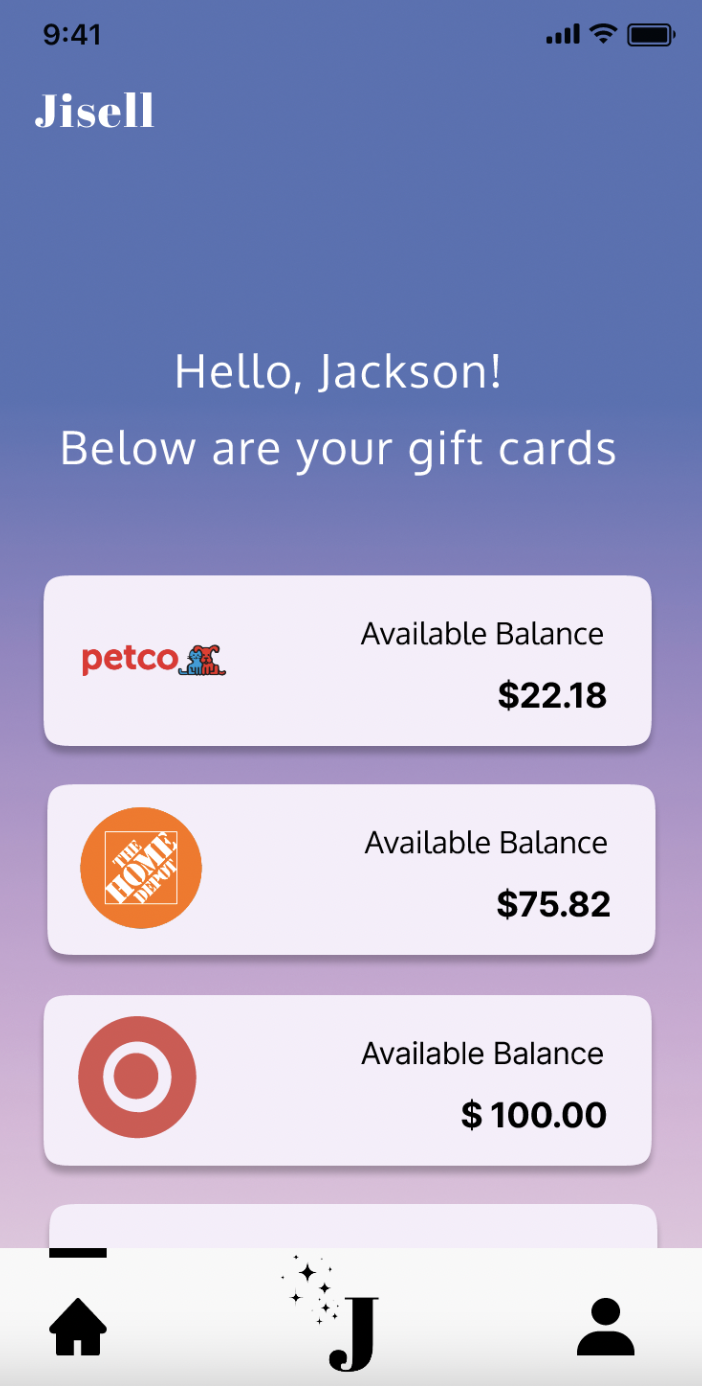 A look at Jisell's interface
iii: What is next on the horizon for Jisell? 
A: The ability to send gift cards on Jisell is right around the corner! Until then, you can experience exactly what it's like to send a gift on Jisell in the latest version of the app.
iii: Any other reflections you'd like to share about the VentureBridge program? 
A: I deeply admire the importance that VentureBridge places on providing value to their founders. They are always asking for our feedback and trying to figure out what we do and don't find helpful. They are constantly looking for ways to improve and it really shows. It makes me feel cared for and like they genuinely want Jisell to succeed, whatever it takes.