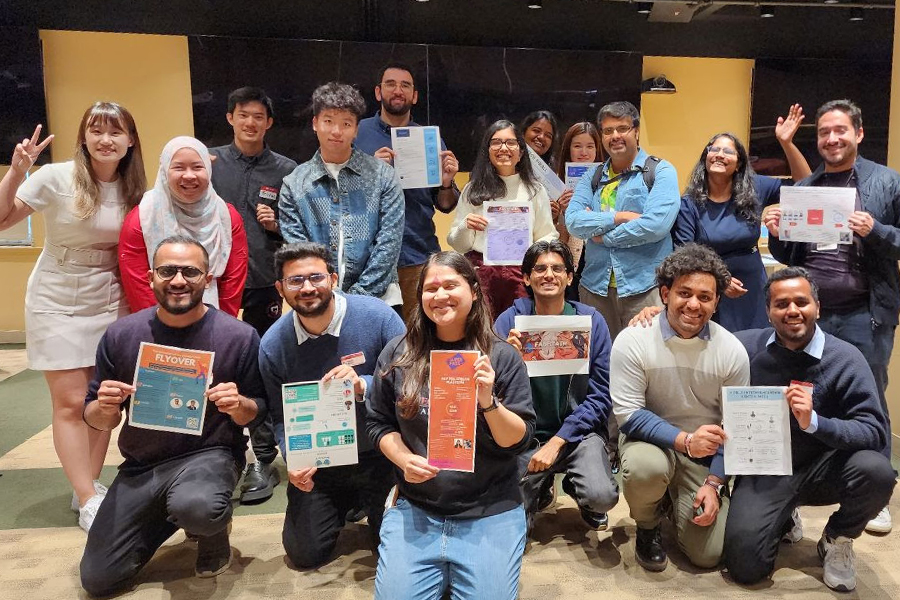 November 22, 2022
MSSM and MSTV Students Participate in VentureBridge Mentor Matching Event
Students in the MSSM and MSTV programs were matched with mentors from the VentureBridge program to help them work on their startup ventures.
By Jess Ignasky jignasky(through)andrew.cmu.edu
Earlier this fall, student founders in the MSSM and MSTV programs were visited by mentors from the Swartz Center for Entrepreneurship. At this event, 17 founders pitched to mentors about their startups and were matched with a mentor at the end of the event. 
Take a look at some of the startups and their founders below!
---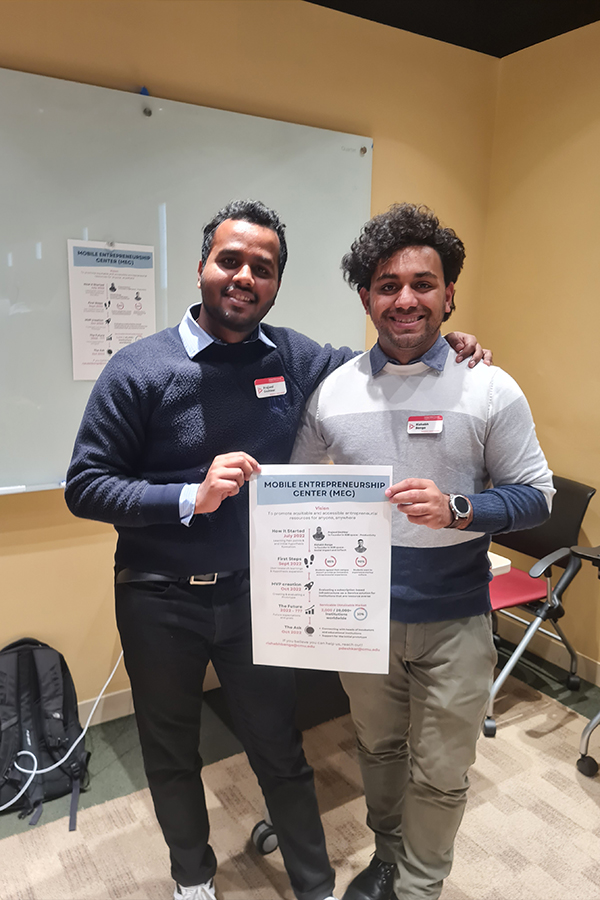 (Prajwal and Rishabh pose with a slide from their pitch deck)
Startup Name: Mobile Entrepreneurship Centre
Founders: Prajwal Deshkar & Rishabh Banga
About: Mobile Entrepreneurship Centre is a platform with the goal to promote equitable and accessible entrepreneurial resources for anyone, anywhere. The team is currently evaluating a subscription-as-a-service solution for institutions that are resource averse.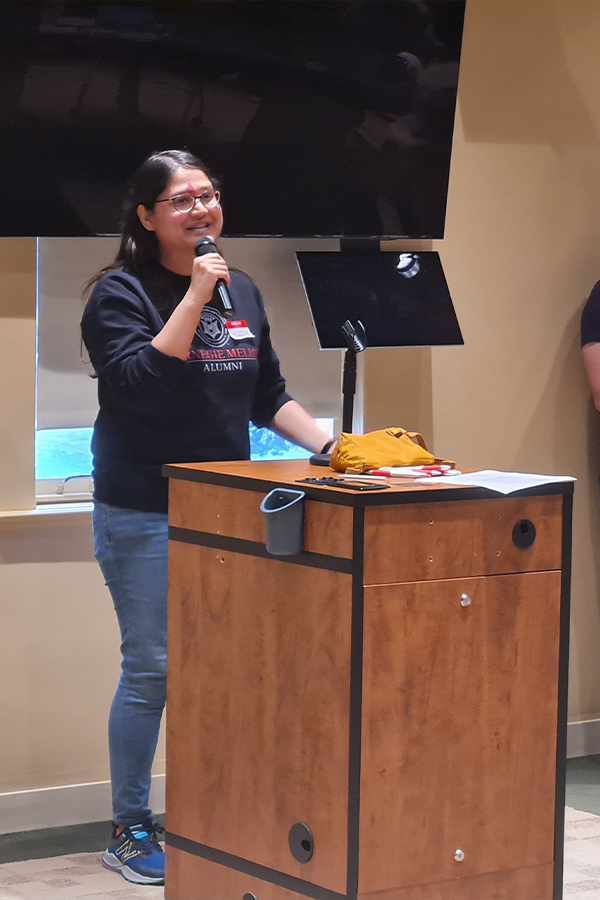 (Shivani pitches her startup, Super Pass)
Startup Name: Super Pass
Founder: Shivani Jhakmola
About: Super Pass is a pay-per-stream platform that aims to make online streaming subscriptions more affordable. The platform enables users to get control over the monthly budget by providing advanced insights into monthly subscription usage.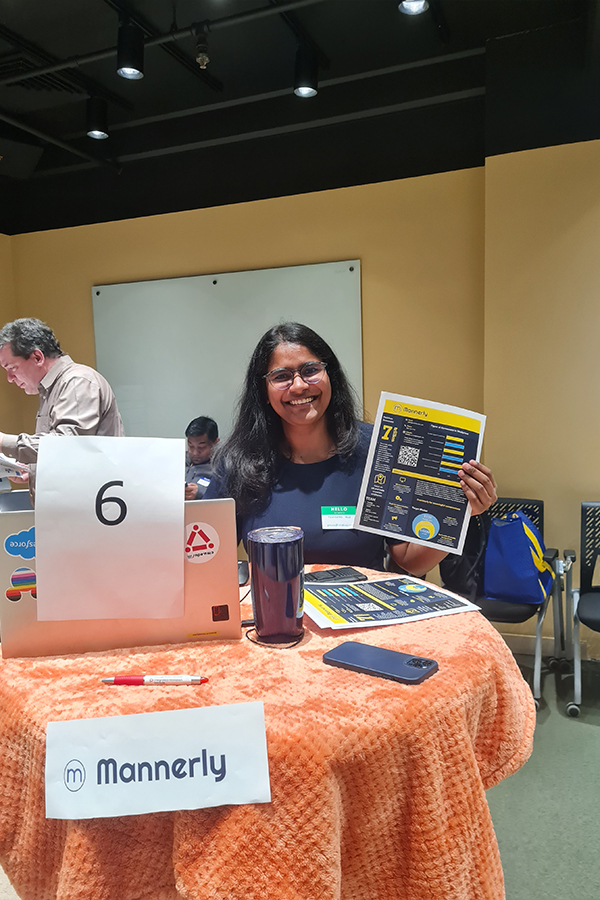 (Pranathi holds a pamphlet with information about her startup, Mannerly)
Startup Name: Mannerly
Founder: Pranathi Alla
About: Mannerly is a solution for the uncomfortable interactions that employees, especially women, are currently exposed to in their workplace. Digital abuse is an insidious problem that contributes to the gender-based digital divide. When women use these platforms and are exposed to uncomfortable interactions, it leads to hesitancy in utilizing accessible online resources to their fullest capacity. We want to dive deeper into mitigating this organic side effect of these interactions by targeting to flag such problematic interactions. The easiest way to picture our vision for this model is to think of it like Grammarly for meaningful conversations embedded into the platform users most often use to communicate.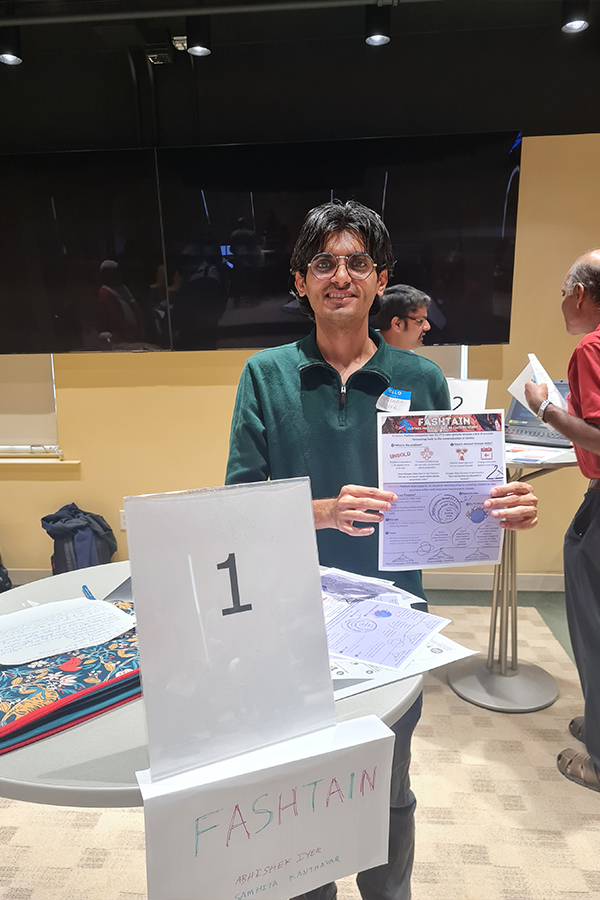 (Abhishek shares a flyer with information about Fashtain)
Startup Name: Fashtain
Founders: Abhishek Iyer & Samhita Kanthavar
About: Fashtain is a fashion-tech platform that supports on-demand manufacturing by enabling retailers to closely align purchase orders and consumer requirements. The goal of the product is to produce better products that create better value and a better world.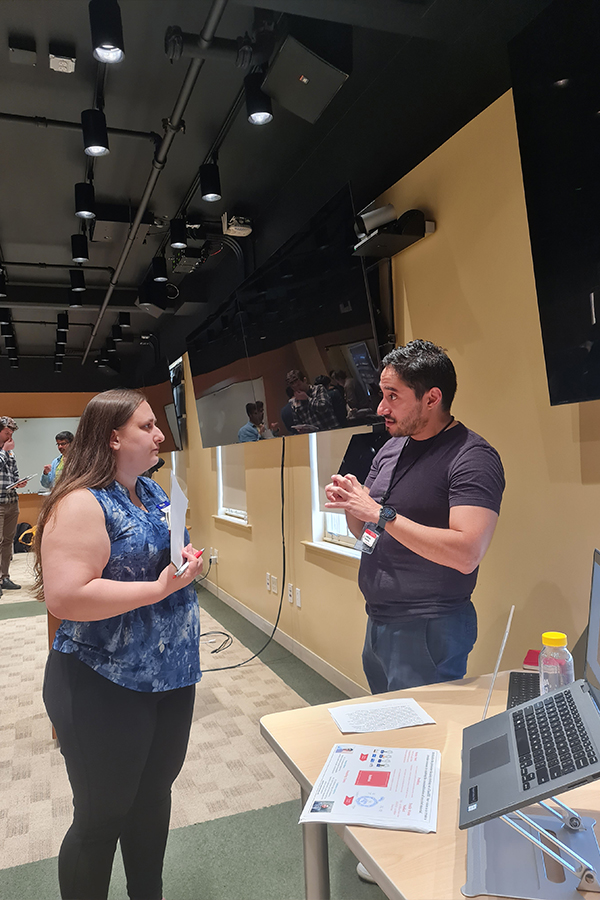 (Guillermo speaks to a mentor from the VentureBridge program)
Startup Name: ReStitch
Founders: Guillermo Gutierrez & Manish Mishra
About: ReStitch is the gatekeeper keeping clothing out of the landfill. The startup's vision is to create a circular economy by enabling the commoditization of recycled material.