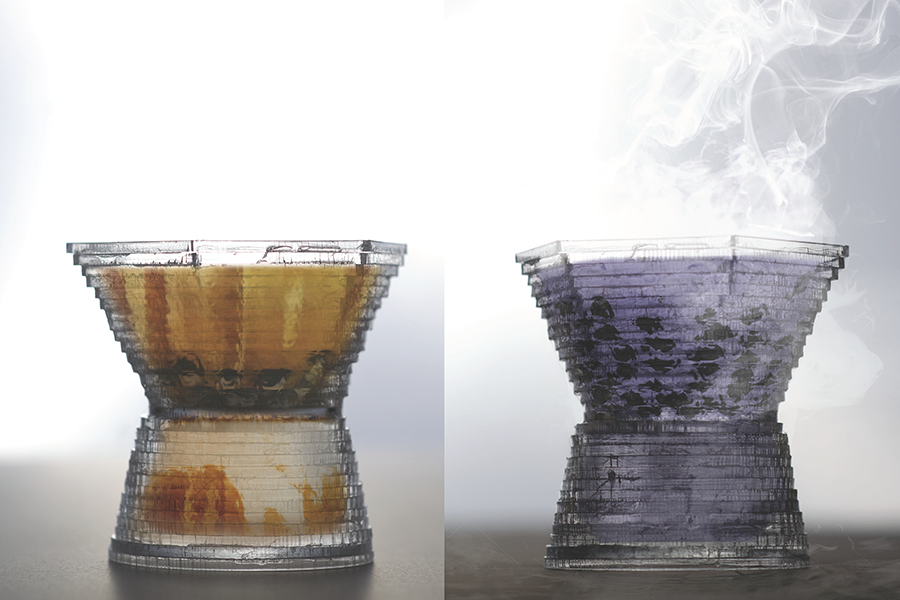 December 17, 2019
MIIPS Students Burst Bubbles with Boba Redesign
By Elizabeth Donaldson edonalds(through)andrew.cmu.edu
Invented in Taiwan in the 1980s, boba tea has crossed cultural and geographic boundaries, yet it is almost always served the same way: ice cold and in a plastic cup with a fat plastic straw. Tim Cunningham's Special Topics in Industrial Design course challenged Master of Integrated Innovation for Products & Services students to rethink how we drink bubble tea. In just under eight weeks, students considered how they could redesign the bubble tea experience and stimulate the market.
Throughout the semester, students connected with experts in industrial design, learning how to approach problems and design products for niche markets. Vinh pho, Senior Designer at IDEO, joined a class to share his insights.
"If you're going to design a cup, don't look at other cups. Look at what electronics designers are doing, look at what fashion designers are doing, look for inspiration in other industries," he said, sharing that his team found inspiration from shoe lace designs when developing a helmet for skateboarders.
Students like Hannah Moon applied this advice to her final design.  
"I was inspired by hap juk sun, Korean paper fans," said Hannah Moon (MIIPS '20). Moon wanted to reduce plastic by developing foldable paper cups, designed after pleated fans and origami art, an exercise that challenged her as a designer.

Hannah Moon's concept video
"I was able to reveal my imagination by working as a product designer and was free to explore possibilities that are outside of the box," said Moon.
Brian Xiao (MIIPS Advanced Study '19) focused on creating a fun, novel boba experience in a highly saturated market—the San Gabriel Valley area. Xiao conducted user investigations amongst boba drinkers in the San Gabriel Valley, revealing how boba stores can create a place of community for people who have immigrated from Asia. Throughout his user research, Xiao identified Jungian archetypes and honed in on various brand attributes, which inspired his later design.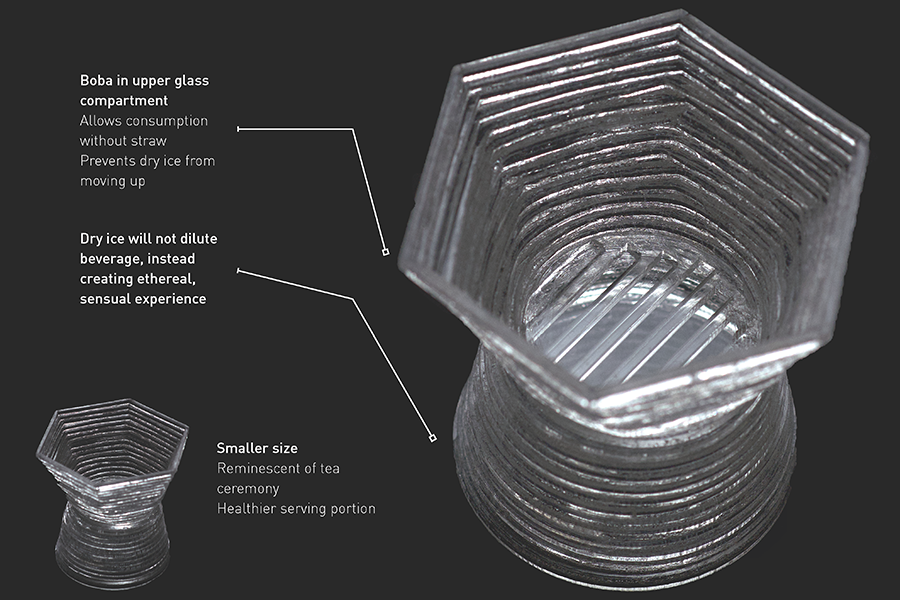 Brian Xiao's final design iteration
Recognizing the appeal of ethereal, dangerous, dynamic, and sensual traits, Xiao created a functional design reminiscent of the hexagonal shapes present in traditional Asian tea ceremonies. Xiao presented a modular glass design which separates the boba from dry ice, allowing the consumer to comfortably drink cold bubble tea without needing a plastic straw.
Students like Yool Park (MIIPS Advanced Study '19) also considered how to create a novel boba experience, drawing on Korean culinary culture.
"Dining isn't just about eating, it's about creating and sharing," explained Park. "Think of Korean barbeque: it's a lot of effort--you even have to cook it yourself!"
Park said she was inspired by this collaborative cooking process as well as the design of the gama-sot, a large, heavy slow-cooker used to prepare meals for large families.
"Every Korean grandma has a gama-sot," Park said, noting the cultural significance of the kitchen staple. Her, the Boba-sot, is a ceramic pot that allows for groups to prepare their own boba in a communal dining experience. She explained the South Korean trend of moving toward traditional and retro novelties, so Boba-sot would be an opportune disruptor in the boba market.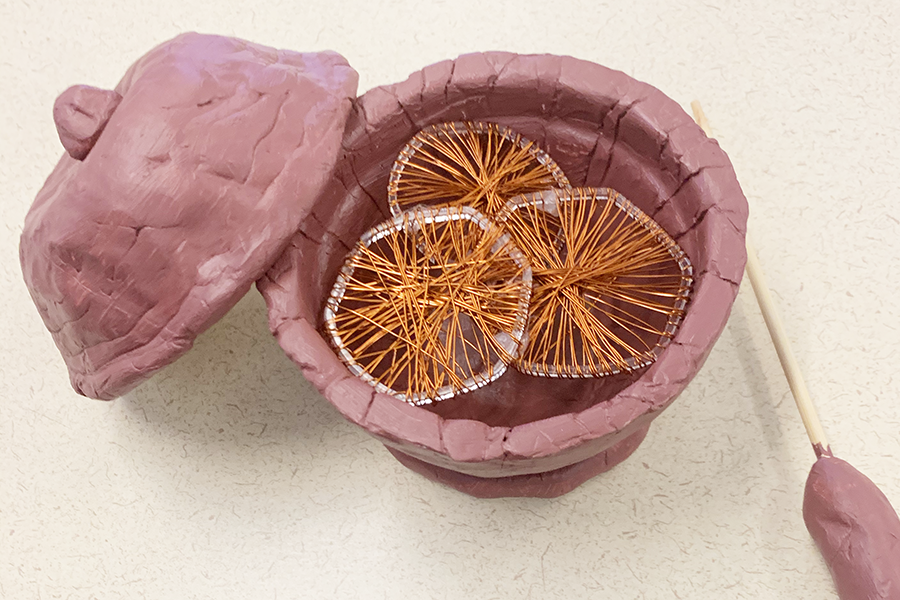 Yool Park's Boba-sot prototype in clay
In this unique design challenge, MIIPS students applied their global, multicultural experiences to rethink how we drink boba and to create new ways to enjoy the universally loved bubbly tea.