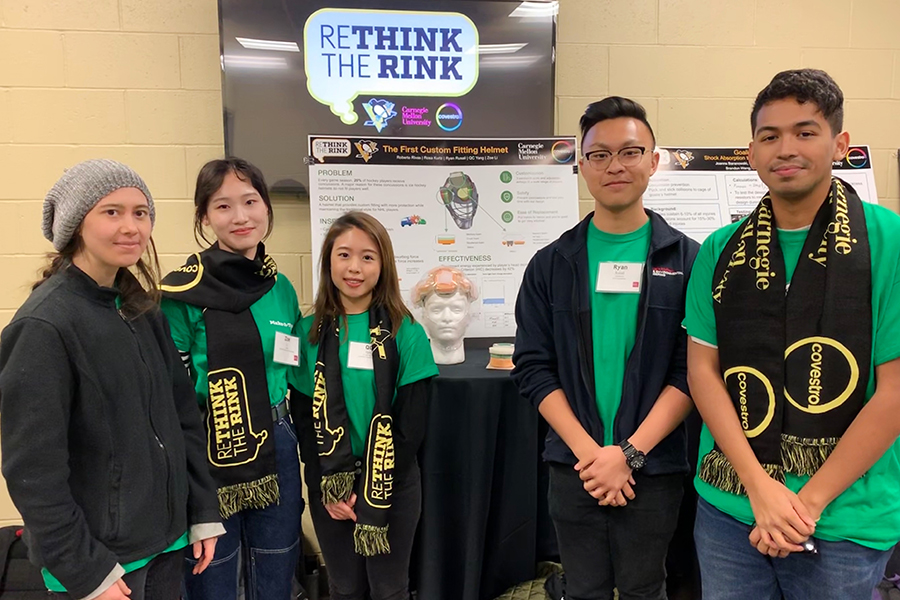 March 25, 2019
At Rethink the Rink, MIIPS Student Scores with Winning Prototype
By Elizabeth Donaldson edonalds(through)andrew.cmu.edu
In a sport of high-speed slapshots and body checks, hockey players rely on equipment to keep them safe. During the second annual Rethink the Rink make-a-thon, students from Carnegie Mellon's College of Engineering teamed up with Covestro and the Pittsburgh Penguins to innovate the design of hockey gear. 
From March 11 through March 15, Qicheng Yang (MIIPS Advanced '19) worked on a team with three engineering students and a physics and art student to innovate goalie helmets. Yang, whose background is in communications and HCI, said she served as the project manager.
"I don't know how to do calculations for impact testing, but my teammate does. My team had the technical skills, and I know how to look at the big picture and identify the problem. I led the team by identifying what we needed to do and dividing tasks and subtasks, then leveraging the skills my team brought to the table," says Yang.
The team spent the beginning of the make-a-thon researching current equipment, brainstorming ideation with Post-Its, and talking with the industry experts from Covestro and the Penguins before focusing on the helmet's fit.
"When we analyzed the current helmets, we found that they're actually pretty good. But they don't fit," Yang explains. "So, if a player gets hit, their head will bounce against the wall of the helmet and cause a concussion. Our solution was customization."
Yang and her team designed inflatable modules in low-impact zones of the helmet that allow players to personalize the fit. The team was also inspired by crush zones, the areas of a car that crumple and absorb some of the impact of a crash to protect passengers. Their prototype implemented breakable modules that crush and release a dye into the helmet upon impact. These modules can then be identified and replaced, maintaining the safety integrity of the helmet.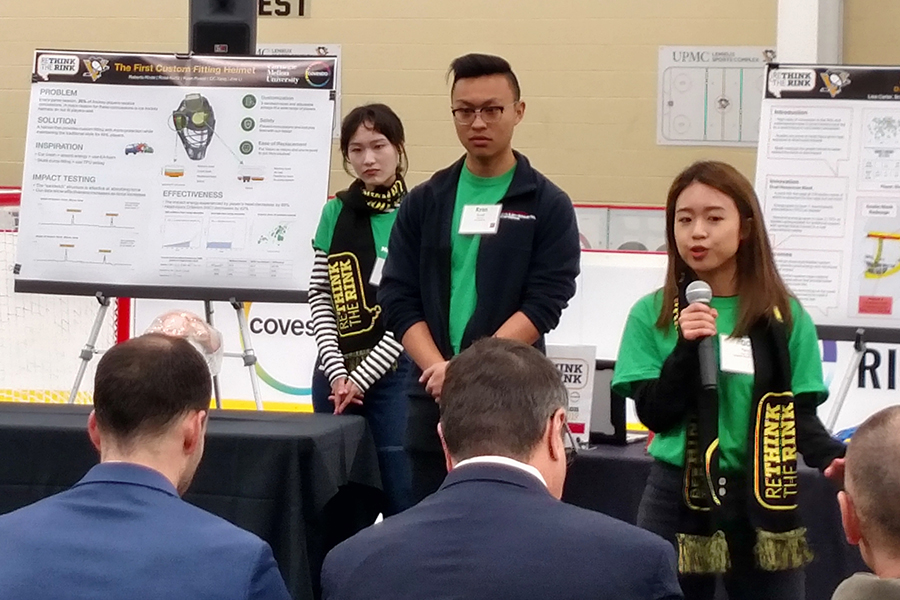 Qicheng Yang (MIIPS Advanced '19) pitches the custom fit helmet concept
The event concluded on March 15. Teams stepped onto the ice to deliver their product pitches before the presidents of Covestro and the Penguins as well as faculty from the College of Engineering.
"My IPD experience really helped with the pitch," Yang credits the Integrated Product Development capstone for her refined storytelling skills and ability to analyze competitive markets as well as her confidence as a presenter. 
After pitching their concept for a custom fit goalie helmet and presenting its market potential, Yang and her team scored a $500 prize and the title "Best Prototype."