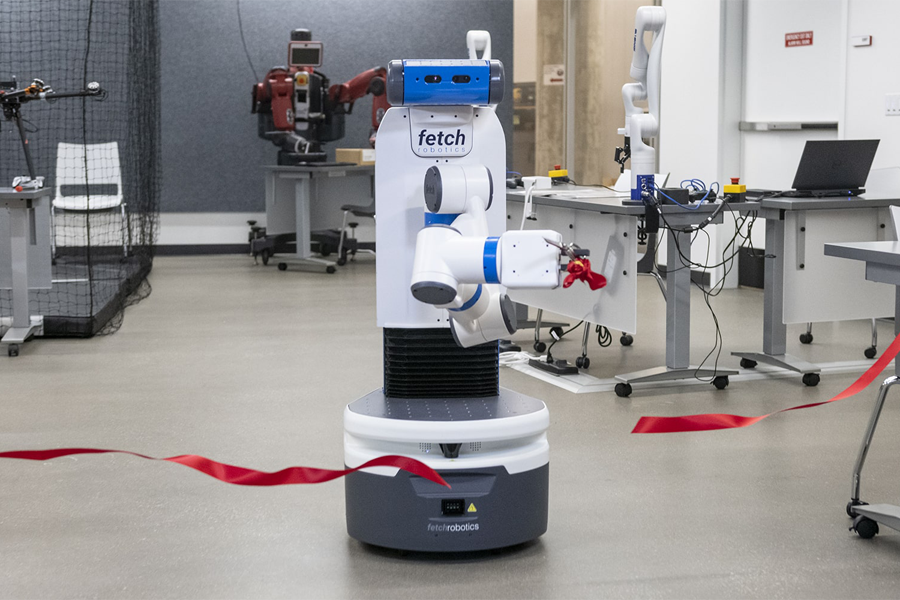 November 12, 2021
CMU Invites Students To Explore Artificial Intelligence With Opening of JPMorgan Chase & Co. AI Maker Space
Reid Simmons has stopped trying to guess what students will come up with next.
As head of Carnegie Mellon University's undergraduate program in artificial intelligence, Simmons watches what some of the most creative minds are doing with AI, and they never cease to amaze him. And now as the director of the newly opened JPMorgan Chase & Co. AI Maker Space, Simmons will have a front row seat for collaborative and transformative developments.
"We want students from all over the university — from engineering, business and fine arts — to come and use their creativity to make interesting things happen," Simmons said. "Giving students the freedom to let their imaginations run wild is really what this space is all about."
The JPMorgan Chase & Co. AI Maker Space officially opened Wednesday, Nov. 10. Remarks from leaders at CMU and executives from J.P. Morgan underlined the benefit of creativity and collaboration the space will foster and the access it provides students to technology that will change the world. A Fetch robot — a mobile manipulator students will have access to in the AI Maker Space — cut the ceremonial ribbon opening the space, demonstrating only the tip of what will be possible when the brightest minds from across campus use AI to tackle the world's toughest problems.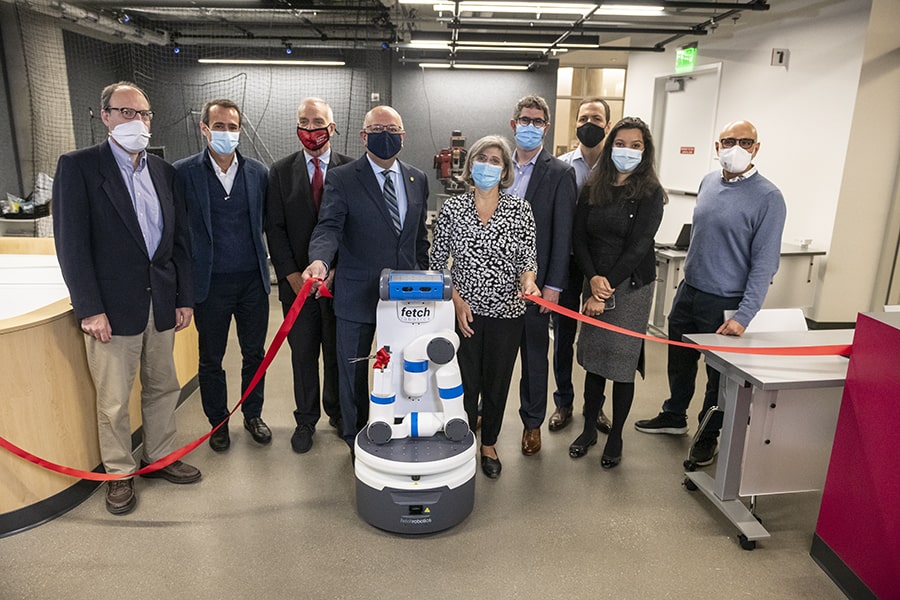 "As unprecedented advances in AI and machine learning continue to transform our daily lives, the JPMorgan Chase & Co. AI Maker Space will empower CMU students and researchers from a variety of disciplines to shape this exciting future," said CMU President Farnam Jahanian. "On behalf of the entire CMU community, we are grateful for our invaluable partnership with JPMorgan Chase, and we look forward to the hands-on learning, creativity and collaboration that this unique facility will inspire."
The space is supported by JPMorgan Chase & Co., which founded its AI Research program to explore how technology can predict and affect economic trends, stop financial crime, protect data, and improve ways customers interact with businesses. Manuela Veloso, now emeritus faculty after 26 years researching and teaching AI in the Computer Science Department and heading the Machine Learning Department, joined JPMorgan Chase in 2018 to lead the company's AI research efforts.
"We're incredibly excited about the grand opening of the JPMorgan Chase & Co. AI Maker Space at Carnegie Mellon," said Veloso, head of AI Research at JPMorgan Chase. "We are looking forward to helping play a role as talented students pursue their ideas and interest in AI, and we can't wait to see the work that comes out of the space."
The 2,000-square-foot facility will give all CMU students access to robots, drones, smart appliances, virtual- and augmented-reality devices, and high-end computers. The space also boasts a 12-foot by 12-foot drone cage with motion capture cameras and a kitchen with smart appliances.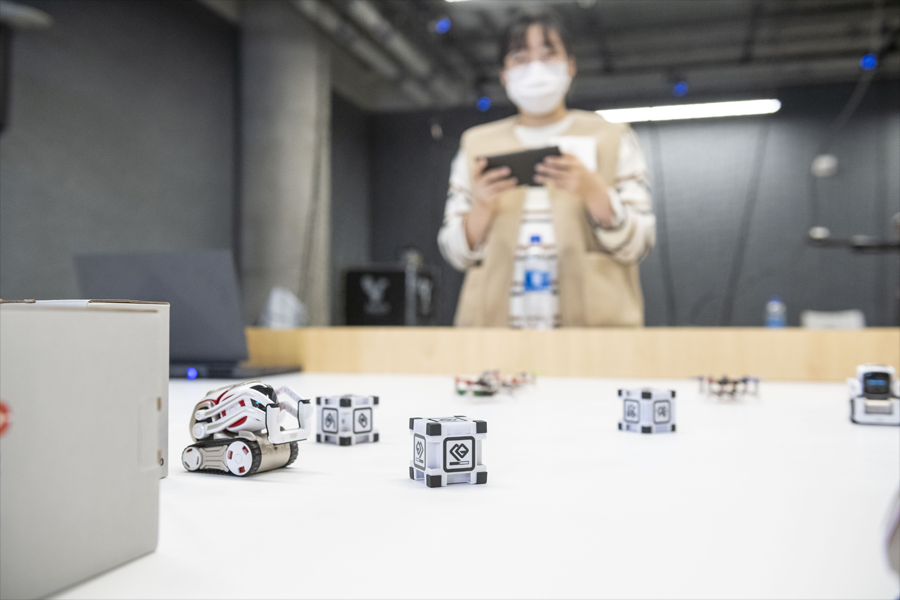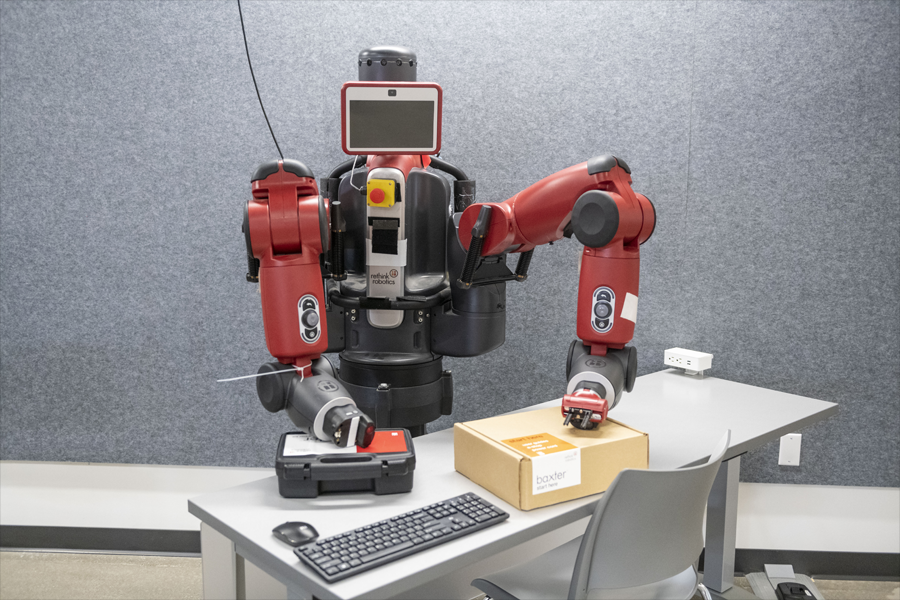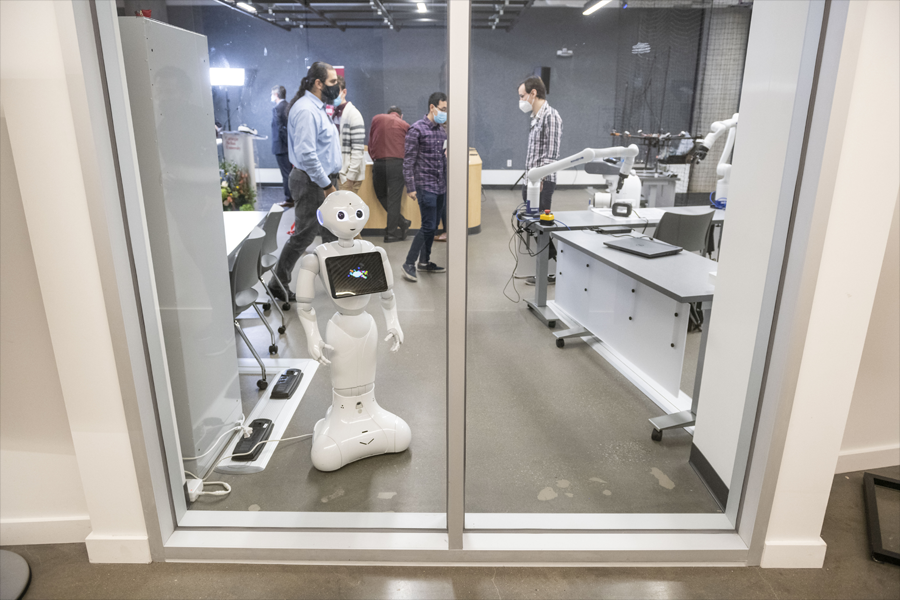 Students will also be able to use software packages associated with the space's state-of-the-art hardware to develop cutting-edge AI technologies. These hardware and software packages are far beyond what typical students would have at their disposal. Students will also have access to a variety of massive datasets, which they can use in their projects. The JPMorgan Chase AI Research team will share synthetic financial datasets, which can help students better prepare and train AI and machine learning algorithms.
Students could use one of several robots in the space — Baxter, Fetch or Pepper — for training, testing and experimentation. The $100,000 Fetch robot that cut the ceremonial ribbon Wednesday could operate in systems for loading or unloading the dishwasher, bringing people items from the refrigerator, or assembling furniture. The drone cage could be a place where students from the School of Computer Science, College of Engineering and School of Drama stage a flying, 3D art production. Using smart devices and appliances and augmented and virtual reality, students will explore the future of work and play.
"Investing in the next generation of technology talent is critical," said Samik Chandarana, chief data & analytics officer for the Corporate and Investment Bank at J.P. Morgan. "With the AI Maker Space, students will get hands-on experience and the resources to develop concepts and create solutions for years to come."
The AI Maker Space is on the first floor of one of the newest, largest buildings on CMU's campus, which is also home to the Tepper School of Business and the Swartz Center for Entrepreneurship. All CMU students will have access to it, and the university hopes the space is a place where students from many disciplines collaborate.
"AI is becoming ubiquitous across campus. Almost every department has something connected to it," Simmons said. "This space allows people, no matter what department they are in, to have tools available to them to take the next step in exploring AI in their fields."
The space will open to students at the start of the spring 2022 semester, and students wishing to use the space can enroll in training courses to learn how to use the technology. Some courses in 2022 will have projects that are hosted at the maker space, helping to familiarize students with its tools. The space will have a full-time lab manager and part-time student assistants.
More information about the JPMorgan Chase & Co. AI Maker Space is available on its website.