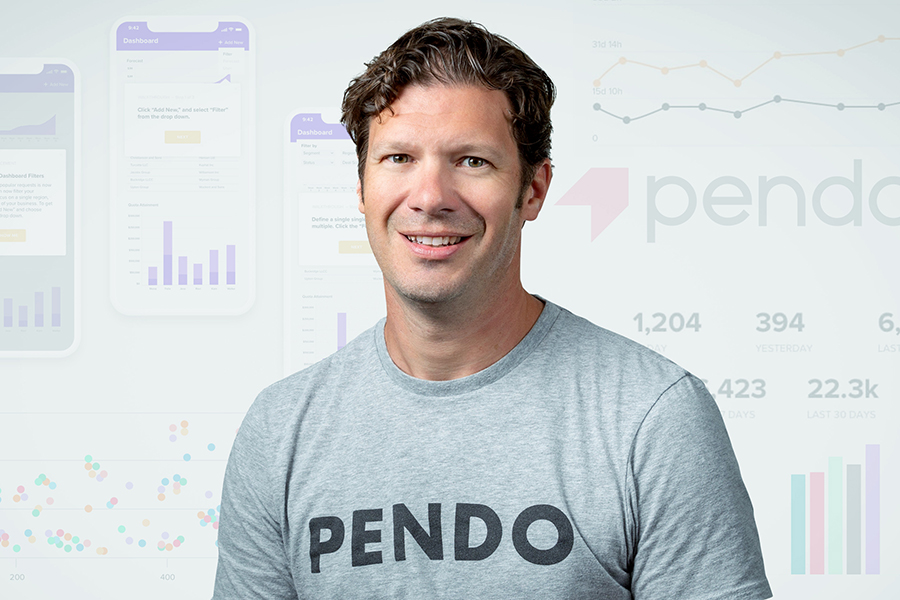 October 13, 2021
Leading and Learning
Alumnus helps companies and consumers take their digital experiences to the next level
With more than two decades in the tech industry, Carnegie Mellon University alumnus Todd Olson should've been more prepared than most for the great virtual migration of 2020.
But even he, a serial coder and tenacious founder, was surprised by the rapid transformation of our lives from in-person to on-screen.
"I will never forget our company kickoff in February 2020," Todd says. "One of our investors talked about the serious global threat of the coronavirus. I was admittedly a bit surprised that she was so concerned. But, boy, was she right."
Pendo, the information technology company Todd co-founded in 2013 and where he serves as CEO, rose to the pandemic's challenges — helping companies communicate real-time updates to their customers and employees using Pendo's step-by-step guides.
With the expansion of remote work and school and safety measures limiting indoor activities, mastering new software or navigating a new online interface for activities like mobile banking is a daily task for pretty much everyone.
"A lot of digital applications were conceived of and launched during the pandemic, and these won't go away," says Todd, who graduated from the College of Engineering with a degree in electrical and computer engineering in 1997. "People have realized the convenience of ordering their groceries, exercising at home, online banking and investing, attending events and classes, collaborating with coworkers and getting work done using Zoom and apps."
We caught up with Todd for his vision of how our digital — and hybrid — lives will continue to evolve.
What was 2020 (and 2021 so far) like for your company?
Those first few months were filled with uncertainty — we made sure our employees felt supported by offering work-from-home stipends, wellness days off and reiterating our flexible work policy as many balanced work and family at home all day. We took a hard look at our budget and revenue goals for the year and worked closely with customers to be sure they could remain Pendo customers. By summer 2020, we saw demand for Pendo increasing, especially from industries seeing huge spikes of usage as people stayed home — education, banking, telemedicine, video and collaboration software. We have continued to grow, and in the last two quarters of 2021, we have broken records for revenue and customer growth. We expanded to the Asia-Pacific region with an office in Japan. In July 2021, we hit a revenue goal set early in the company's history. We also raised another round of capital to continue to fuel aggressive growth. We're all certainly weary of the pandemic, but we've also had a lot of excitement as a company. I feel really proud of how the team has managed the last 18 months.
What do you see for the future of the digital experience as the world moves toward a post-pandemic life?
People have realized the convenience of ordering their groceries, exercising at home, online banking and investing, attending events and classes, collaborating with co-workers and getting work done using Zoom and apps. But as we saw this summer as the world opened up, we all still yearn for in-person experiences, too. Companies will continue to invest heavily to improve their digital products and launch new ones as we all expect our digital experiences to be really great. But life is going to be increasingly hybrid — from work and school to shopping, events and more.
Pendo's customers include global industry leaders as well as smaller niche companies. What lessons have you learned to address their wide spectrum of services and unique challenges?
We set out from the beginning to build a broad platform that could work for any of these companies. A lot of other entrepreneurs and some investors faulted us for that: they thought we should start narrow first with one core capability or one industry. But the time we invested to build a truly differentiated product enabled us to touch nearly every industry and size of company in our first eight years. It also gave us a ton of interesting new use cases, which helped inspire the next set of products we're building now. I realize the advice to go broad may not work for everyone, but I'm really happy we trusted our gut on that. We are a bit unique in that our customer base is still evenly distributed between small, medium and large businesses. Over time, we do expect that enterprise revenue will be important to continue driving high growth at scale. Smaller customers demand a lot from us and supporting them helps keep our product great, which benefits all customers.
You're expanding around the globe. What does the future hold for Pendo?
You'll definitely see more global expansion. Our Tokyo team is already exceeding their goals, and our London team is working across the Europe, Middle East and Africa region. We hope to open a Sydney, Australia, office soon. We may also make acquisitions, if the right opportunities come along. We're also focusing as much on R&D as ever. We hired a senior vice president of new products earlier this year to focus on a new family of products that help companies drive adoption of the software they provide to their employees, and she's got an entire team focused on innovation. We also added a machine learning team in our Israel office. I'm really excited for the projects they are working on and so much more to come.
Early in 2022, we'll open our new headquarters in downtown Raleigh, North Carolina. We are planning to host our entire team of more than 800 employees there for our company kickoff event in February. I'm really excited to all be together again for that!
How has your CMU education helped you to reach your goals throughout your career?
My CMU education definitely played a role in expanding my engineering skills and fostering my interest in entrepreneurship. CMU is challenging, and I really learned to work hard. Those principles continue to serve me well as an entrepreneur. Obviously starting a business is challenging, but I felt prepared. Secondly, CMU's education isn't about learning a specific skill or concept; it's about how to think creatively and solve hard problems. Technology changes and different challenges face us, and my education helped prepare me for handling the unknown and new challenges.
CMU also provided me with an amazing network. I've connected with numerous alumni since graduation, and they've led to great talent for my companies, leads and deals for the business. As we hire hundreds of new people each year at Pendo, CMU continues to be a source of talent. I'm impressed that the caliber has only improved since I graduated.
Any CMU memories, experiences or projects that have stuck with you since your time on campus?
As an engineer, I remember late nights in packed labs working on challenging projects and all the cool design decisions and learnings from working hands-on with technology. My favorite course was in microprocessor design. My teammates and I designed, programmed and physically built a CPU including soldering the wires. To take a program written in C, compile it, assemble it and then run it on something 100% of your own design was awesome. I had fantastic teammates who took shifts literally working around the clock. I recall that only a few teams in the class were able to complete a working project, and it was tremendously gratifying to be amongst the ones that did. Fun fact: My Pendo co-founder Eric Boduch (a 1996 Tepper School of Business graduate with a degree in industrial management) and his team failed to create a working version!