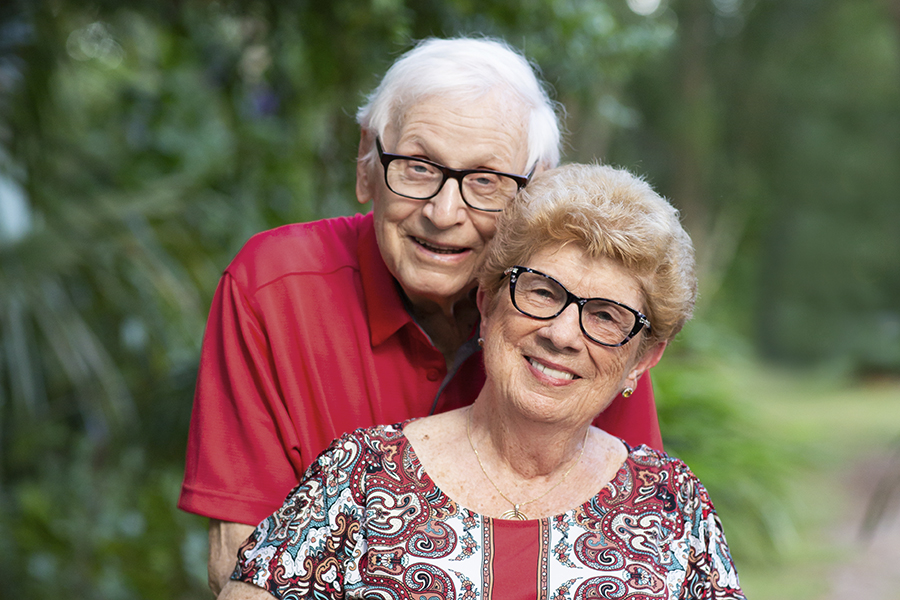 September 23, 2021
Hearts of Tartan
More than 70 years after they fell in love at CMU, Bob and Marty DuShaw's support for undergraduate scholarships shows their hearts will always be in the work
As teenagers in the 1950s, alumni Bob and Marty DuShaw came to Carnegie Institute of Technology and Margaret Morrison Carnegie College respectively to learn about engineering and chemistry.
They left campus with more than they could've ever imagined: a lifelong love story that led to four children, 14 grandchildren and great-grandchildren, successful careers and global travels.
And as they reflect on their more than seven decades together — and their delight in all that their fellow Tartans continue to accomplish — their legacy gift to Carnegie Mellon University shows that their hearts will always be in the work.
"My buttons pop off my shirt with pride," says Bob, who graduated in 1953 with a degree in mechanical engineering.
"It seems like there's not a week that goes by that I don't see Carnegie Mellon mentioned. It's really great that we've been so productive to society."
Bob and Marty have created multiple charitable gift annuities that pay them income for the rest of their lives, earned them immediate tax savings through charitable deductions and will allow them to provide permanent scholarship support to generations of Tartans.
"We have so many options when it comes to philanthropy," Bob says. "We liked the idea of providing scholarships for students, and we decided that it was OK to take some of everything we worked so hard for and create these gift annuities."
In the years to come, their generosity will establish the Robert and Martha DuShaw Scholarship in Engineering, an endowed scholarship that supports undergraduate students in the College of Engineering who focus on robotics.
During their time together at CMU, Marty and Bob focused on studying — and one another — even after Marty, whose father also attended Carnegie Tech, decided she didn't want to spend her days in a laboratory.
"It seems like there's not a week that goes by that I don't see Carnegie Mellon mentioned. It's really great that we've been so productive to society."
Bob DuShaw, alumnus
She transferred to the University of Pittsburgh to earn her bachelor's degree in nursing after two years at Margaret Morrison. During her time as a Maggie Murph, she worked backstage during Scotch'n'Soda performances and was one of the first students to live in the newly constructed Morewood Gardens.
Bob pledged Sigma Nu fraternity and lived in Chalfont Estate, an old home that was gifted to the university and converted into a fraternity house. He also waited tables at the Morewood Gardens dining hall, enrolled in the ROTC program and officiated intramural basketball games.
"We got married my senior year, and then we had our first child," Marty says. "After that, we bounced around from one place to another."
Over the years, they found themselves in England for Bob's active duty military service, Ohio, Michigan, Georgia and, finally, Florida for retirement in 2004.
Bob worked for The Timken Company for more than 35 years, in sales and marketing at Kelsey-Hayes and as an independent consultant. Marty taught nursing to future nursing educators in area high schools, earned her doctorate in instructional technology at Wayne State University and worked for Kaiser Permanente and the Centers for Disease Control and Prevention.
The DuShaws' lives and impact on the world are a testament to the power of CMU's life-changing education, and they want to ensure that others have the same opportunities for success as they did.
"Everyone needs good education, higher education," Bob says. "It's important that we all try to do our darndest to make sure our children and our grandchildren have the best possible education they can get."
Alumnus Robert Dibble loved his work, family and university.

Tartan Traditions Newsletter
Our Tartan Traditions newsletter brings educational and enjoyable content directly to your mailbox and inbox. Make sure you don't miss a single issue filled with inspiring stories about donors just like you by ensuring your contact information is up-to-date with CMU!
Professor Emerita Barbara Freed built CMU's Modern Language Department, and she's giving back to ensure its impact continues for future Tartans.

From reviewing your retirement accounts to evaluating donor advised fund options, there are many ways to maximize your giving impact to your favorite organizations and causes.
Alumnus Ron Frank wants to ensure everyone has the opportunity to pursue a life-changing CMU education now and for generations to come.

In only four easy steps, you can go from exploring options to establishing an enduring Tartan legacy for years to come.
Interested in achieving your financial goals and supporting Carnegie Mellon University?