November 18, 2020
Engineering a Legacy
Alumnus Ron Frank wants to ensure everyone has the opportunity to pursue a life-changing CMU education now and for generations to come
When Carnegie Mellon University alumnus Ron Frank was growing up in a working-class community on the Allegheny River, his family didn't have much to spare.
"My dad was a coal miner and a factory worker, and after school, my family would go together to clean the post office," Ron recalls. "We were all hard-working folks."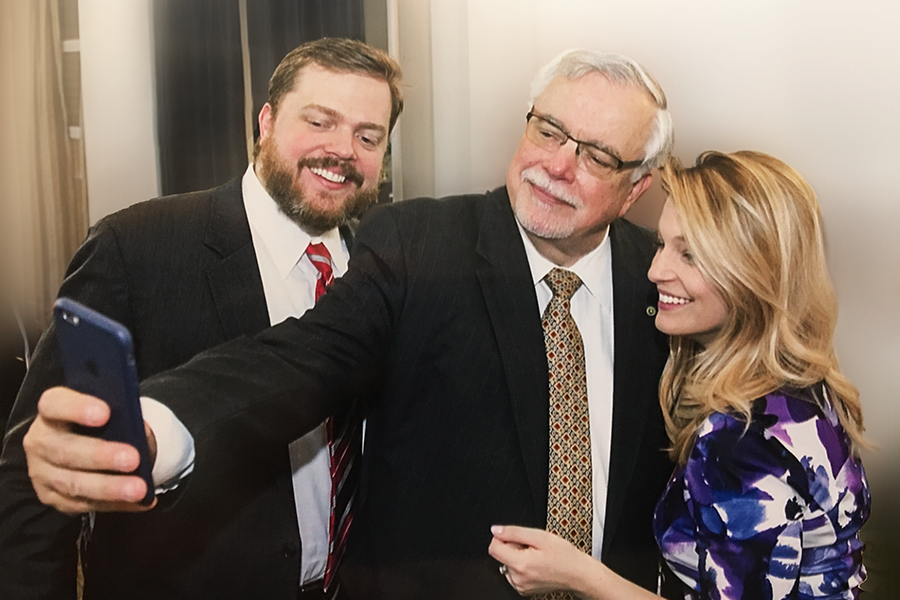 After being recognized by CMU for his decades of generosity, Ron celebrates with his family, Connor & Rachel.
A top student in high school, Ron had his pick of schools around the country. In the end, he chose Carnegie Mellon to study chemical engineering because it was only a 25-minute drive from his high school sweetheart and future wife, Marsha — and the university offered him a scholarship that made his education possible.
"Without that scholarship, I wouldn't have been able to attend CMU," Ron recalls. "I didn't have the money otherwise, and I needed the help. That scholarship got me through."
More than five decades later, Ron is returning the favor by ensuring others have access to the same life-changing education he did.
So far, he has made a difference in the lives of 22 CMU students through the endowed Ronald W. and Marsha K. Frank Scholarship — and has made plans to keep supporting his fellow Tartans for many generations to come in his will and estate plan.
"I got through with no financial stress, and I got everything I needed there — a great education, contacts and lifelong friendships," Ron says. "Others helped me when I was there, so it was only right that I continue to help others."
"I want to leave something behind that will be permanent, and my gifts now and later through my will and estate plan allow the scholarship to live forever."
During his years at CMU, Ron served as president of the university's American Institute for Chemical Engineers chapter and played a variety of intramural sports. He always lived off-campus "in the cheapest housing he could find" for $30 a month, including furnishings and utilities. While he shared a four-bedroom dive with three friends, his on-campus home was the Alpha Tau Omega fraternity house.
"It was a great group of very talented and fun-loving guys and one of the most important parts of my life," Ron says. "We graduated 51 years ago, and those guys are still my best friends in the world."
After earning his chemical engineering degree in 1969, Ron married Marsha and attended law school at Duke University, where Marsha worked as a secretary to help put him through school. The couple moved back to Pittsburgh in 1972, and Ron built a successful career as a corporate lawyer handling IPOs, mergers and financial matters with a specialty in the oil and gas industries, a focus possible due to his engineering education at CMU.
Ron and Marsha, who passed away in 2014 and loved CMU as much as Ron, gave back to the university for many years, including a commitment to help build the Cohon University Center, before creating their endowed scholarship.
He always makes a special effort to meet the students who receive the scholarship and hear about their educational journeys — such as one student who invented a more-efficient dishwasher and another who wanted to develop pharmaceutical products.
"Every one of them has been so interesting," Ron says. They all have their own plans of wanting to start their own company or project. They're so bold, and it's very exciting."
And his giving creates a lasting impact that will continue that excitement far into the future — helping Tartans for years to come.
"I want to leave something behind that will be permanent, and my gifts now and later through my will and estate plan allow the scholarship to live forever."
Join The Warner Circle

If you've made a life income gift to Carnegie Mellon or have named CMU in your estate plans, the university is proud to welcome you as a member of The Warner Circle donor recognition society. Named for CMU's fourth president, John C. Warner (1950-1965), The Warner Circle thanks and acknowledges those who support future generations of students, researchers and scholars through foresight and thoughtful planning. Member benefits include insider updates from university leadership, priority correspondence from the Office of Gift Planning and special invitations to select events.
We'd love to know that you've included CMU in your estate or financial plans to honor you among this distinguished group of supporters! Contact the Office of Gift Planning at mickkoster@andrew.cmu.edu or fill out our online form.
Interested in achieving your financial goals and supporting Carnegie Mellon University?