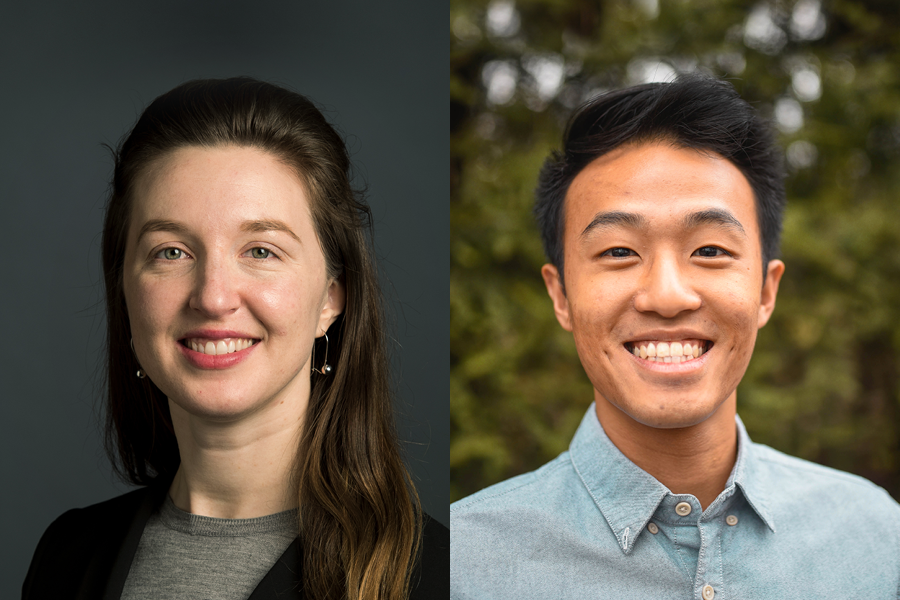 May 15, 2019
Student Engagement Award Winners
Before they collect their diplomas, Carnegie Mellon University graduating students Eleanor Mueller (TPR 2019) and Daniel See (CMU 2019) will be honored at a luncheon as the 2019 CMU Alumni Association's Student Engagement Award Winners.  
Both students represent CMU's culture of collaboration and achievement, and are receiving the award from the Carnegie Mellon University Alumni Association for their significant contributions to the quality of life at the university and engagement with alumni, fellow students and CMU. 
Eleanor Mueller comes to business from the arts, having received her undergraduate degree from Vassar College in 2008 in film studies before moving into fashion and running her own clothing business for six years. While she was pursuing her MBA at the Tepper School of Business, she served as an alumni relations officer and guided the launch of the 2018 Intersect@CMU conference. Graduating as part of the Tepper MBA Class of 2019, Eleanor will join PwC as a senior associate in the Consumer Markets Operations practice.  
Daniel See is a graduating senior who will receive a bachelor's degree in humanities and arts, concentrating in decision science and art. While at CMU, his work blended different Pittsburgh communities together in unique and meaningful environments. He initiated Art2Connect, a weekly art therapy program at a local homeless shelter. Daniel was also an active part of the student community, holding leadership positions in various campus organizations including Lunar Gala, CMU Street Styles and Soulstylz. After graduation, Daniel plans to return home to Singapore and pursue a career in arts education.