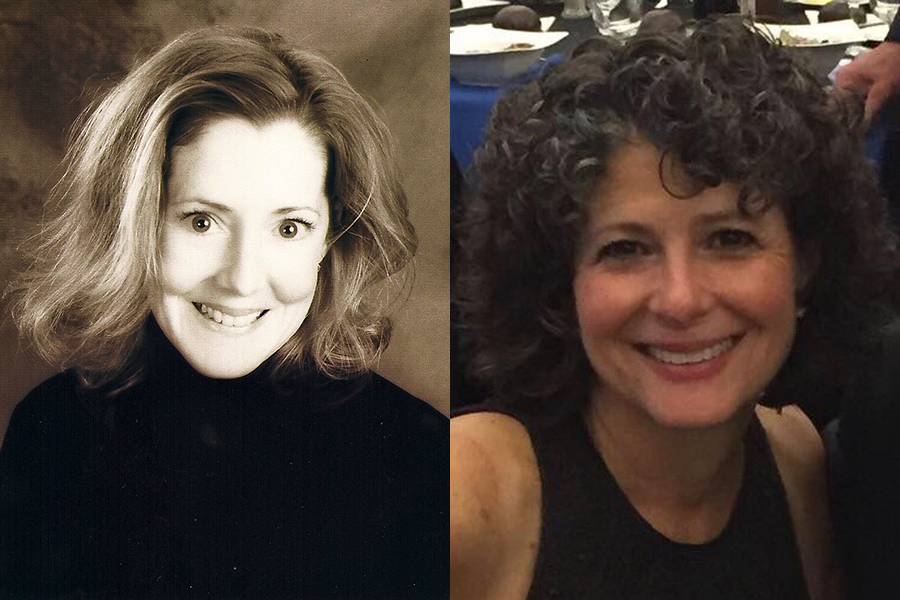 August 07, 2019
Volunteer Spotlight: Sheila DiNardo and Tammy Geary
When it comes to being a Tartan volunteer, it's even better with a little help from your friends. First-time CMU volunteer Sheila DiNardo (TPR 1989) teamed up with grad-school classmate and experienced Tepper School volunteer Tammy Geary (TPR 1989) to form a strong partnership for their reunion giving effort.
"Volunteering for Tepper was a very rewarding experience. It was an honor to give back to the school," Sheila says.
"My most cherished part was reconnecting with Sheila after 30 years," Tammy adds. "We have a bond that can't be explained, and our work together was a great reminder of that bond."
Sheila and Tammy share their CMU spirit and memories as they answer the Tartan Ten Questions!
Who's your favorite Tartan?
Sheila: Frank Gorshin (A 1955), the original Riddler on television's "Batman" series.
Tammy: Barbara Feldon (A 1955), Agent 99 in the TV show "Get Smart." Great memories of watching this with my family in the late 60s and early 70s, as it was one of a few American TV shows aired for military families overseas.
In one sentence, describe your job.
Sheila: Angel investor, mentor, lawyer.
Tammy: Technology industry veteran, independent non-profit consultant, board member.
First job after college?
Sheila: Economics analyst, using columnar-paper worksheets and pencils.
Tammy: Global public accounting firm in the audit division, in the era of paper worksheets, pencils and adding machines.
What's the last show you saw starring a CMU graduate?
Sheila: "Curb Your Enthusiasm," with Ted Danson (A 1972, Hon.: CMU 2018).
Tammy: "NCIS" reruns with Cote de Pablo (A 2000).
 What's your best tip for acclimating to CMU/Pittsburgh for our new first-year students?
Sheila: Get a parking pass, and find a good gym.
Tammy: If you're from California, don't drive after the first snowstorm.
Booth or Buggy?
Sheila: Buggy.
Tammy: Uhm, as a grad student, sadly I didn't get involved with Carnival.
Which Scotty: costume or canine?
Sheila: Canine.
Tammy: Definitely canine.
Of all the places you've visited, which is your favorite and why?
Sheila: Southeast Asia in 1985. It was authentic and unique.
Tammy: Forno Alpi Graie, Italy. It's a small village at the base of the Italian Alps and the birthplace of my mother's family. Family time is always my favorite. I traveled with my mother, brother and my grown children. We were hosted by my cousin, who stills resides in the family home. Four generations enjoying Gerardo's shared authentic home cooking, stories and photos of the family in Italy.
What makes you a Tartan?
Sheila: The phenomenal professors and teachers.
Tammy: Collaboration.
What's your most memorable volunteer experience?
Sheila: Helping my daughter make dinner for the talented young ladies at Girl's Hope of Pittsburgh.
Tammy: Leading the project to build the science lab and prep room at our children's K-8 school. Memorable because it was my first project of this magnitude, with a steep learning curve, and the new facility was desperately needed to expand the school's science curriculum. I am passionate about learning, for both myself and others.