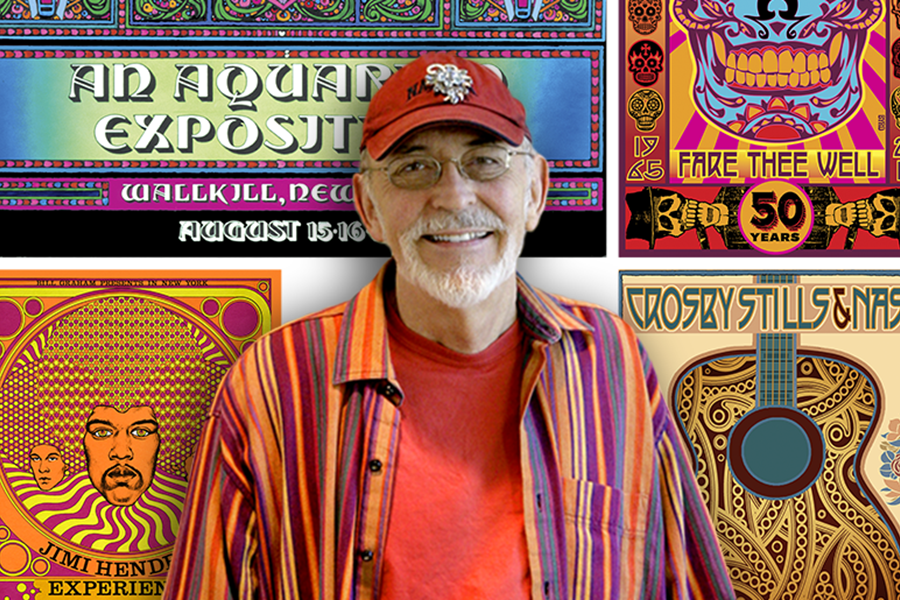 August 01, 2019
A True "Happening"
Legendary graphic artist and CMU College of Fine Arts alumnus David Edward Byrd plays a unique role in rock history as the designer of the original Woodstock poster 50 years ago
A half-century ago, in August 1969, more than 400,000 free-loving festival-goers converged on a rural dairy farm near Bethel Woods, New York. Among those throngs at Woodstock, David Edward Byrd (A 1964, 1966) partied with Jefferson Airplane and took in Jimi Hendrix's historic festival-closing set featuring "The Star-Spangled Banner."
"It was a true happening," Byrd recalls. "No one was really prepared for the onslaught of human beings, but it was crazy fun."
Byrd was no ordinary attendee at the event that would become embedded in the nation's cultural fiber as both the ultimate counterculture gathering and a seminal event in rock history.
A few months before the festival, he had walked a block from his apartment to the offices of Woodstock Ventures in New York City for a meeting and left with a commission to quickly draw up a poster.
"I chose the image in the center as a nude woman which I took from a Jean-Auguste-Dominique Ingres painting 'La Source,'" he explains. "She represented the water bearer Aquarius to me, and that's why I used her. This was supposedly the Age of Aquarius."
His hand-drawn, rainbow-hued poster announced that "An Aquarian Exposition," hosted by the Woodstock Music & Art Fair, would be held in Wallkill, New York, on August 15 to 17. After turning in his 14-by-22 art piece, he left with a large group of friends to a Caribbean island for the summer.
"I just thought it was another show, another rock concert," Byrd says. "There seemed to be a lot of those at the time. I didn't think it was anything of special interest."
While he was away, the Wallkill Town Board dealt the festival what seemed like a death blow due to zoning.
With a new location and no way to contact Byrd about edits to his poster, Woodstock organizers hired Arnold Skolnick to draft a new poster. The now famous red poster with a white dove perched on an acoustic guitar entered rock and art history, while Byrd's poster disappeared into obscurity.
In the ensuing years, Byrd's career flourished. He continued as the official poster and program designer for the Fillmore East creating custom artwork to promote shows for Pink Floyd, Fleetwood Mac, The Grateful Dead and The Rolling Stones.
He later found himself as a noted Broadway poster designer, creating works of art for Stephen Sondheim's "Follies," among many other shows. For nearly a decade, he taught illustration, life drawing and airbrush techniques at The Pratt Institute of Design. In 1979, he won a Grammy — along with many of New York City's well-known illustrators — for his interpretation of "The Acid Queen" in the LP package for The Who's rock opera "Tommy."
This notable work was a nod back to a special CMU fine arts department trip to view an undisclosed film prior to its public release in theaters.
"It turned out to be "Dr. Strangelove." Everyone was blown away, and it was unforgettable. (Stanley) Kubrick was there." 
Byrd credits his education at CMU with preparing him to always keep striving to improve his skills and his designs.
"My professors always kept challenging me. I would get to a kernel of something, and they would say 'Not good enough,'" Byrd says. "It pushed everyone's limits, and that's a good thing. It's something you need later in life."
Through the years, he became a regular contributor to "TV Guide," creating custom portraits for the magazine's cover; the art director at "The Advocate;" and a senior illustrator at Warner Brothers, where he worked on three Harry Potter films, Looney Tunes calendars and "Batman Forever."
His work now hangs in noted art museums around the world including New York City's Museum of Modern Art, Musée des Arts Décoratifs at the Louvre in Paris and Victoria and Albert Museum in London.
On the 20th anniversary of Woodstock in 1989, a piece he thought had faded away resurfaced, specifically the 10,000 copies of his original poster, which had been stored in a warehouse since 1969.
"My poster didn't really represent the event at the time," he says. "It's a souvenir, and that's what I had meant it to be."
The two posters of Woodstock and their artists came together for a four-month special exhibition "Byrd/Skolnick: A Tale of Two Posters" at The Museum at Bethel Woods on the Woodstock site. Together, Byrd and Skolnick created a combined poster with each artist interpreting the other's design.
Much like the amazing people he's encountered and the myriad accomplishments in Byrd's life and career, he didn't plan it.
"I just always said yes," Byrd says. "One thing led to another, and all of this just sort of happened."