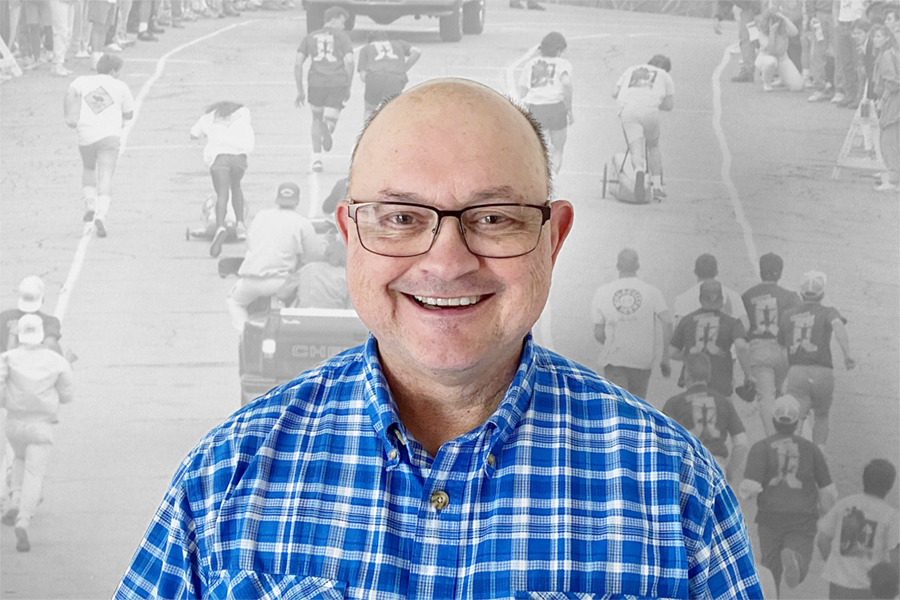 April 15, 2020
Celebrating with the "Godfather of Buggy"
Buggy guru Tom Wood helps the Tartan community honor this CMU tradition at Virtual Spring Carnival + Reunion Weekend
Traditions can be especially uplifting and reassuring during uncertain times. Fans of the Carnegie Mellon University's Sweepstakes — or Buggy — will be heartened to know that this beloved tradition was honored during Virtual Spring Carnival and Reunion Weekend through a webinar on its history, presented by Buggy historian Tom Wood (E 1974).
Current students and generations of alumni treasure Tom as more than the living encyclopedia of Buggy facts and memories. They cherish him as the adviser-mentor par excellence who has supported Buggy teams every year since he graduated from CMU in 1974. At 2019's Spring Carnival, the university community expressed its appreciation and respect for his dedicated service with the Lifetime Spirit of Buggy Award.
"Buggy became a lifelong passion, and it's very rewarding to work with Carnegie Mellon's remarkable students," he says.
Tom was introduced to CMU's unique relay-race sport in 1969, when, as freshman pledge for Pi Kappa Alpha, the fraternity allowed him to participate in Buggy. During his junior and senior years, he served as the competition's safety inspector, and after graduation, as PiKa's chapter adviser, a position he held for 14 years. Afterward, his fraternity brothers asked him to stay involved, and his contributions include assisting Buggy adviser Anne Witchner in writing and instituting new safety rules after a race day accident in 1986 and working with the Buggy Alumni Association since its founding in 2008. He was honored with an Alumni Association Distinguished Service Award in 2009.
A graduate of the materials science and engineering program, Tom believes Buggy thrives at CMU because it embodies the university's cross-disciplinary culture.
"You need people who are designers, athletes and mechanics, and you need people who are motivational and enthusiastic. To see those various types become this cohesive and successful group is very enjoyable," he explains.
Tom continues to attend every Sunday morning roll during training season and to log countless Buggy details — for example, he can name every PiKa pusher and driver since the 1950's. He protects his records and knowledge to benefit his fraternity, which holds the winningest record among its Greek-organization peers at CMU.
"I maintain traditions and organizational knowledge throughout the decades," he says. "When you love doing something, it's no longer work."