April 15, 2019
Witchner, Wood Roll Into Buggy Royalty
By Bruce Gerson bgerson(through)cmu.edu
Trophies and awards are often named for legendary figures. At Carnegie Mellon's Spring Carnival this year, alumni Anne Witchner and Tom Wood became living legends.
Witchner, associate dean of Student Affairs, and Woods were honored for their longstanding impact on the Sweepstakes Races at the Spring Carnival awards ceremony. Witchner was presented with a Lifetime Chairman's Choice Award, and Wood received a Lifetime Spirit of Buggy Award. Beginning next year — Sweepstakes' 100th anniversary — the annual awards will bear their names.
Witchner, who earned her bachelor's degree in English in 1973, has served many roles during her more than 40 years in the Division of Student Affairs. She was Sweepstakes adviser for more than two decades, and along with Wood helped to re-write and institute stringent buggy safety rules and regulations after a 1986 fire in a buggy prep truck threatened to end the competition.
Sweepstakes Adviser Kaycee Palko, who presented the awards, said Witchner has been a major factor in the success of Sweepstakes.
"I always get complements on race day about how amazing race day is, but really I owe it all to Anne's leadership and advising over the years, which has brought Sweepstakes to what it is today," said Palko, who succeeded Witchner in 2007. "The relationship and rapport that she has built with our neighbors and the city have laid the groundwork for me. I'm honored that she trained me and that she's receiving this award."
In addition to Sweepstakes, Witchner is known for her leadership of Carnegie Mellon's highly successful first-year orientation program, and for her work in establishing several university-wide staples, such as the winter activities fair, the Senior Leadership awards, MLK Day programming, the Graduate Student Orientation, the Graduate Student Leadership and Service awards, and the Kiltie Band Holiday Concert. She earned an Alumni Association Service Award in 2013.
"Buggy is a testament to what our students are capable of," Witchner said. "The hardest thing I've ever done was advising Sweepstakes. It's inherently dangerous and you have to convey to the students the amount of responsibility that comes with it. I'm happy that Kaycee is able to carry on as adviser. She understands and embraces the role."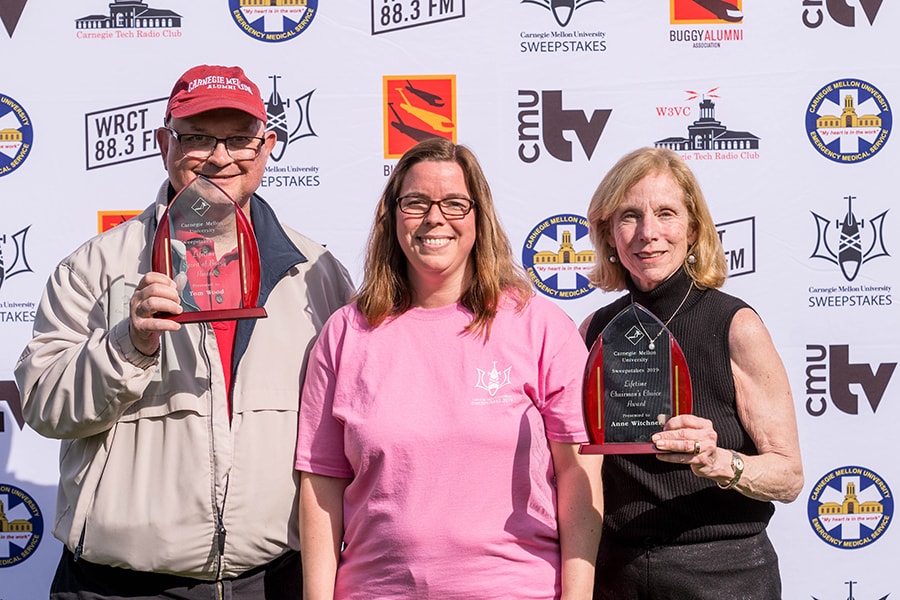 Tom Wood, Kaycee Palko and Anne Witchner pose for the Buggy Alumni Association photo gallery.
Wood earned his bachelor's degree in materials science and engineering in 1974 and since his freshman year, the Pi Kappa Alpha fraternity brother hasn't missed a buggy race in 51 years.  He was the Sweepstakes Committee's Safety Chair during his junior and senior years.
Wood has been involved with the Buggy Alumni Association since its founding in 2008, and has become CMU's buggy historian, giving annual presentations about the tradition to reunion groups during Homecoming and Spring Carnival. Wood received an Alumni Association Distinguished Service Award in 2009.
"Tom's experience, expertise and passion have absolutely been invaluable to Sweepstakes," said Willy Clark, assistant chair of Sweepstakes and a member of Pi Kappa Alpha. "He continues to serve and mentor our fraternity and buggy team. We've all been impressed with everything he's done."
Wood deflected praise and confessed his love for Sweepstakes.
"This event is most successful because of the leadership from Anne and now Kaycee," said Wood, who travels two hours to campus from his home in Oil City to work with Pi Kappa Alpha's buggy team during early morning weekend practices. "I love my brothers. I love the competition."
Wood's Pi Kappa Alpha brothers placed second in the men's division, just .18 seconds behind the Student Dormitory Council, this year's men's and women's Sweepstakes champion.
"The finals today were the most exciting we've seen in years," Wood said.