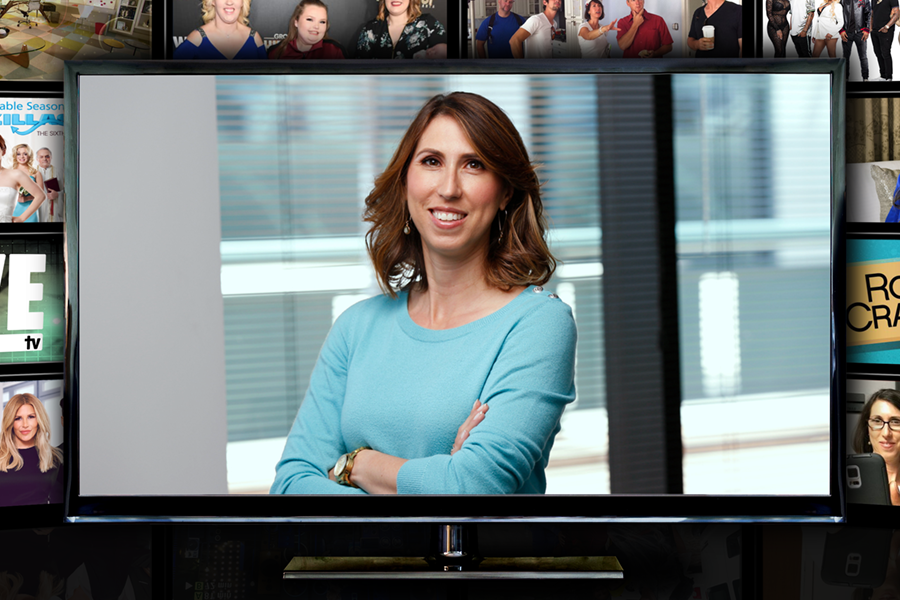 Keeping it Real
From We TV to TLC and Bravo to HGTV, Angela Molloy takes our favorite unscripted series from concept to binge-worthy
For two decades, Dietrich College of Humanities and Social Sciences alumna Angela Molloy has brought new friends, home makeovers, multimillion-dollar real estate deals, therapy sessions and celebrities' day-to-day lives into our homes.
Now as vice president for development and head of West Coast development at We TV, she hears pitches from production companies, agents, managers and talent and oversees pilots, presentations and casting for possible new shows, while also balancing her duties as executive producer for "Marriage Boot Camp," "Bridezillas" and "Mama June: Road to Redemption."
Angela, who graduated in 1997 with a degrees in professional writing and French and a minor in film studies, has been a producer for Reelz' "Mansion Matchmakers," Bravo's "Million Dollar Listing Los Angeles," OWN's "Life with La Toya," HGTV's "Room Crashers" and others.
In the industry, she's a triple threat as a network executive for 10 years at two different networks, a producer in the field and an entertainment professional who has sold shows to VH1, Fox, NBC, TV Land, Bravo, GSN and OWN.
We sat down with Angela for an insider's look at the unscripted television world and how her CMU education helped make her career possible:
What are some of the hidden secrets of unscripted series that would surprise most viewers?
Most series are NOT scripted! For people who are not regular viewers of reality television or just don't like it (no offense taken), no one sets out to make an unscripted show with a script. As producers, we do need to plan and have some sort of outline because, on a logistical front, a network isn't going to give you forever to make and deliver the show. You need to have a plan of attack, but that plan is always based on what's really happening. Additionally, your crew is on a schedule, and you need to shoot within that schedule.
So, unless you are writing copy for a host to present on a stage show, we aren't writing lines for our talent. Some shows are more unstructured than others though. On shows like "Below Deck," producers have no interaction with cast; and camera and audio are not allowed to speak to the cast. It is truly fly-on-the-wall television. On shows like "Million Dollar Listing," which I produced for three seasons, real estate transactions are a matter of public record, so we couldn't invent people, stories or prices about people's actual real estate deals and all the agents on that show are working professionals who have a business and a brand to protect.
How long does it take to go from idea to screen, and how does that process work?
It can be anywhere from six months to a year to start shooting a show from the day it was pitched. At We Tv, we can get a show on the air approximately six to eight months from the day it starts shooting.

Networks and streaming platforms are looking for a story that can be told over time and keep going — not a one-season show. First, production companies and/or talent pitch ideas to buyers, and then there is an internal process that happens at each network or streamer. They evaluate the idea, work with it to find a focus they think will be right for their audience and fund a development step, which is where they pay a smaller amount of money to do further research and casting. For example, if it's a docuseries about a couple, we want to meet them via video chat as well as the family and friends around them and identify what's going on in their life. We want to know stories we will be following in a season. Once the development step is delivered, the network or streamer decides whether or not to greenlight the concept to series. There is a preproduction period where you hire your staff and start prepping to shoot. This involves clearing locations, plotting out your travel or where and when you will follow your cast. After that, you shoot, edit and deliver.
What's your favorite part of your work?
Every single day is different. I've been doing this for 20 years and have never had the same day twice! I get to work on multiple shows at one time in varying stages of development and across all different types of genres from home makeovers to real estate to therapy to celebrities. I talk to a variety of different people all the time, and I've learned a little bit about a lot of things. Reality producers have a saying: "I can get that!" Do you need an elephant tomorrow? "Yes, I know someone!"
Some things that happen in a typical day: You're the phone call your talent makes after his arrest for a DUI. La Toya Jackson wants to know where you got your eye shadow. You attend a private, 25-person screening of a documentary Russell Crowe made and is trying to sell. You get to participate in people's actual life moments. I have arranged a first date, and subsequently, a surprise marriage proposal to a couple that is married to this day with two beautiful children; helped someone come out publicly for the first time; watched couples have breakthroughs in therapy that led to the renewal of their vows and a new baby; and given people the gift of a dream makeover they could not have envisioned on their own.
What's on your streaming lists right now?
There is so much to choose from these days, but I did have some favorites in 2020. I rewatched SHOWTIME's "Homeland" from beginning to end, and it kept me on the edge of my seat. AppleTV+'s "Ted Lasso" and Netflix's "Sex Education" were full of delightful characters that you root for and bursting with humor and heart — just what we needed things in times like these.
How has your CMU education helped you along your career path?
I could go on and on about how my education directly helped prepare me for my career. The CMU English Department provides a practical curriculum that taught me how to be a clear and effective communicator in writing and in person. It's a skill to be able to write a clear email to internal or external parties; to be able to write creative that sells a story; and to lead people in a managerial role when you have to talk to all different kinds of people on a daily basis.