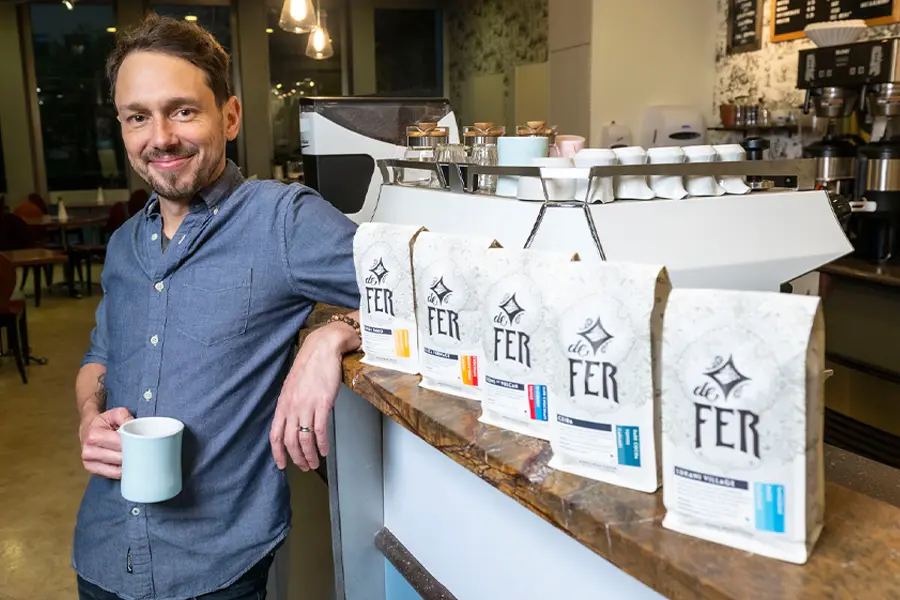 January 04, 2023
Beyond the Grind
CMU alumnus Matt Marietti has brewed a successful coffee business with local and global impact
When Carnegie Mellon University alumnus Matt Marietti needed a quiet place to tuck in and review optimization, probability and statistics for his MBA courses, he often found himself at Hunt Library.
And while sipping coffee, he studied — and dreamed.

"From Day 1, it was always a goal of mine to be on campus," says Matt, who graduated in 2010 from Tepper School of Business. "I thought how cool it would be to have a local café, a spot where you could get really good coffee and connect with people."
This fall, Matt and his wife, Vanessa, opened the sixth location of Atelier De Fer, the couple's specialty coffee and tea café, in Hunt Library — the Tartan spot of his dreams.
"Food's what makes me happy. It's what I have in common with my family, what I learned from my grandmothers and my mom, and what my wife and I like to do with our two daughters. So, it was always food for me and opening a business in that space with Vanessa."
Cooking Lessons
Matt's culinary journey started early.
Many days after elementary school, he could be found in his grandmother Ilan's kitchen, helping her to cook favorites from her native Slovakia like spätzle, chicken paprikash and nut rolls. At home, his mom, Ruth, opted for a more globally inspired menu while another grandmother, Anita, added Slovenian favorites to his palate.
This "world of influences," as he calls it, followed him through an undergrad degree at Franklin & Marshall College, his first job at a creative agency in Pittsburgh — where he met Vanessa — and a seven-year stint at Heinz Kraft that ended with a two-year assignment in London managing the company's food service operations for the United Kingdom and Ireland.
"Food's what makes me happy," Matt says. "It's what I have in common with my family, what I learned from my grandmothers and my mom, and what my wife and I like to do with our two daughters. So, it was always food for me and opening a business in that space with Vanessa."
When Matt returned from London in late 2016, Pittsburgh's food scene was changing. New restaurants were popping up. Area chefs were being recognized with national honors. Exciting experiences were drawing diners with interesting flavors and new cuisines.
And before long, he was adding his own flavor to the city.
The first De Fer location opened its doors on December 23, 2017, alongside generations of culinary history in Pittsburgh's Strip District neighborhood.
"It was the perfect time to be a part of the ongoing Pittsburgh economic renaissance, especially in the food and beverage industry," Matt says. "It's been really awesome to be a part of that now, and not be on the sidelines, watching it happen."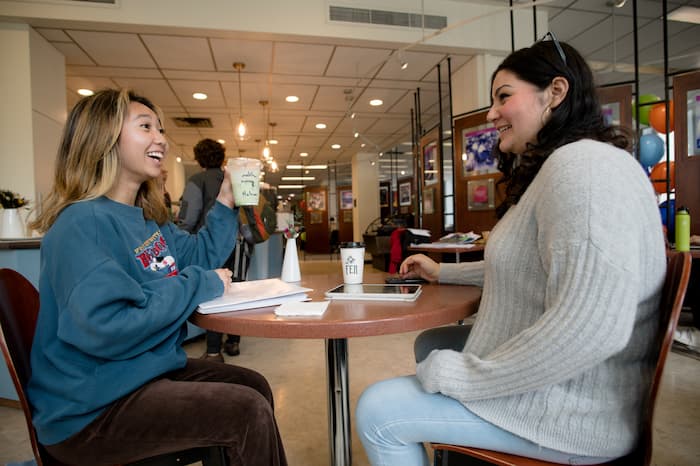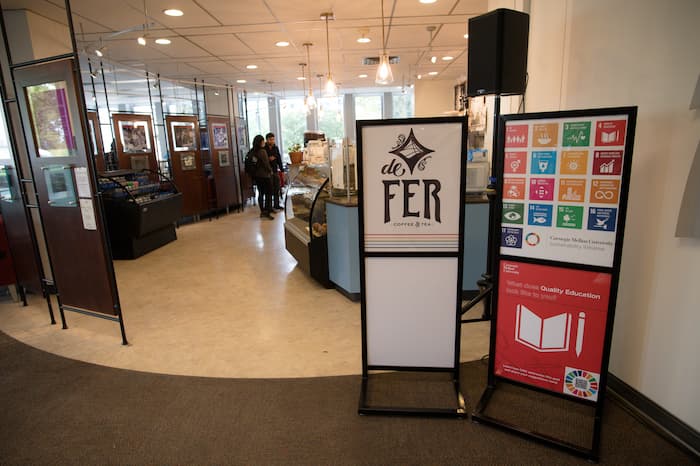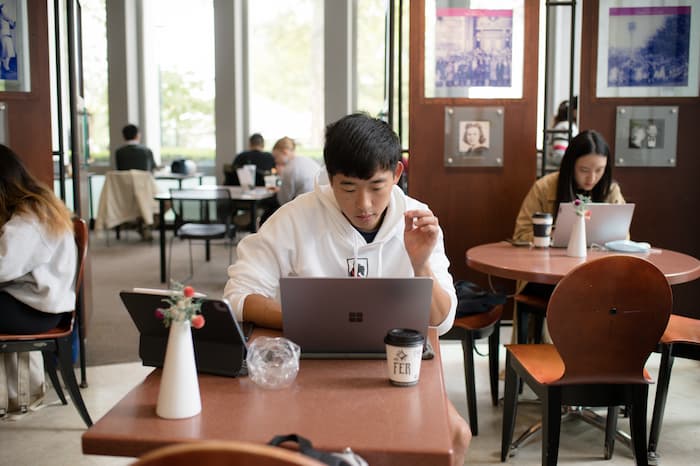 A Community Spot
Each De Fer location has a similar vibe. The European-style spots are a little bohemian, a lot welcoming and exceedingly delicious. Each day, they roast their own beans, sourced directly from farmers around the world and top-tier importers, and they utilize the latest technology and training to make the best coffee they can.
Matt and his team are very serious about coffee, but they're also humble with their approach to education in an industry that can sometimes intimidate new customers.
"We know that everyone doesn't necessarily need to know if it's a wash processed or a wet-hulled process," Matt says. "They don't really need to know the difference between a Tanzanian coffee and Papua New Guinea, or if a Chemex is better for a certain circumstance than a V60 pour over."
"We're here to help you find something you love and enjoy your coffee. We're trying to take better quality coffee to more people by just approaching it with humility."
For Matt and Vanessa, a graphic designer who designed and oversees the company's very distinct branding and presence, just serving high-quality drinks and top-notch food isn't enough though.
"We wanted our food concept to be about more than food," Matt says. "The cafe is where it all comes together. It's a place where you can come for happy hour, enjoy a date or spend time with your kids on a Saturday. It's a space where people can meet at any time of the day and feel comfortable — a place that enriches the community."
A big part of that community comes from the employees, Matt and Vanessa diligently hire and strive to keep motivated with opportunities for growth and creativity.
"Our people are our competitive advantage," Matt says. "I always remind the team that the brown liquid in the cup is really only 40% of the experience. People are going remember the coffee and the quality of the coffee, but they're also going to remember how you made them feel, how clean the bathroom was, what the music was like, how the café looks and smells, right?"
They also aim to reach beyond their walls and Pittsburgh.
"Coffee ties us to a lot of regions of the world where we can drive economic benefit," Matt says. "In these regions, it allows us to make an impact where we wouldn't have been able to do so."
The intersection of these goals results in what Matt feels is a distinctive perspective for Atelier De Fer and its mission.
"I think a lot of businesses approach it as there's the customers and there's them," Matt says. "We like to think of the customers, our team, our suppliers, the environment and the local community around our cafes as equal stakeholders. Every decision we make, we try and look at that decision and how it'll impact all five of those different groups."
"A lot of people will say, 'Oh, you run a coffee shop.' I love that, but at the end of the day, it's a coffee company. Going forward, I'm going to help my company pivot from viewing ourselves as a coffee shop to a coffee business, and I know my education is what will enable me to do just that."
Brewing Next
Matt has met his five-year business plan goals, and he says none of it would've been possible without his CMU education.
"The experiences, lessons and reputation of CMU has opened so many doors for me," Matt says. "CMU also imparted in me that science and data need to be part of the equation for business success."
"No business can effectively be run when you're just approaching everything with your gut feeling, or if you're only focusing on the creative aspects of things. Applying the analytical rigor that I gained at CMU to each problem that we want solve has made me a much more effective manager and leader."
Looking to the future, he knows he'll still be leaning into those lessons.
"A lot of people will say, 'Oh, you run a coffee shop," Matt says. "I love that, but at the end of the day, it's a coffee company. Going forward, I'm going to help my company pivot from viewing ourselves as a coffee shop to a coffee business, and I know my education is what will enable me to do just that."