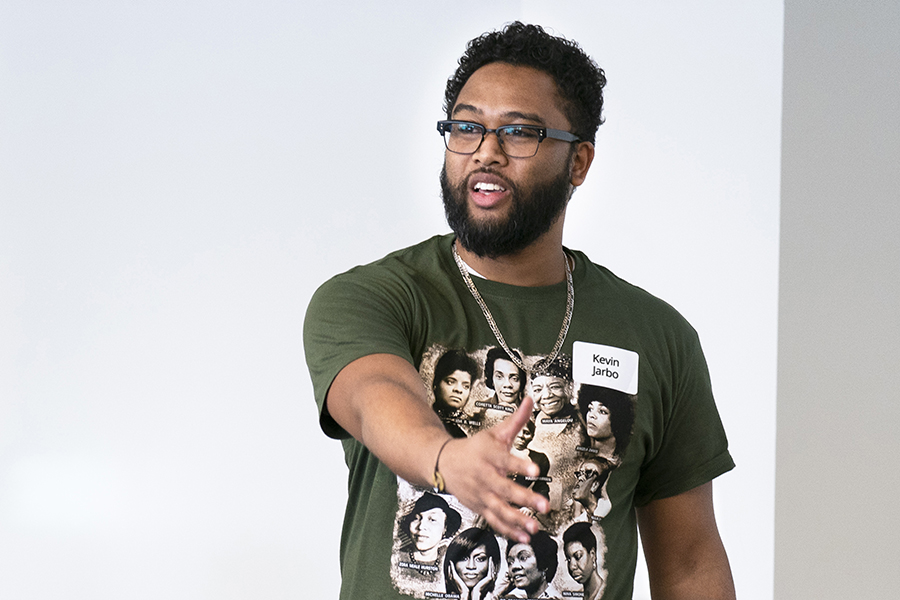 July 22, 2021
Shifting the Culture
Dietrich College alumnus and one of its newest faculty members works to combat stereotype threat and expand DEI at CMU
Carnegie Mellon University alumnus Kevin Jarbo came to Pittsburgh with a plan to study biology and become a physician. But over the next 19 years, his life ended up somewhere else entirely.
When Tartans return this fall, he'll be standing at the front of a classroom in Dietrich College of Humanities and Social Sciences co-teaching We're Not Beyond Race: Race and Identity in America, part of Dietrich College's Grand Challenge Seminar and his first course at his alma mater as an assistant professor in the Social and Decision Sciences Department.
"Since the first time I set foot on this campus, I've been surrounded by talented people who are willing to do things that will change the world," says Kevin, who holds master's and doctorate degrees in psychology from Dietrich College with a focus on cognitive psychology and neuroscience.
"Now, I get to continue to be part of that in bigger, deeper and more lasting ways and continue the cultural shift I've seen at CMU in being more inclusive and equitable in supporting students."
He's well aware that for many of his students he may be the first Black male educator they experience. He's determined to change that in his profession and many others — not only with his teaching but also with his research that focuses on the inclusion and retention of historically excluded and underrepresented groups in academia.
"I like to go in and leave places better than I found them," Kevin says.
"How do we create more spaces that are more affirming of more people? That is what true equity work is about: You belong here because you are here, you want to be here and you're doing all the things that are aligned with your personal goals."
A Winding Trajectory
Equipped with his bachelor's degree in biology from the University of Pittsburgh and a research interest in brain imaging, Kevin started working in Pitt's Learning Research and Development Center and a surgical neuroanatomy lab run by one of the nation's foremost neuroanatomists in 2010.
Using diffusion imaging to determine fiber pathways in the brain, his team developed methods for mapping critical connections in healthy human brains.
"Anyone who came in with a brain tumor, I was scanning them and reporting the imaging to surgeons," Kevin says. "That's where I gained a lot of my initial research experience, just working together on teams, collaborating with folks and getting publications."
He kept plugging away on securing medical school interviews and raising his MCAT scores. Until one day, it became obvious his research gig should be his career. He made the life-altering call to pivot again and apply for graduate school to study cognitive psychology.
"I realized I was really interested in understanding how the brain works, and why do we do the things we do," Kevin says. "I know how to map out different areas of the brain, but what do they do? How do they underlie behavior?"
Once at CMU for graduate school, he looked at how people weigh the cost and benefits of different choices with our uncertainty and confidence in achieving particular goals. Along with colleagues at the Center for Neural Basis of Cognition, he developed behavioral tasks and conducted research that uncovered new findings on the brain's striatum and how it releases movements based on what you think about the action you're performing.
With that finding and a lifetime of slights in the educational arena, he focused in on social psychology in his classroom and lab. His teaching will revolve around understanding intersections of race and identity, and his research focuses on how social factors impact the way we engage with the world.
"How do we go to the places that are going to affirm us?," Kevin says. "How do we create more spaces that are more affirming of more people? That is what true equity work is about: You belong here because you are here, you want to be here and you're doing all the things that are aligned with your personal goals."
"I want students to know you exist in this space and you are important, the work that you're going to do contributes to the advancement of these fields of knowledge and the impact that will have on the world."
Black Scholars Matter
During his academic career, a faculty member asked Kevin what brought him to Pittsburgh from Southern California. Kevin replied that he had a full scholarship to Pitt. He then clarified it was an academic scholarship after the faculty member looked him up and down and stated the reasons his physical appearance seemed to preclude him from playing collegiate basketball or football.
"That is something I've had to contend with my entire life," Kevin says. "I've had teachers since kindergarten tell me that I wasn't going to amount to anything because I was Black."
"Now that I'm a professor at CMU, after having to overcome all these kind of challenges, I'm really interested in learning 'How did this not just affect me, but how does it broadly affect a bunch of other people?'"
He had started his research on understanding how stereotype threat, a worry or concern about being judged based on negative stereotypes, impacts students' decisions to seek help and procrastinate in academia, particularly among women and other historically excluded groups.
The effects of stereotype threat are long-lasting and far-reaching, touching on one's identity development, professional career and future income. Examples include actions like perceiving a Black male on a college campus to be an athlete, as happened to Kevin, or discrediting a women's ability to perform in STEM fields, Kevin says.
After completing his Ph.D., he became part of CMU's President's Postdoctoral Fellowship Program, which offers opportunities to outstanding scholars with non-traditional backgrounds in higher education.
As part of the program, he continued the work he began during graduate school in CMU's Center for Student Diversity and Inclusion. His research, life experiences as an underestimated Black man and advocacy efforts in academia — such as creating a Black Scholars Matter slogan and logo to raise awareness of systemic inequities and the marginalization of Black scholars throughout higher education — dovetailed. At the center, he helped students engage with the university in a way that also helped them grow their identities and deal with stereotype threat in their academic experiences.
"I want students to know you exist in this space and you are important, the work that you're going to do contributes to the advancement of these fields of knowledge and the impact that will have on the world," he says. "There are better outcomes for students who get help when they know that they need it."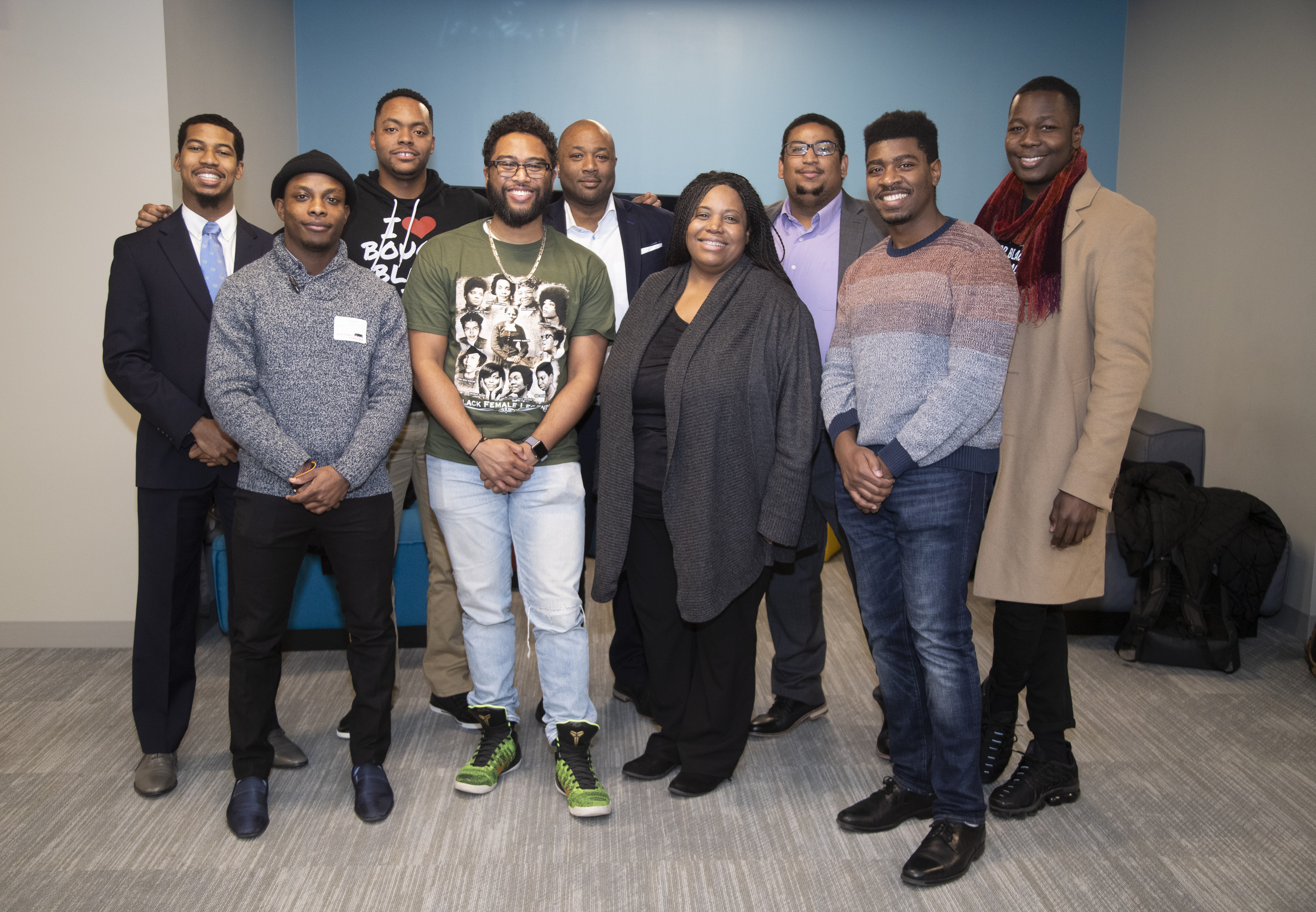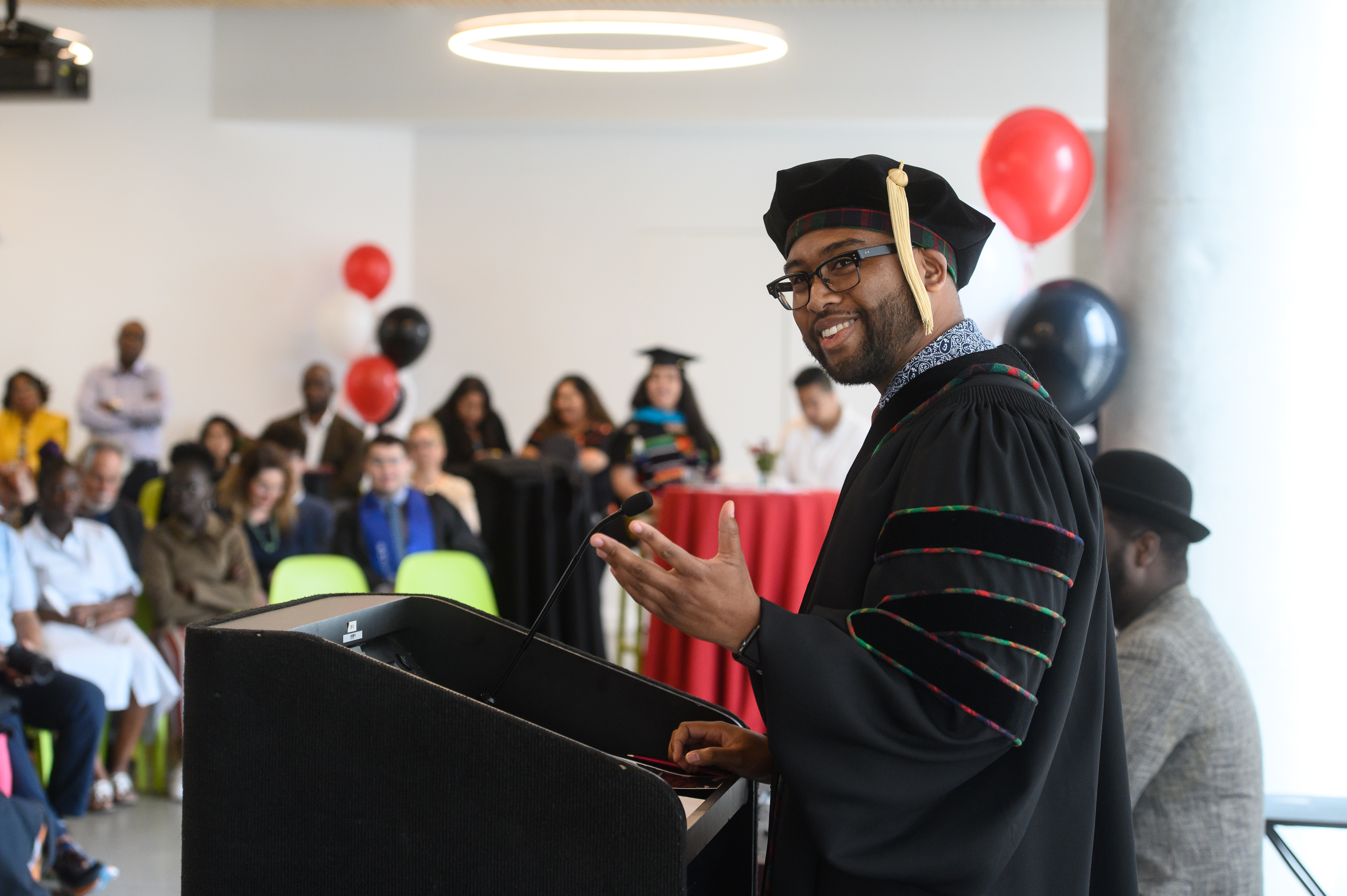 Kevin has been integral to impacting the CMU student experience in line with the center's vision, says M. Shernell Smith, associate dean and executive director of the Center for Student Diversity and Inclusion.
"He is a highly engaged, compassionate agent of change within the academic classroom and laboratory research settings as well in his racial justice work within the broader Pittsburgh community. We are a better Carnegie Mellon community because of emerging leaders and new faculty members like him."
Within Dietrich College, Kevin has served on the Diversity, Equity and Inclusion Strategic Planning Committee, and now on the Diversity Equity and Inclusion Implementation Committee, which provides oversight on diversity, equity and inclusion issues for the college and facilitates communication and accountability.
Across campus, Kevin seeks to spread the same growth mindset he urges for students to fellow faculty members and administration, too.
"A teacher has to believe that a student can become better and that they have a role in helping a student achieve that," Kevin says. "The question is how do we weave that mindset into the way we train teachers to engage with students that will increase students' engagement with them and the broader community on campus? How do we start changing the policy and the way that we operate to influence our culture to be a lot more inclusive and equitable?"
For Kevin, the changes happening on CMU's campus keep him motivated and hopeful such as the creation and launch of the Student Academic Success Center and the Tartan Scholars program; the hiring and appointment of diversity, equity and inclusion administrators and staff members; the founding of the Center for Shared Prosperity and Collaboratory Against Hate; and the addition of numerous identity-based student mental health and wellness support groups by CaPs.
"My experiences in education that were so bad, I want to eliminate those things for students now," Kevin says. "CMU is one of these places that I just truly believe is making real, legitimate steps towards a more equitable educational experience. I want be able to be a part of that and continue to drive it in any way possible for people."
Right now, he feels the path he's walking is the right one for him.
"I've had so much of the support along the way that has made CMU feel like home and a place I want to be."