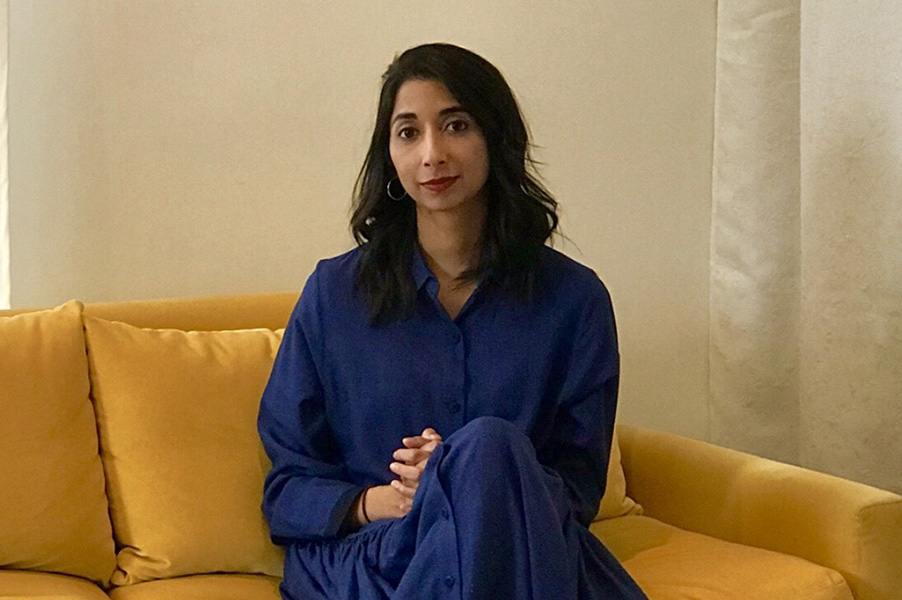 Alumna Champions New Voices as VP of Acquisitions for Sony Pictures
Summer 2018 was a big one for the film industry. Several movies released that summer made headlines, drew impressive box office, and won rave reviews with diverse — in some cases historically diverse — casts, crews and perspectives. "Crazy Rich Asians." "Sorry to Bother You." "Ocean's 8." "Blindspotting." And among those films was a hit for Sony Pictures, "Searching," an innovative thriller with an Asian-American lead (John Cho).
"Last summer was an exciting time in film where audiences were interested in more representation on screen," said Lakshmi Iyengar (MEIM '09), VP of worldwide acquisitions for Sony Pictures.
In her executive role, Iyengar works with the team that acquired "Searching" at the 2018 Sundance Film Festival in January of that year. The film went on to a summer release with big box office numbers — more than $75 million — as well as widespread critical acclaim, with a 92 percent rating on Rotten Tomatoes as of this writing.
"It is incredibly fulfilling when we work on a film that coincides with the cultural symphony of what's happening in the world in an impactful way," said Iyengar.
International film festivals play a major role in Iyengar's work in acquisitions, an experience she says is intense but always exciting.
"In the movie business, film festivals punctuate the year and shape industry trends. It's been an incredible opportunity to participate in that narrative. From an acquisitions perspective, the experience involves screening five to six films each day while staying ahead of what movies are coming together in the near future."
No two films are the same, and acquisitions involves taking the right bets on movies.
"This job requires a lot of instinct as well as forethought, but at the end of the day it's all about whether or not a movie spoke to you. You need to be able to articulate why a film is meaningful or important."
A creative executive (emphasis on creative)
While her position involves many high-profile business decisions, Iyengar says that her job also requires a great deal of creativity. She mentions her close involvement with "The Wedding Guest," a thriller directed by Michael Winterbottom and starring Dev Patel that Sony launched at last year's Toronto International Film Festival. IFC Films picked up the U.S. rights and released the film this March.
"This role allows you to work closely with filmmakers, collaborate creatively and discuss the film's future together," she said.
That level of creativity has long been a part of Iyengar's life.
In her undergraduate at UCLA, she studied theatre and design. Working in theatre taught her skills and philosophies that she treasures, not only because she continues to produce live dance performances with L.A.'s Rangoli Dance Company, but because her background in theatre taught her how to collaborate closely with people of different disciplines. 
"Respecting everyone's craft and working alongside them is very helpful in Hollywood," she said. 
Iyengar grew up in the Los Angeles neighborhood of Sherman Oaks, and her parents are both artists from India—her mother is a dancer, choreographer, and visual artist; her father is a dentist and sculptor.
"My parents put so much time into exposing me to various forms of art, music, theatre and design. I just remember my childhood being completely immersed in the arts, and through that upbringing I found a love for cinema," she said. "I grew up around people who kept me curious and interested in the world around me."
But just because she loved art and movies and grew up near Hollywood didn't mean she thought a career in entertainment was in her future. Rather, she said that it felt like a far-off dream. She debated getting an MFA, to continue pursuing expertise in the arts. But while she was researching schools she found the Master of Entertainment Industry Management (MEIM) program at Carnegie Mellon. And that's when things changed.
"The MEIM program enabled me to intern with producers and executives and gain experience in the industry. Looking back, I never thought I would get to work alongside them today."  
"I fondly think of my time at CMU, it was an inspiring time to be a part of my class. Everyone had such energy and momentum, and I found that to be very infectious," she said.
'A very exciting time'
When asked what advice she has for professionals entering the entertainment field, she says to be authentic. 
"Authenticity is sometimes the first thing people let go of. People get anxious about the expectations of what it means to live and exist in Hollywood, I definitely felt that. But being confident in who you are, that's exactly what makes people stronger in these creative spaces," she said.
Technology has changed much about the entertainment business, from the way movies get made to way audiences watch movies. But for Iyengar, the most significant changes in the industry have to do with who has a voice.
"Diverse voices are being heard more now than I've ever experienced in my decade in the industry. The beauty of film is that it's a medium that is ever-changing, and there is an opportunity for everyone to tell a story," she said.