Nowhere to Go But Up
CMU alumnus, director Rob Marshall lifts spirits and sets toes tapping with his Academy Award-nominated film "Mary Poppins Returns"
By Joyce DeFrancesco jdefranc(through)andrew.cmu.edu

Behind-the-scenes footage of the filming of "Mary Poppins Returns," directed by School of Drama alumnus Rob Marshall.
When Carnegie Mellon School of Drama alumnus Rob Marshall (A 1982) talks about the success of his latest big screen musical, "Mary Poppins Returns," he doesn't linger on the positive reviews, awards and honors — although there are many — he instead mentions the impact on those who experience it.
"I have seen how it has transformed people's lives. They have told me it has helped them deal with loss. It has given much needed feeling, a lift, a sense of joy," Marshall explains. "I wanted to send the message of this film out into the world now. A message of hope and light in a dark time. This is the moment that we all needed [Mary Poppins] to return!"
In December, a new generation was introduced to the "practically perfect in every way" Mary Poppins in Marshall's first original movie musical. The six-time Tony Award nominee began his career as a Broadway performer, choreographer and director before moving onto Hollywood. Marshall previously adapted "Annie" for television and "Chicago," "Nine" and "Into the Woods" for the big screen. "Chicago" earned 13 Academy Award nominations in 2002 and garnered six Oscars, including one for Best Picture. The film also earned Marshall a Directors Guild of America Award and Academy Award, BAFTA and Golden Globe nominations for Best Director.
Set in 1930s London, Marshall's sequel to 1964's "Mary Poppins" picks up the story of the Banks children, Michael and Jane as adults. Joining them are Michael's children, Annabel, John and Georgie, who are trying to find the joy and wonder that's missing in their lives following an immense personal loss.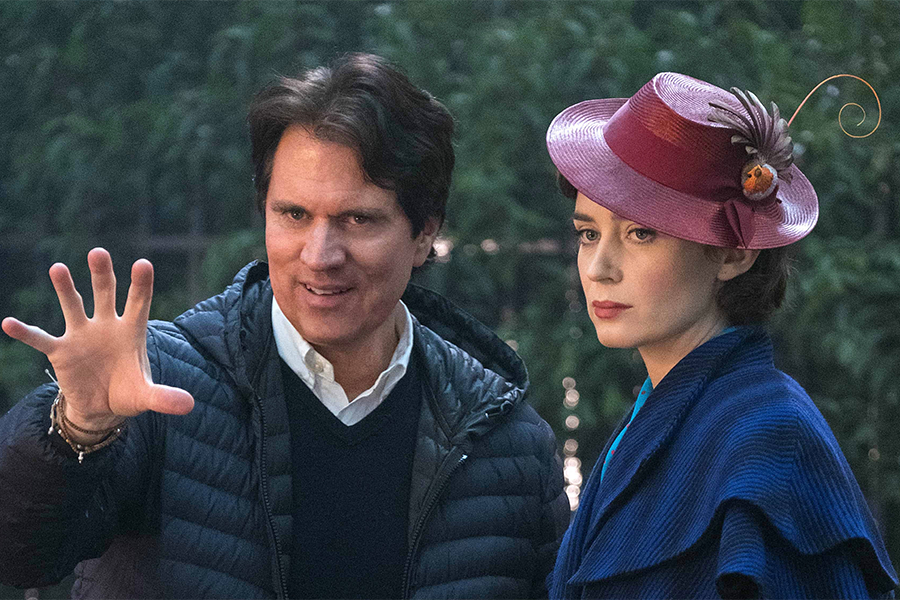 Director Rob Marshall with actress Emily Blunt on the set of "Mary Poppins Returns"
Marshall has had a love affair with musicals his entire life. In fact, the original "Mary Poppins" was the first film he remembers seeing as a child. Being entrusted by Disney and estate of P.L Travers, the notoriously particular author of the eight Mary Poppins books, to create a sequel with a fresh story and original music was a lifelong dream come true for Marshall.
 "My partner, John DeLuca, and I expressed interest in a sequel to Disney," Marshall says. "When the door opened, they came to us… it was kind of a 'be careful what you wish for; well, here we go!' moment." 
Original film musicals are rare today, and a musical on the scale of "Mary Poppins Returns" is even rarer. Creating the world of Mary Poppins was a three-year process for Marshall, which required creating a narrative storyline for the film — due to the source books' episodic nature — as well original songs, choreography and a rare live action/animation sequence (all hand drawn). 
"It became something I was very passionate about, as I had never made an original musical for film before. It was almost like shooting two films at once," Marshall says. "The process of this was just so intense, longer and deeper because I was making something from scratch. I lovedit very much because I didn't have to take something from the proscenium and then open it up into a film."
"Mary Poppins Returns" is nominated for four Academy Awards — Best Costume Design, Best Original Song ("The Place Where Lost Things Go"), Best Original Score and Best Production Design — to go with Golden Globe, BAFTA and Screen Actors Guild nominations, among a host of other honors.
One person who isn't surprised at all by Marshall's success in creating a new work that required huge artistic vision and skill is Judith Conte, teaching professor of dance in the School of Drama, who taught Marshall while he was a CMU undergraduate.
"Well, Robby — that's what I called him as my student — has an amazing range of talent, but it isn't talent alone that makes an artist," Conte says. "It's the humanity and generosity coupled with the talent that makes great artists, and Rob has those in abundance. Always did and always will."
Marshall credits his experience at CMU with giving him a well-rounded background as a performer, which still influences his work as a director, helping him to connect with his actors and collaborate with those with whom he works.
"Working on new material was something we did a lot at Carnegie Mellon and in the process expressing yourself, learning who you are and what you are," remembers Marshall, who spent his junior year as a member of the national touring company of "A Chorus Line." "I felt that I was supported in a big way to be myself and learn my craft." 
Marshall's love affair with musicals is only growing as he and DeLuca are exploring the possibility of bringing a live-action "Little Mermaid" to life for Disney as their next project. 
It seems that, like Mary Poppins herself, Marshall has "nowhere to go but up."