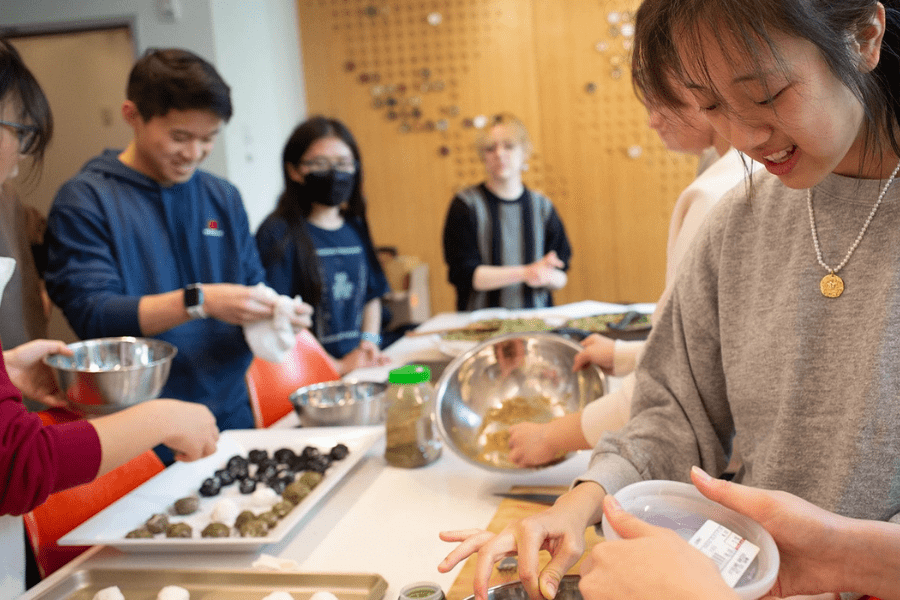 February 21, 2023
A Recipe for Understanding
By Emily Nagin eanagin(through)andrew.cmu.edu
Media Inquiries
Abby Simmons
Associate Dean of Communication, Dietrich College of Humanities and Social Sciences
The long, bright kitchen is alive with noise and activity: onions are chopped into fine crescents, piled into a pot and spiced with purple grains of sumac; labaneh, a creamy strained yogurt, is rolled into balls and dusted with green zaatar spice and small black nigella seeds; chicken poaches on a stove with bay leaf and cardamom. Monitoring it all is Chef Fadi Kattan. He strides between the cooks, checking their work, instructing as necessary.
This is not the back end of a restaurant. This is the first-floor kitchen of Carnegie Mellon University's Fifth and Clyde Residence Hall, and the cooks are first-year students enrolled in the Dietrich College of Humanities and Social Sciences' Palestinian and Israeli Food Cultures Grand Challenge Seminar.
Co-taught by Michal Friedman, Jack Buncher Professor of Jewish Studies in the Department of History, and Nevine Abraham, assistant teaching professor of Arabic studies in the Department of Modern Languages, the class filters Palestinian and Israeli history, culture and conflict through the lens of food. Topics range from regional and culinary history to gender roles in Israeli and Palestinian communities to the ways displacement and military occupation affect the production of produce.