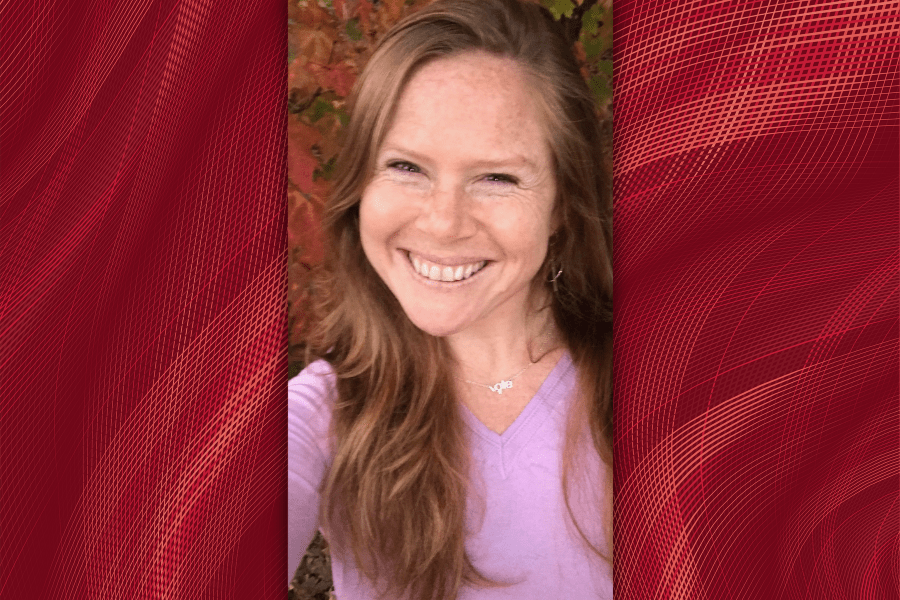 July 11, 2022
Alumni Spotlight: Meredith McConnochie
Meredith McConnochie credits her exposure to both Psychology and Hispanic Studies for setting her on the path to her current career
By KellyAnn Tsai kellyanntsai(through)cmu.edu
Meredith McConnochie came to Carnegie Mellon University for soccer. "I really appreciated that the soccer players had a good balance between academics and athletics," said McConnochie, who played for the CMU Women's Soccer team from 2000 to 2004. But beyond that, "I didn't really have in mind what I wanted to study." 
Four years later, McConnochie would graduate from CMU with a major in Psychology, a minor in Hispanic Studies, and a foundation for her life's future work.
Today, McConnochie is Assistant Professor of Education and Director of Graduate Early Childhood-Special Education Program at the University of Saint Joseph, where she teaches courses for the university's Early Childhood-Special Education and Teaching English to Speakers of Other Languages (TESOL) programs. Her professional focus on early childhood language learning stems from McConnochie's four years at Carnegie Mellon, specifically the unique combination of her coursework in Psychology and Hispanic Studies. 
One particularly influential figure for McConnochie was Sharon Carver, Director of the Carnegie Mellon Children's School and Teaching Professor of Psychology. Not only was McConnochie fascinated by Carver's courses in developmental psychology, but she also saw in Carver a role model.
"I remember thinking, 'Sharon Carver has the perfect job of teaching and still doing research and being involved with kids," recalled McConochie. "[Her] course is when I started realizing that's something that I would want. I wanted to have her job." 
Another pivotal experience was an independent study with Brooke Feeney, Professor of Psychology, in the Relationships Lab. "That was very influential in my thinking about how exciting research was," she said. McConnochie had another opportunity to observe relationships in the kindergarten classroom at the CMU Children's School while taking a practicum course involving small group discussions about early childhood education.
McConnochie's work in early childhood research is coupled with a focus on language learning and education, an interest sparked by her experience as a Hispanic Studies minor in CMU's Department of Modern Languages. 
Modern Languages course 82-344 U.S. Latinos, taught by Therese Tardio, Teaching Professor of Hispanic Studies, was "super influential" in McConnochie's career. The course, which is still offered today, is an introduction to and analysis of the cultures, histories, and complexities of Latinidad in the 21st century United States. "That's where I first learned about bilingual education and the debates over how we teach students who speak another language at home." 
McConnochie also took a Modern Languages community outreach course with Susan Polansky, Teaching Professor of Hispanic Studies, which involved teaching Spanish at a local school in Pittsburgh. "That was the first time I ever went to a school to teach. That was exposure to a possible career path, and that's related to what I'm doing now," said McConnochie.
While at CMU, McConnochie also spent a summer abroad in Spain, which she says has given her a lens into the experience of language learning and living as an outsider.
"There's nothing like studying abroad to understand what it's like to be an outsider and how to navigate it," she said. "When you realize all the differences across cultures that can exist and the different ways of interpreting others' actions, it gives you a way of interacting with people that makes you less likely to jump to conclusions." 
Over the course of her professional career, these outsider experiences have helped McConnochie relate to many of her students.
"We're always comparing stories about what goes wrong when you're an outsider," she said. Some of McConnochie's own cultural and linguistic mishaps include nearly cutting off all her hair at a Spanish salon, and accidentally kissing an acquaintance on the lips after forgetting on which cheek dos besos ("two kisses") should begin. "I went the wrong way!"
McConnochie credits her exposure to both Psychology and Hispanic Studies at CMU for setting her on the path to her current career. In particular, she found the hands-on coursework to be the most rewarding.
"The most meaningful and influential courses that I took [at CMU] involved really practical applications of knowledge and interacting with professors and peers," she said. "Having the opportunity to do what the professionals do, with a mentor, was incredibly valuable." 
Knowing what she knows now, McConnochie recommends that all CMU students incorporate an interdisciplinary approach to their studies. 
 "Be exposed and engaged in many different fields," she advised. "No matter what field you're in, it is so beneficial to learn from the different humanities fields to understand the human experience."