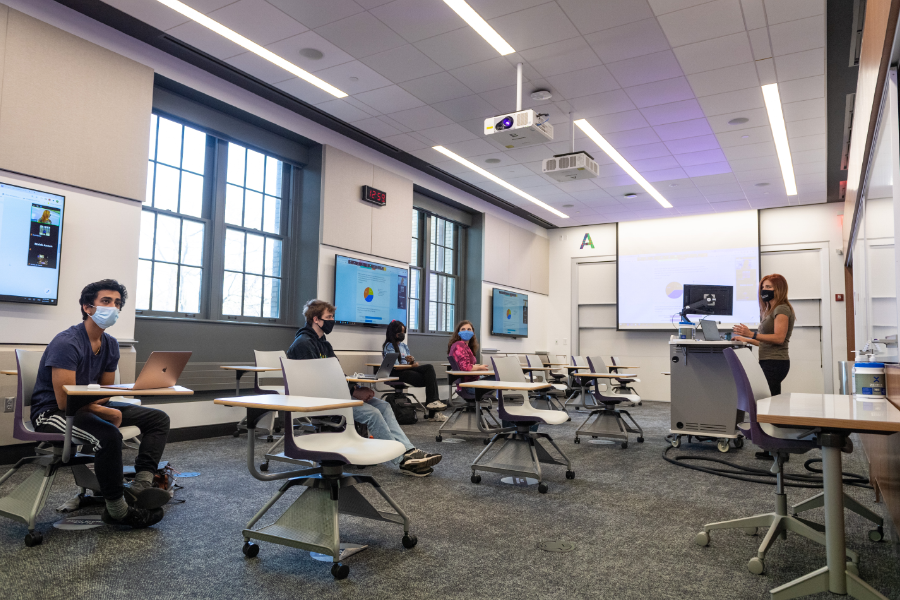 April 22, 2021
Social Justice and the Arab World
By Stacy Kish skish(through)andrew.cmu.edu
According to Nevine Abraham, principal lecturer of Arabic Studies in the Department of Modern Languages, the diversity of the Arab world is not often an area of appreciation that draws much attention. To challenge perceived stereotypes of this region, she developed the course, "Understanding Cultural Complexities: Minorities in the Middle East and North Africa."
"We often overlook the fact that there are minorities in other parts of the world. These minorities often face issues of discrimination or sometimes simply go undefined and ignored by their societies," said Abraham. "Our job as educators is to help [our students] delve more deeply into the circumstances affecting groups in other countries, understand the values and norms that inform certain ways of thinking and policies that dictate laws and hopefully realize the similarities of concerns and practices with regards to diversity, equity and inclusion across contemporary Arab societies."
Minority groups in Arab countries span ethnicities, races, sects, religions and ethnic languages. While this diversity enriches the culture, it also imposes challenges that are in some ways similar to the United States but are in other ways more complex. According to Abraham, the students explore the ways in which history, religion, identity politics and socio-economic and cultural values have defined the dynamics of relationships between the majority and minority groups. 
Using film, memoirs, blogs, social media, novels, art and music, students evaluate how each group is represented by each medium. She weaves in the challenges, like the censorship, and how the artists overcome these obstacles to find creative ways to present their message on culturally-sensitive topics to reach their audience.
"When students look at how these groups are represented in film, for instance, they are taught to use critical thinking: whether the filmmaker presents an outsider view or identifies with the group in question," said Abraham. "They learn to appreciate the history and cultural sensitivities to certain topics, as well as the role of public opinion, audience reception and censorship and its effect on filmmaking."
Guided by this knowledge, students in Pittsburgh began a series of virtual conversations with their student counterparts in Qatar, Egypt, Morocco and Saudi Arabia.
"Getting to meet students from different backgrounds in the Middle East has changed my perspective as a student in this class, but also as a person," said Sophie Bernstein, a senior in social and political history and creative writing who is participating in the class. "I have come to understand how varied opinions are between and within other cultures." 
For these conversations and prior to the virtual sessions, CMU students send their Arab counterparts a survey of questions on the topics studied in the course, collect data then engage in the dialogue sessions. The responses help students frame their initial conversations to overcome cultural barriers. They write reports to clarify whether what they learned in these sessions aligns with or differs from their prior knowledge. They also work in small groups paired with Arab students to collect additional data and complete a YouTube final project.
"I like my students to know that Arab societies are not what the media portrays," said Abraham. "The course objective is for them to walk away with a greater appreciation and understanding of the complexity of Arab societies."