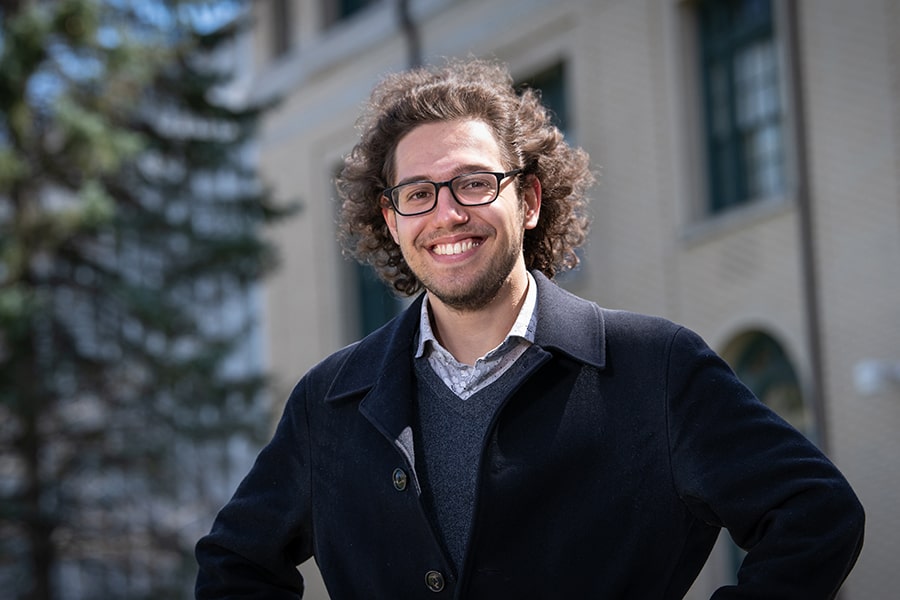 April 05, 2021
CMU senior named a Gaither Junior Fellow
By Heidi Opdyke
Media Inquiries
Abby Simmons
Dietrich College of Humanities and Social Sciences
Daniel Carrol
Carnegie Mellon University senior Jacob Feldgoise's work on local, state and national policy issues earned him a place as one of 13 James C. Gaither Junior Fellows at the Carnegie Endowment for International Peace in Washington, D.C. 2021-2022.
Feldgoise will graduate in May with majors in policy and management within the Department of Social and Decision Sciences; and science, technology and public policy from the Department of Engineering and Public Policy (EPP). He will also receive a minor in Chinese studies.
Richelle Bernazzoli, associate director of the Undergraduate Research Office (URO), said Feldgoise is the first CMU student to be awarded the fellowship.
"Jacob is exceptionally driven, and a strikingly independent thinker," said Bernazzoli. "He has a seemingly endless drive to excel and to contribute to society in meaningful ways."
Notable Gaither Junior Fellow alumni include George Stephanopoulos of ABC News and Samantha Power, a former U.S. ambassador to the United Nations and current administrator of the U.S. Agency for International Development.
"Programs like the Gaither Junior Fellows seek out individuals who are true leaders in their scholarly and professional areas, with great potential to shift their fields in the course of their careers," Bernazzoli said. "It's no surprise that Jacob has received multiple nationally and internationally competitive awards."
Feldgoise was previously awarded the Lena Foo Study Abroad Scholarship from CMU's Department of Modern Languages and a David L. Boren Scholarship in 2019 to spend a summer at Shanghai International Studies University through CMU's summer study abroad program. He was selected for the Yenching Scholars program, which fully funds a master's degree in China studies at Peking University, but declined in order to be a Gaither Junior Fellow.
He said that working with CMU's Fellowships and Scholarships Office (FSO) within the URO has been key to his CMU experience.
"The URO, and in particular the FSO, has an incredible group of people on staff," Feldgoise said. "Richelle Bernazzoli is a great thinker and an incredibly smart person to have learned from in putting together these applications. The office has been a constant source of support — helping me seek out opportunities that wouldn't have otherwise been possible."
Making an Impact
Feldgoise said that he was drawn to Carnegie Mellon because of its interdisciplinary nature.
"I've been fortunate to wind up at an institution that prizes and encourages interdisciplinary education and gives you the opportunity to go out and take classes in very different departments. It has allowed me to accumulate a diverse set of skills in different fields," he said.
During his time at the university, he also worked to bring about local change. Feldgoise founded CMU Votes, a coalition of student organizations dedicated to organizing civic engagement events and conversations at CMU.
"I'm very happy with the impact that we've already been able to have — through our voter engagement with the November election to the CMU Votes-branded events that we have been hosting," he said. "We started something that I hope will continue in coming years."
At the state level, he interned with the Massachusetts Attorney General's Office in 2018 assisting attorneys in an ongoing investigation of ExxonMobil. Feldgoise received a Summer Internship Experience Fund grant from CMU's Career and Professional Development Center, and a Dietrich College Opportunity Grant.
"Jacob is one of the most thorough and thoughtful students I have known," said Connie Angermeier, the senior academic program manager for SDS and one of Feldgoise's advisers. "He is able to consider problems by using the many qualitative and quantitative, cultural and analytical skills in his toolbox."
Feldgoise also works with CMU's AirLab, part of the Robotics Institute, studying how much energy is expended during the first- and last-mile package deliveries with drones, which can be the most complicated portions of delivering goods to consumers. That experience in digging into technology policy was useful when interning with the U.S. House of Representatives Committee on Science, Space and Technology as part of the CMU Washington Semester Program where he helped draft briefings for policy staff on different topics.
"I wasn't focusing so much on foreign policy or U.S.-China relations. It was an internship that was more focused on the science and technology policy side of my interest area. I did have a couple of opportunities to focus on issues that are at the intersection of technology policy and U.S.-China relations, which was particularly meaningful."
Once his Gaither Junior Fellow commitment is complete, Feldgoise said he wants to continue with policy work. As a Boren Fellow, he'll work at least one year with a federal agency, likely in a national security role.
"What I've discovered is that I can work on the issues that I care about from a number of different directions. The issues that matter to me are very much focused around technology policy, and at least right now, U.S.-China relations. Those issues are the focus of many different agencies in the federal government," he said.
But, similar to his time at CMU, Feldgoise is confident he'll find a way to make a difference no matter where his path leads.
"I never thought I'd wind up doing robotics research, and learn how to implement machine learning for data science purposes, and also study economics and Chinese. It's just been a wild ride," he said.