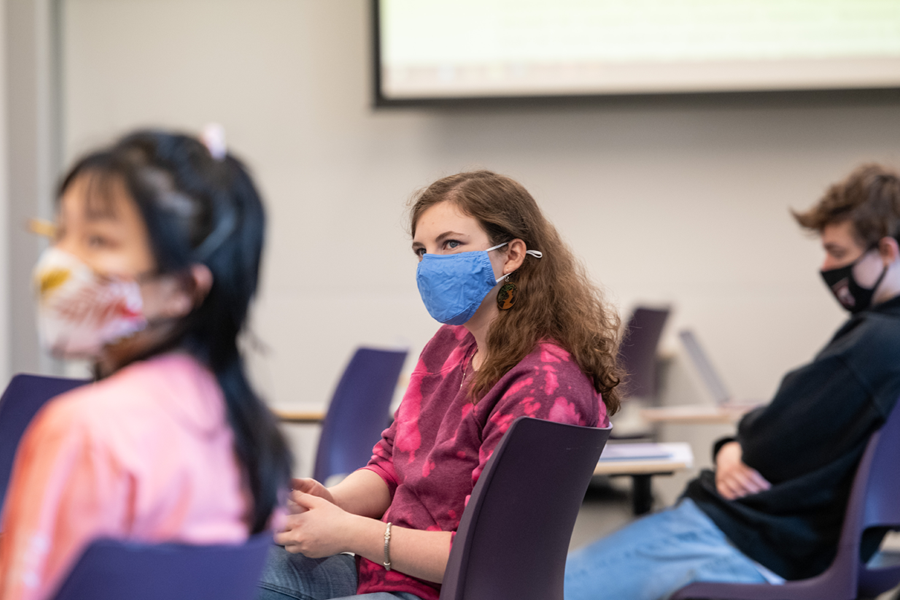 June 15, 2021
Modern Languages Fall 2021 Courses to Watch
By Kirsten Heuring kheuring(through)andrew.cmu.edu
For the Fall 2021 semester, the Department of Modern Languages is offering 11 courses taught in English and open to all Carnegie Mellon University students. These courses cover a wide range of subjects from second language acquisition to gender and sexuality to cultural perspectives, and they span the cultures of Russia, China, Latin America and more.
"Our classes are small, and our professors are brilliant and engaging and deeply devoted to their students, who consistently rate Modern Languages courses as among their best experiences at Carnegie Mellon," said Anne Lambright, the head of the Department of Modern Languages and professor of Hispanic studies.
Many of the courses touch on themes of gender and sexuality. "Topics in Chinese Culture: Gender & Sexuality in China" focuses on modern representation of gender and sexuality in Chinese culture and media, including literature, theatre and music. "Contextual Thinking: Gender and Sexuality in the Spanish-Speaking World" covers how gender is deeply intertwined with economic and political structures for Spanish-speaking people in Latin America, Europe and the United States. Some of these courses cover a wide range of inequities. "Equity & Justice: Human Rights & Film in Latin America" analyzes how Latin American filmmakers depict the rights of different groups based on class, race, gender, sexuality and culture.
Other courses offer different perspectives on language and culture. "Comparative China: Perceptions through YouTube and TikTok" analyzes how social media platforms can distort perspectives, and how students can critically analyze these new media forms to gain better understanding of Chinese culture. "Cultural Complexities: Multicultural Japan" challenges the idea of Japan being ethnically and culturally homogenous, instead showcasing how the country is becoming more multicultural through immigration. "Beyond the Mafia and Michelangelo: Italy Unmasked" compares the different cultures of north, central and south Italy, which are rarely acknowledged by American perspectives, and analyzes how these differences affect Italians.
For students more interested in language use and acquisition, two courses cover second language acquisition. "Second Language Acquisition: Theories and Research" offers students an introduction to different ways people learn another language and what factors make language acquisition easier or harder. "Topics in Second Language Acquisition" has two different topics with different sections and professors. One section examines how learning a second language is not divorced from modern issues of inequities and how these inequities affect multilingual experiences.
In addition, there are a range of other courses offered for the Fall semester. "Everyday Learning: Designing Learning Experiences in Times of Unrest & Uncertainty" explores how to create learning experiences that are accessible to a wide range of people in classroom, museum and civic settings. The other two courses investigate Russian media. "20th Century Russian Masterpieces" investigates the effects of the Russian Revolution on the nation's literature, and "Russian Cinema: From the Bolshevik Revolution to Putin's Russia" surveys Russian and Soviet film, examining the films' cultural contexts and messages.
"I can say that our courses will give you the knowledge and the skills that employers are looking for these days—critical thinking, cross-cultural competence, global awareness—and all of that is true, but, honestly, I'd say take a Modern Languages course because you will find them creative, inspiring, fascinating, and quite possibly life-changing," said Lambright. "If you can't take advantage of transformative learning experiences during these four years, when will you?"