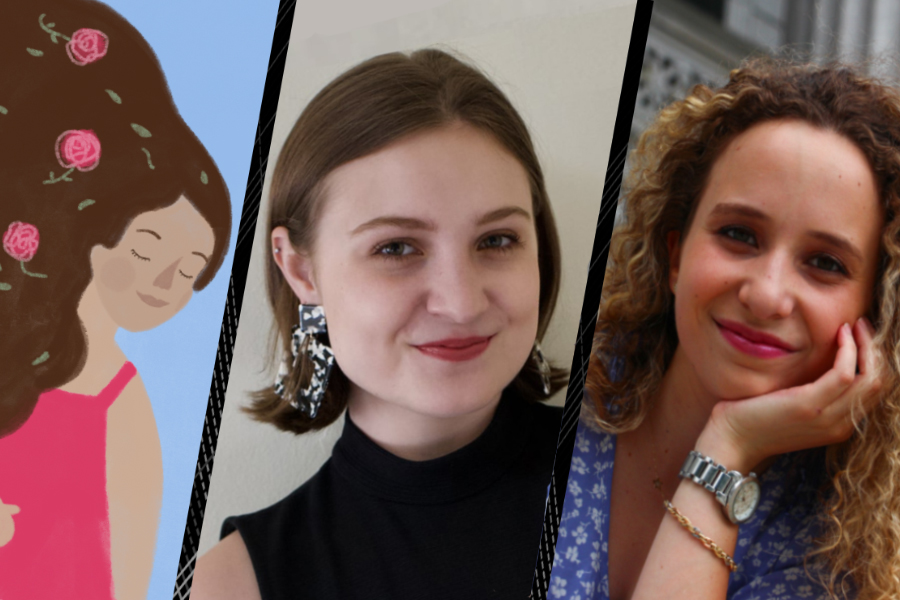 August 16, 2021
Modern Languages Alumna and Writing Partner Adapt Novel into Musical
By Meghan Marino meghanma(through)andrew.cmu.edu
Media Inquiries
Meghan Marino
Department of Modern Languages
Recent graduate and 2021-2022 Fulbright scholar, Emma Cordray, went out on a limb as she sent an Instagram message to an old-time acquaintance who she had met at an art camp, Jimena Caballero, asking to team up and take on a massive project: adapting Cordray's favorite childhood novel into a bilingual musical. The novel, detailing a young girl's journey as an immigrant to the United States from Mexico, captivated Cordray who was eight years old at the time when her mother first read it to her during a family vacation in Mexico. 
Cordray, who received a Bachelor of Humanity and Arts Degree in Hispanic Studies and Drama as part of the BXA Intercollege Degree Programs at CMU, wanted to work on the piece for her capstone. She reached out to Caballero who, according to Cordray, had always had a natural talent for heartfelt storytelling through music. Born and raised in Mexico City, Caballero studied songwriting at the Berklee College of Music where she had taken a musical theatre writing class and convinced herself that writing musical theatre was simply "not for her." Nevertheless, she replied without hesitation to accept Cordray's proposal.
The decision came easily because the adaptation was anything but traditional; While many musicals have sprinkled in hints of bilingualism, this musical would take an idiosyncratic approach by fully representing both English and Spanish. "Everything clicked," said Caballero. "I've always thought that I could give back to my country and my culture, and this felt like the perfect way to do so. Now I really love writing musical theatre and I really want to keep doing it." 
At first, the two pictured that bilingualism would be reflected by geographic location in the musical but eventually decided that a geographic approach did not fully represent the nuanced experience of language barriers and language learning. According to Cordray, it flattened the characters' narratives by artificially having them switch from Spanish to English upon entry to the United States. "It felt like we were promoting this idea that assimilation is the key to success by having the characters only speak English in the U.S. and Spanish when in Mexico," said Cordray. "I have never seen a musical on Broadway that was actually bilingual; I have not seen bilingualism used as a dramaturgical device or for narrative purposes."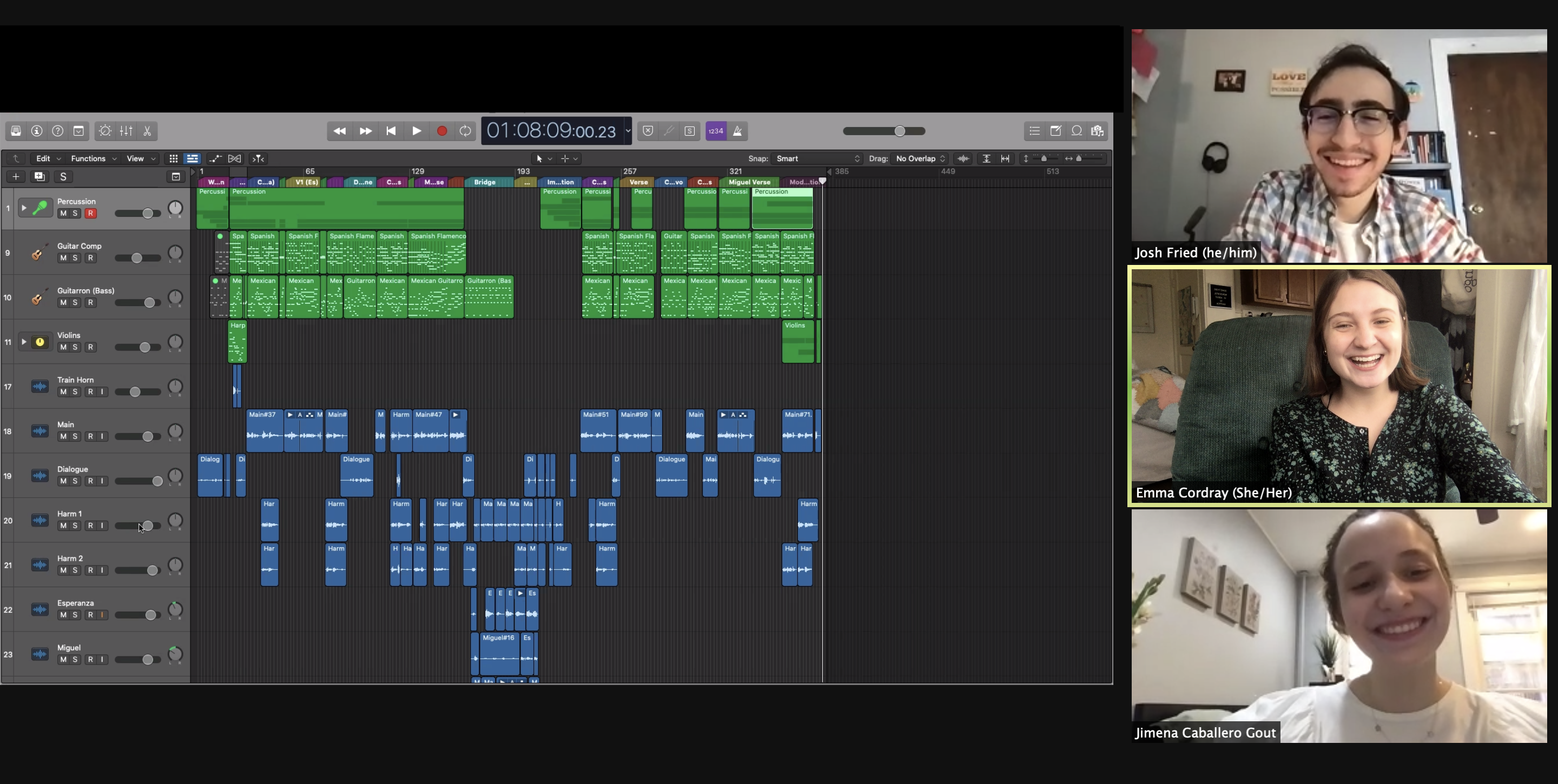 The two would change that as they worked together to adapt the piece into a libretto, with Caballero composing the music.

Cordray attributed Katharine Burns' course, "82-345 Using Spanish in Social Contexts," as an invaluable resource throughout her process of writing a bilingual musical. She learned about various aspects of language from sociolinguistics, pragmatics, colloquial Spanish, bilingualism, to code switching. "I suddenly had this specialized vocabulary with which I could speak about how languages interact with each other in a sentence," said Cordray.  
Cordray credited a particular reading from Burns' course, which discussed the varying degrees of bilingualism, to having specifically resonated with her. The reading introduced bilingualism as a spectrum, a concept of which Cordray had not considered in the past. "After that reading, it was like a light bulb went off in our brains. We made a bilingual spectrum that mapped all of the characters' journeys with language from the beginning to the end of the show." 
The expanded approach to bilingualism contributed an individualized depth to the characters' identities and has done a better job at representing the true bilingual experience, according to both Caballero and Cordray. 
"There will, of course, be times where we need to be more strategic based on whether the show is being presented in a Spanish speaking country or an English-speaking country," said Cordray. "There will be a time where we need to change a specific line to English if we are in the United States for instance, so that we can make sure the audience really understands it." 
"They created an innovative, layered musical in which each character's bilingualism is unique, dynamic, and complex according to his/her personal history, socialization, identity, and more." - Katharine Burns

Katharine Burns, who was moved to tears by the preview of the musical, has been left in awe of the talent and attention to detail that both Cordray and Caballero possess. "It was a joy to support Emma and Jimena's project and to witness how evidence-based sociolinguistics can inform art so powerfully," said Burns. "They created an innovative, layered musical in which each character's bilingualism is unique, dynamic, and complex according to his/her personal history, socialization, identity, and more."
While Cordray has focused on the story and structure of the musical, what has it been like to write musical numbers with bilingualism in mind? Caballero explained that writing pieces for the musical has been a journey of exploring both languages. "When I got to Berkelee, and I was writing songs in English, someone told me that my lyrics sounded like I was directly translating from Spanish to English," said Caballero. "I took that kind of personally and worked so hard to improve. I feel really confident writing in both languages now and utilizing wordplay in both languages." 
Caballero's song titled, "Great Big Sky."
Caballero mentioned that many people have pictured using two languages as being a difficult challenge when writing music but for her, it has been quite the opposite. "Sonically you can play with the words and the rhymes," said Caballero. "It provides twice as many options."

Caballero and Cordray expressed how fortunate they have been to work together. "We really think we've found something wonderful and unique in this collaboration and it has so much potential to keep growing. There is so much potential for us to grow together," said Caballero. 
The two recently graduated students will continue their journey together as they plan out their next adaptation into a musical. Cordray outlined the questions that have entered the thought process at such an initial stage. "We are asking ourselves questions such as, 'what stories do we want to tell?' and, 'in what languages?' We're beginning to articulate that and we're finding a lot of delightful and exciting overlap between our goals," said Cordray.
The following is a piece titled, "Volver A Empezar," sang by Carolina Campos and written by Emma Cordray and Jimena Caballero: