One of America's Most Livable Cities
Carnegie Mellon's main campus is located in the Oakland neighborhood of Pittsburgh, Pennsylvania. It's a great town. And we're not just saying that because we live here. Check out some of these stories about Pittsburgh:
CNN Money: 100 best places to live and launch
"We canvassed the country to find towns with the best mix of business advantages and lifestyle appeal. Check out our 100 top picks and find the perfect place to build your dream."
USA Today: Pittsburgh's 250th Anniversary
"Today, there are more jobs in the city and its surrounding areas than there were during the height of steel production in the 1970s," says Bill Flanagan, executive director of Pittsburgh 250 and executive vice president of the Allegheny Conference on Community Development. In the midst of the economic recession, Time magazine called Pittsburgh the 'one economic bright spot on Main Street.'"
BusinessWeek: World's Top 100 Most Livable Cities
"Mercer Human Resource Consulting...has come up with a global ranking of the world's most livable cities based on 39 key quality-of-life issues. They include political stability, currency-exchange regulations, political and media censorship, school quality, housing, the environment and public safety."
Pittsburgh is a sports town. And a cultural town. And a zoo town. Carnegie Mellon students can often be found attending a Pirates game, visiting the Andy Warhol Museum, hiking through Frick Park and riding the incline up Mount Washington to enjoy one of the best city views in the nation.
Professional Sports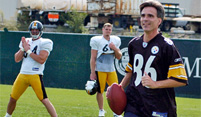 In Pittsburgh, the "black and gold" could mean any of our professional sports teams. The six-time Super Bowl champion Steelers make their home at Heinz Field, while our baseball team, the Pittsburgh Pirates, play at PNC Park. Our hockey team, the Penguins, skate at the Console Energy Center, located in the uptown district of Pittsburgh.
Zoo, Aquarium and Aviary
The Pittsburgh Zoo and PPG Aquarium is one of America's few zoo and aquarium combinations. With animals from the endangered snow leopard to the giant elephant to the western lowland gorilla, Pittsburgh Zoo boasts habitats like the Asian Forest, the African Savanna and the Water's Edge polar bear exhibit. And the aquarium features penguins, sharks and a crawl-through stingray tunnel.
The National Aviary, on Pittsburgh's North Side, is the nation's only independent, indoor, non-profit zoo dedicated exclusively to birds. At the aviary, you'll find winged wonders from the smallest hummingbirds to the lofty red-crowned cranes.
Museums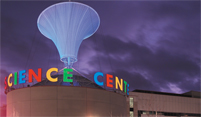 Pop Art comes alive at Pittsburgh's Andy Warhol Museum. (Did you know: Warhol attended Carnegie Institute of Technology — now named Carnegie Mellon University). Even more contemporary art — installation art — will surround you at The Mattress Factory. What once was an industrial plant for bed-making is now one of the few museums of its kind. Anywhere.
But, if you're looking for a wide range of styles and periods, The Carnegie Museum of Art is a must-see. Within the same structure as the Carnegie Museum of Natural history, the art museum contains the largest collection of plaster casts of architectural masterpieces in America and one of the three largest in the world.
Looking for something different? Check out the Carnegie Science Center for an array of exhibits that connect science and technology with everyday life. Carnegie Mellon also participates in many community partnerships like the Arts Pass Program that provides free admission for students to some of Pittsburgh's most interesting attractions.
Outdoor Parks and Slopes

Just a jaunt away from Carnegie Mellon's campus, Frick Park is the city's largest park, covering 600 acres. Schenley Park is even closer to campus and offers an outdoor pool, skating rink and plenty of open space to play sports.
When the temperature falls, so does the snow. Skiers and snowboarders can strap on their gear and visit two winter destinations within 90 minutes of campus. Hidden Valley and Seven Springs Mountain Resorts feature both down-hill and cross-country trails.
Pittsburgh Incline
A view of the city's skyline is rarely better than from atop Mount Washington, just 10 minutes from Carnegie Mellon's campus. To get the panoramic view, Pittsburghers and tourists alike often ride the Duquesne Incline. Featuring two original 1877 cable cars, the incline travels from a low-lying area in the South Side to the top of one of Pittsburgh's most famous hills — Mount Washington — home to eclectic eateries and historic neighborhoods.