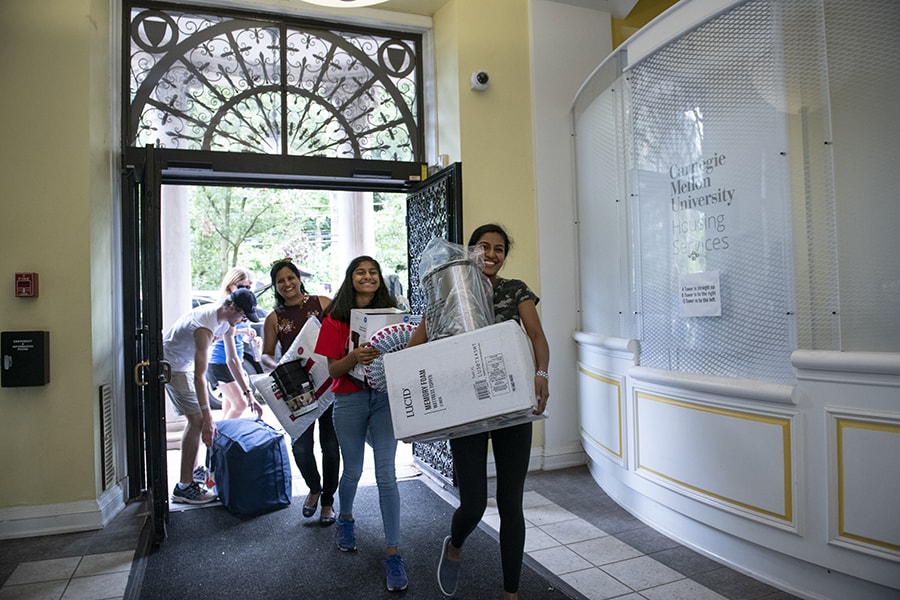 July 12, 2019
Family Orientation Primer
First-year students make a significant transition when they start their college careers. We know that parents and family members also experience a transition as you prepare for your student to arrive on campus. Parent and Family Engagement at Carnegie Mellon exists to support you as family members, so you can best support your student on campus.
One major way we introduce the families of new students to our services is through the weekend of Move-In and Family Orientation scheduled for August 17-18, 2019. You are invited to join your student for the weekend to help them get settled on campus and to learn more about our community of care. An overview of the schedule is available online now, and you can download the detailed schedule of events using the Carnegie Mellon App available on iTunes and Google Play.
Saturday, August 17, is Move-In for first-year students. Your student has received specific instructions about Move-In via email and you can learn more on the housing website. While campus offices like the HUB, University Stores and Computing Services will be open and available, there are no Orientation programs scheduled for Saturday. Students can stay in their residence hall Saturday night, while family members will need to secure their own overnight accommodations. A list of hotels near campus is available online.
Sunday, August 18, is Family Orientation. Sessions are designed for new students and their families. You're encouraged to use this day to attend Orientation sessions, get settled on campus, and complete university business. All new students and family members are encouraged to attend the President's Welcome and individual college programs. Families of international students are encouraged to attend the international student and family welcome. Other breakout and information sessions are offered to help you understand resources available on campus; you can select which sessions are most relevant to your needs. We ask family and parents to depart campus by 5 p.m. as the student orientation program will kick off with Sunday dinner and evening activities.
If you are unable to attend Family Orientation, a video recording of the President's Welcome will be posted to the Carnegie Mellon YouTube channel following the program. You also will be able to view videos of some First-Year Orientation programs.
We look forward to welcoming many of you to campus soon!