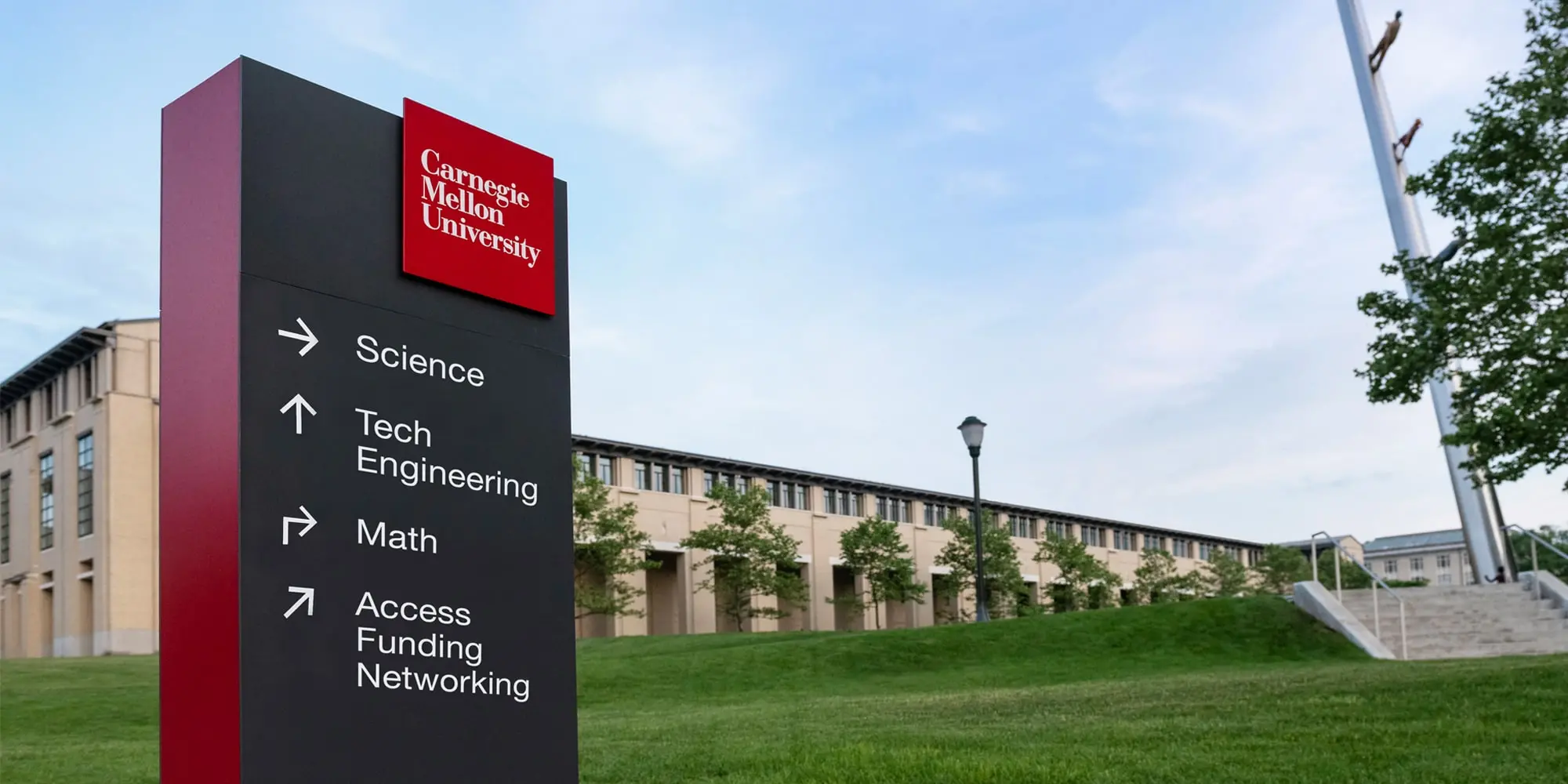 February 3, 2023
Staying the Course
CMU programs create STEM career entry points for students at all levels
Media Inquiries

Name

Peter Kerwin

Title

University Communications & Marketing
Ashley Patton(opens in new window) is passionate about getting kids access to computer science education, providing many of the students who cross her path an introduction to the field.
"You tend to see computer science in well-funded districts, and because of what we know about the American education system and the inherent disparities thereof, those wealthy schools tend to lack diversity," she said.
Patton believes that universities should give all students an opportunity to thrive, regardless of their zip code, socioeconomic status, background or experience. She is the director of CS Pathways(opens in new window), one of several Carnegie Mellon University programs designed to introduce students to science, technology, engineering and math (STEM). These programs aim to combat a problem the White House Office of Science and Technology policy calls "the missing millions," a term for the millions of talented students who are not engaged in STEM because they lack access to STEM opportunities.
Everything CS Pathways provides is free.
"We really try to level the playing field, so that kids who have an interest in using computer science and technology to improve their communities have an opportunity to learn at no cost to them," Patton said. "All students deserve access to programs that help them decide if theirs is a future in computer science."
Amy Klinke(opens in new window), assistant vice president of CMU's Center for Business Engagement(opens in new window), said that her office acts as a university-wide front door to industry. She sees programs that support STEM careers from a young age as a critical tool. 
"There is an important business reason to have a diverse workforce. Companies care deeply about this but don't always invest a lot in it. I believe that anything we can do to reduce the headwind and give tail winds to People of Color and underrepresented minorities, the better off we are," Klinke said.
Like CS Pathways, The Summer Academy for Math and Science (SAMS)(opens in new window) gives students an opportunity to learn without the barrier of cost. The program for rising high school seniors provides everything from bedsheets to laptops to its students. SAMS hosts about 75 students at CMU each summer, many of them traditionally underrepresented in STEM or from under-resourced schools.
"Our scholars are searching for an opportunity to be mentored, to be inspired by world-renowned faculty and to gain hands-on STEM research experience and collaborative learning. These are bright students who just need a foot in the door." — Rowshan Lang
Rowshan Lang, a special projects manager at CMU's Center for Student Diversity and Inclusion(opens in new window), co-manages SAMS. She said many of the students who attend get their first taste of what it's like to be around others who excel in math and science.
"It's very exciting to see students here in our STEM-discipline spaces where they are not marginalized.At home in their high schools, they may feel (or be) alone in their lab or calculus class — the only BIPOC (Black, Indigenous and People of Color) student, the only female student, the only one excited about doing math for fun," Lang said. "Then they join our community, and they enter academic classrooms where they find faculty, instructors and teaching assistants who look like them. They learn academic readiness skill sets that position them to take advantage of the resources we provide," Lang said.
A Foot in the Door
Access, money and other support are only part of the equation. Being accepted to an undergraduate program can be competitive. Schools expect more than outstanding grades — work outside the classroom is important for a strong college application.
Lang said that many of the SAMS scholars have not had the opportunity to participate in extracurricular activities or be a part of an academic student club because of after-school jobs or other responsibilities. A fully funded, merit-based program, SAMS positions its scholars to have access to opportunities that their more-resourced peers may have readily available to them.
"Our scholars are searching for an opportunity to be mentored, to be inspired by world-renowned faculty and to gain hands-on STEM research experience and collaborative learning. These are bright students who just need a foot in the door," she said.
These connections are not just important for getting into college. Klinke said they can last a lifetime.
"Imagine you're coming from a family that has never been to college before. You might try to save money by living off campus. But then you miss this whole other experience, an important part of college, which is network building. If you live on campus, you meet people who will become your best friends. Later, they will help you when you're looking for a job or starting a company," she said.
The things that make undergraduate applications strong apply to graduate school, too. Michael Young(opens in new window), the associate dean of diversity, equity and inclusion in CMU's Mellon College of Science(opens in new window), knows firsthand how valuable research experience can be.
"STEM fields change so quickly, which makes them difficult to teach and understand," Young said. "There's a lot of compounding knowledge, with more information students are required to know in addition to everything else colleges already ask of applicants. That can be demoralizing, but it does not have to be that way."
Programs like the Summer Undergraduate Applied Mathematics Institute (SUAMI)(opens in new window), which Young himself attended as an undergraduate, can give students a taste of what graduate programs in math are like.
"My goals for these kinds of programs are to give people good experiences and have them learn something new. Those are both critical things to keep people in STEM," Young said.
SUAMI, Data Analytics for Science Immersion Experience (DASIE)(opens in new window) and a host of other programs(opens in new window) are getting students into labs and classrooms, whether they end up at CMU or another university.
Building Bridges
Douglas Weber(opens in new window), the Akhtar and Bhutta Professor of Mechanical Engineering(opens in new window) and the Neuroscience Institute(opens in new window), said it's increasingly important that students see themselves at the graduate level and beyond.
"We've made a lot of progress increasing diversity at the undergraduate level and are committed to making those same gains with master's and Ph.D. students, all the way up to the faculty level," Weber said.
Weber is co-coordinator of Boosting Research-Experiences for Increasing Doctorate Graduates in Engineering (BRIDGE),(opens in new window) a partnership with the University of Pittsburgh that helps undergraduate students make the transition to Ph.D. programs. Funded by a grant from the National Defense Education Program from the U.S. Department of Defense, the master's program provides mentoring, networking, internships and research experience to its students. 
"If students don't have the requisite research training as an undergrad, they're probably not going to get into Ph.D. programs. Master's degrees, where they might gain that experience, are expensive. It seemed like there was a clear barrier that we might be able to take down if we could create a funded master's program that would provide the research-intensive training experiences students need to transition into Ph.D.-level research," Weber said.
Colin Ancalmo, a master's candidate in the BRIDGE program's first cohort, said a huge benefit to being a part of the program is increased consideration by labs as a master's student backed by funding.
"It would have been more challenging to get research opportunities as a master's student also asking for research expense coverage. We are considered a bit more seriously because we are coming with our own funding. Professors are more willing to invest in us because we are similar to Ph.D. students, who are admitted with a more structured funding process," they said.
The Missing Millions
In a Vision 2030 report(opens in new window), the National Science Board said the United States needs to accelerate progress in increasing diversity in science and engineering fields in order to reduce a significant talent gap. Young agreed that arming the next generation with opportunities in STEM careers is increasingly important.
"In the United States, STEM is a big part of the future — lots of jobs, lots of needs, lots of problems to solve. Getting students in early and making sure they experience success and pick up some passion is the best way to keep them in their field and build a vast array of problem solvers," he said.
View this post on Instagram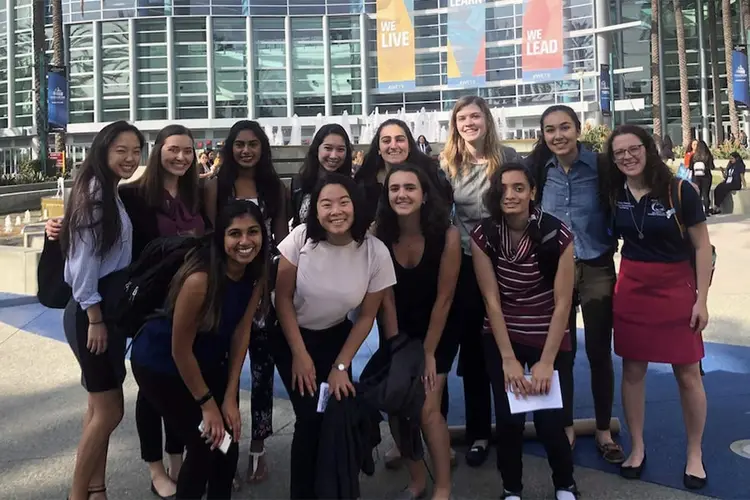 SWEet Success: Bridging The Gender Gap In STEM