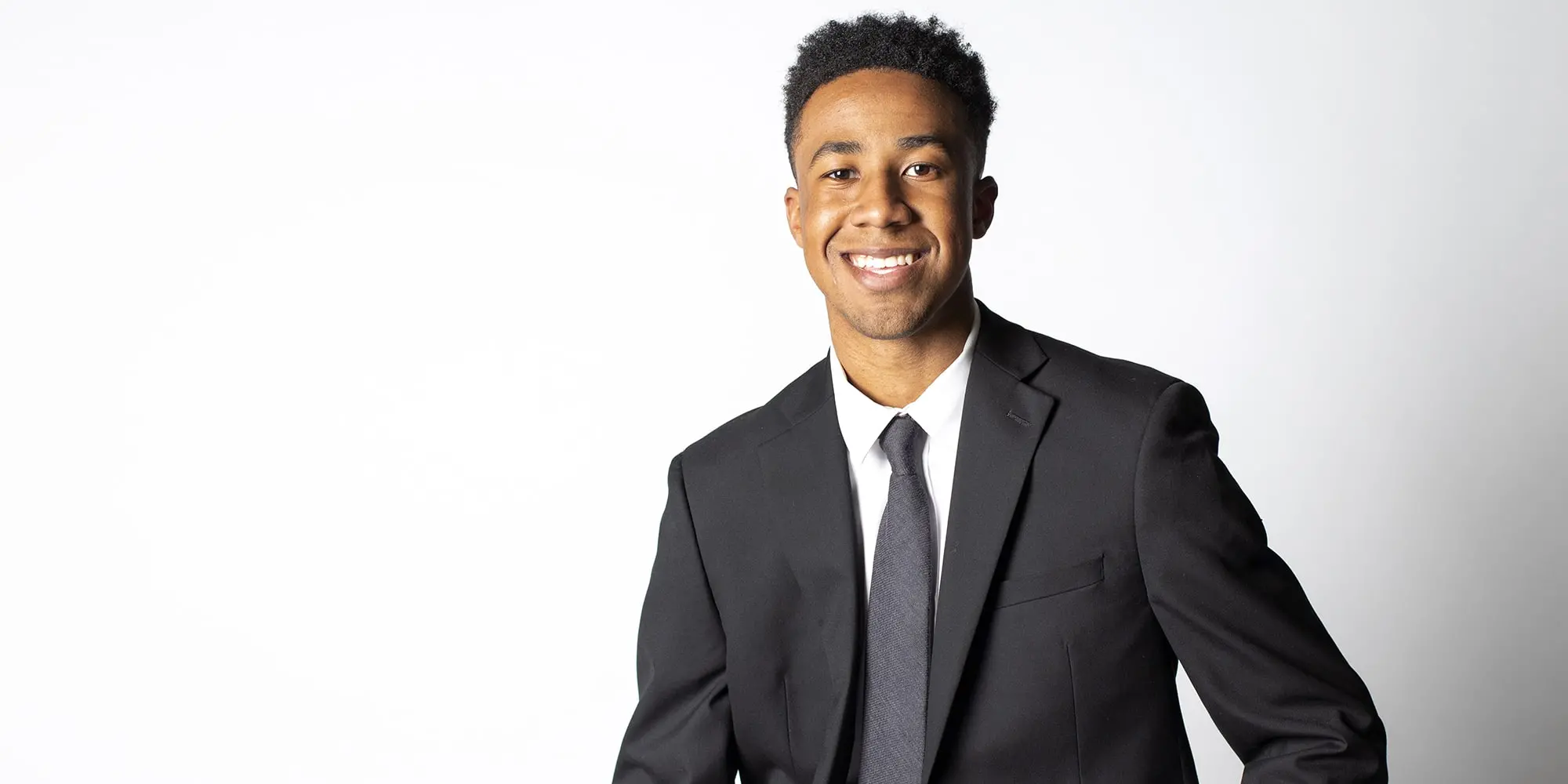 April 22, 2022
Engineering Senior Lays Strong Foundation for New Students
Media Inquiries

Name

Sherry Stokes

Title

College of Engineering
Carnegie Mellon University senior Andrew Thompson has a way of making life a little sweeter for others. He is paying forward the assistance he received when he arrived at CMU by setting them up for success.
As a high school junior, Thompson got his first taste of college during CMU's Summer Academy for Math and Science(opens in new window), which provides opportunities for students from underrepresented communities to explore STEM-related fields. The experience left him wanting more from CMU, so he returned for college.
"One of the things I liked best about my classes here is that there was always collaboration. At some schools, students don't get to work in groups until their junior year," said Thompson, who will graduate with a double major in civil and environmental engineering(opens in new window) and engineering and public policy(opens in new window). "At CMU, we were working together in groups from the very beginning."
Thompson has embraced his time at CMU and made it better by being involved in and out of the classroom. Thompson said his own start at CMU was a little rocky, but the warm welcome he got from First-Year Orientation(opens in new window) counselors helped to ease his anxiety and reassured him that he would find help when he needed it. As did professors, academic advisers and fellow students.
"I had a great experience and was always able to find the tutors, mentors, help and the encouragement I needed," Thompson said. He added that he took advantage of his professors' office hours, got valuable guidance from academic advisors, and enjoyed many opportunities to work on group projects with his classmates.
The experience of wanting to be a role model for others led him to be an Orientation counselor for several years, where he mentored other counselors and served as a Head Orientation Counselor this fall, helping to plan and coordinate programming for incoming students.
"It isn't how you start, it's how you finish." —Andrew Thompson
Head orientation counselors jumped for joy when in-person First-Year Orientation returned to campus last fall. Pictured are (l-r) Riley Knavish, Andrew Thompson, Jesse Wallace, Alexis Ozimok, Govind Menon, Josh Morrow and Q Quaye.
His advice to new students: "It isn't how you start, it's how you finish."
Thompson was instrumental in the development of First-Year Orientation programming to promote the university's diversity, equity and inclusion(opens in new window) values and ensure that new students felt they were being welcomed into the community. That work was especially meaningful to him because he said he saw how CMU and the College of Engineering have made commitments to advance diversity issues.
"There's still progress to be made, but the structure is now in place, and so much of it has happened just in the short time I've been here," Thompson said.
Julie Schultz(opens in new window), associate dean for First-Year Orientation and Parent and Family Engagement(opens in new window) said that Thompson is the type of leader who inspires through his example.
"Others want to work with him because he makes work fun," Schultz said.
He keeps time for fun outside of work as well. Like learning how to swing dance. In the summers, Thompson interned with the U.S. Department of Energy and information technology giant, Accenture.
Thompson mentors other students through his work as a Tartan Scholar(opens in new window) Ambassador, where he provides support for high-achieving student leaders from limited resource backgrounds, who receive support from the multi-faceted scholarship program. He has held various leadership roles with the American Society of Civil Engineers(opens in new window), and served on both the College of Engineering(opens in new window) and Civil and Environmental Engineering Department's Diversity, Equity and Inclusion (DEI) boards.
He also was named an Andrew Carnegie Society Scholar(opens in new window), an award that goes to select undergraduate seniors chosen by the deans and department heads in recognition of their academic excellence, volunteerism, leadership and involvement in student organizations, athletics or the arts.
Looking ahead, Thompson recently accepted a job offer from Deloitte as a consultant, where he has been working as a strategy and operations analyst.
"I came into school and didn't know what I wanted my career to be," Thompson said. "However, I wanted to help people make better-informed decisions with technology that isn't intuitive and policies they aren't familiar with. Combining my passions of technology and policy was my No. 1 priority."