August 09, 2022
MCS Expands Research Pipeline Through Undergraduate Programs
High-performing students spend summer in laboratories while learning more about graduate school and professional options
By Heidi Opdyke opdyke(through)andrew.cmu.edu
Media Inquiries
Jocelyn Duffy
Associate Dean for Marketing and Communication, MCS
Jose Emilio Regio's academic path has had a few curves over the past four years.
"I switched majors three times," said Regio, a fifth-year senior at the University of Connecticut. "My path through college was a bit of ping-ponging to find out what I loved."
When he arrived at Carnegie Mellon University this summer to conduct research in the Mellon College of Science as part of a National Science Foundation Research Experience for Undergraduates, he brought a host of skills in chemistry, mathematics, computer science and linguistics. Working with Gabe Gomes, an assistant professor in the departments of chemistry and chemical engineering, Regio has been working to solve problems related to scientists using automated laboratories.
"My research this summer has been at an intersection between data science, chemistry and machine learning," said Regio who worked on turning scientific literature related to experimental methods into machine-readable representations of synthetic procedures.
"When I first arrived, I thought research would be a straight path from A to B. But there's been windy paths and some dead ends. I've learned when to be persistent on frustrating days and when to take a step back," Regio said. "There is a lot of the creative process in research. After this experience I know I want to go to graduate school and be surrounded by people who are at the cutting-edge of their fields."
Gomes said that Regio would fit right in if he decides to pursue graduate school at CMU or somewhere else.
"I proposed to him a problem that was challenging, and he started doing it right away," he said.
As part of the educational process, Gomes said that it was important for undergraduate students to participate in research to understand how the process works.
"Being part of a high-level scientific environment is absolutely critical," said Gomes, who started conducting research as a first-year student and never stopped. "Undergraduates are fearless. They are not biased about what they know. And, when you work with them, you get very interesting new projects."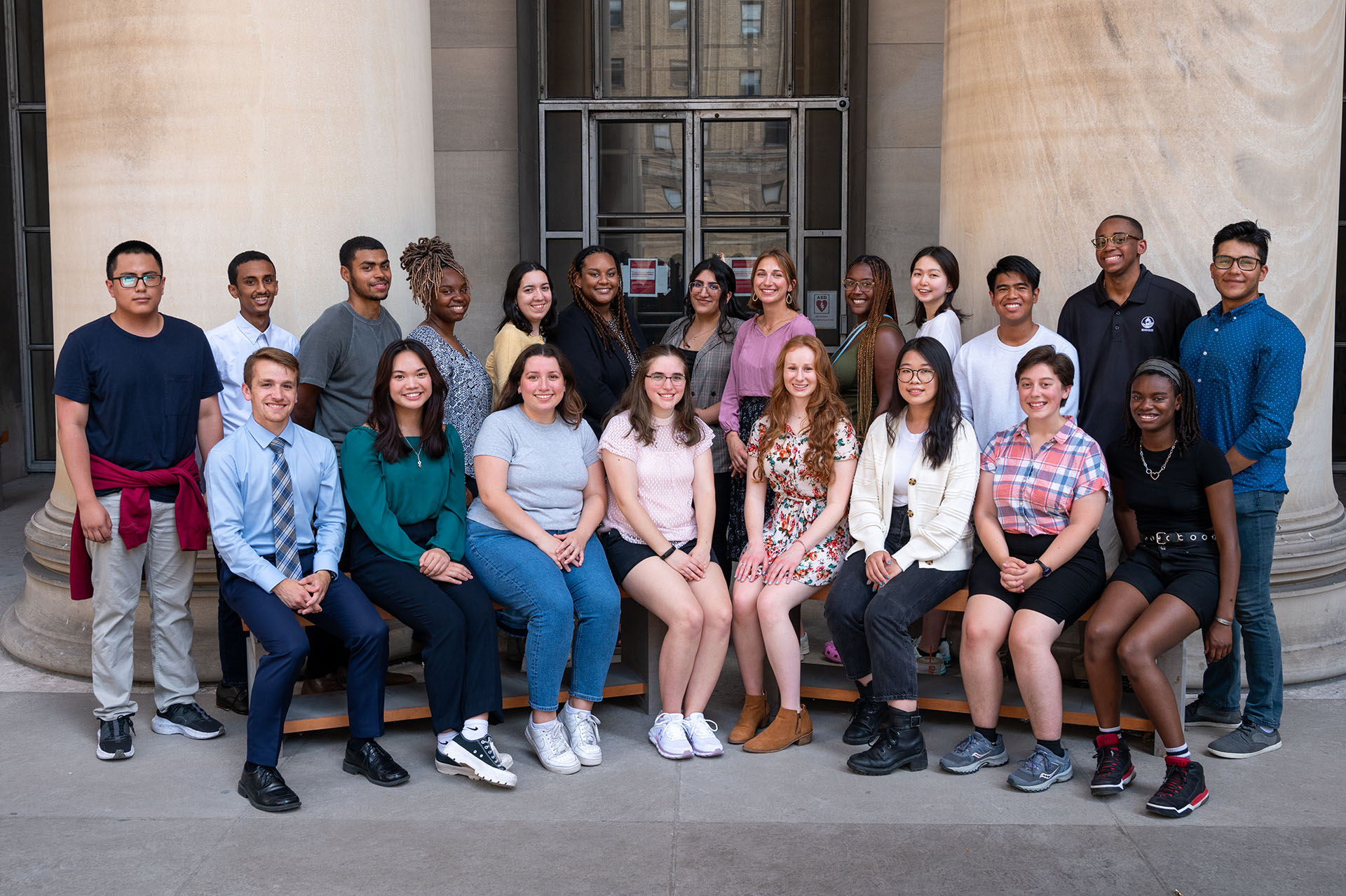 Undergraduate students from CMU and across the country conducted research at the Mellon College of Science this summer through a host of programs.
Regio is one of more than two dozen students from underrepresented groups and low-income backgrounds conducting research at MCS this summer through its host of undergraduate research programs including the Chemistry Summer Research Program. All of the participants received stipends and those who are not local received housing.
"These programs draw high-achieving students who have an idea that they want to pursue a path but may need some clarity on where they want to take their career or exposure to what opportunities are available," Cassandra Rios, a program manager with the MCS Diversity, Equity and Inclusion Office who is overseeing the joint activities. "This is a way to help them be more competitive for whatever they decide to pursue."
The MCS Office of Diversity, Equity and Inclusion provided logistical assistance to the college's programs as well as coordinated social activities and professional development sessions. For example, the students, who hail from colleges and universities from across the United States, went river rafting, had dinners with mentors and discussed national conference opportunities.
"In MCS we have a commitment to the future and to diversity and how these things are intertwined. The hope is that in the future it might lead them to be CMU students." — Michael Young
Setayesh Nekarae, is a fifth year undergraduate student at UCLA. At her home institution she previously had conducted biophysics and condensed matter physics research. This summer, she participated in the Artificial Intelligence and Physics Summer Undergraduate Research Program. Students in the programexplored projects such as applying AI to data from the Dark Energy Survey or learning the laws of cellular biophysics by using machine learning.
Nekarae conducted computational work related to Higgs boson pair production under the mentorship of Assistant Professor of Physics John Alison and Assistant Professor of Statistics and Data Science Mikael Kuusela.
"I was uncertain of which field of physics I wanted to pursue for graduate school. Being part of this program has provided a wonderful and enriching experience to explore particle physics research and has allowed me to learn more about where my interests lie," Nekarae said.
Fransiskus Agapa, a rising junior in computer science at Seattle Pacific University, is working with Ivan Cao-Berg, a research software specialist at the Pittsburgh Supercomputing Center, on a project related to the Human BioMolecular Atlas Program, also known as HuBMAP. HuBMAP is a national collaboration of scientists working to create a 3D map of the human body down to the cellular level.
Agapa's role was to work on designing and implementing tools to streamline how data is submitted and processed for the National Institutes of Health's Common Fund Data Ecosystem.
"This is a great opportunity to get hands-on, real-life projects and working with a lot of data," Agapa said. "For anyone interested in learning more, don't be afraid. Just apply. You're not expected to know everything as long as you have the passion."
Michael Young, MCS associate dean for DEI, said his first experience with CMU was as a participant in the Summer Undergraduate Applied Mathematics Institute, also known as SUAMI. Young studied at the University of Florida at the time.
"That led me to go to graduate school here," Young said. "In MCS we have a commitment to the future and to diversity and how these things are intertwined. The hope is that in the future it might lead them to be CMU students."