May 06, 2022
Orientation Set Path to Commencement for Quaye
By Michael Henninger mhenninger(through)cmu.edu
Media Inquiries
Peter Kerwin
University Communications & Marketing
As Q Quaye prepares to graduate on May 15, they can trace what's past — and what is yet to come — to their first week at Carnegie Mellon University. Four years ago, as an undecided, first-year student, Quaye couldn't have known just how much CMU's Orientation would impact the rest of their life.
Orientation is a largely student-run event, with Head Orientation Counselors that plan large icebreakers, community service opportunities, and a slew of welcoming activities for the incoming class. At Orientation, Quaye met a group of like-minded students with whom they would partner to form the startup Zodaj, with the goal of improving living standards in Africa.
"We all had this passion and spark, so we got together during our first semester to combine our different skill sets. Our idea was to come up with any solution that addressed infrastructure gaps in sub-Saharan Africa," Quaye said.
Among its various projects, Zodaj created an educational tool that tracks student progress. Quaye said that teacher shortages in parts of Africa make it difficult to give young students the individual attention they need to thrive.
"Everyone who's at Carnegie Mellon belongs here. It's not an easy journey to make it from Orientation to graduation, but everyone can do it." — Q Quaye
"We wanted to create a tool that would help create a stronger foundation for students. We implemented it in classrooms, and saw increased reading comprehension and writing scores, so that had a real impact," Quaye said. "I was directly applying the skills I learned in class, so doing surveys of potential customers or stakeholders, and analyzing data and learning how to communicate."
Their sophomore year, Quaye settled on majoring in statistics and data science after taking several classes. One, taught by Rebecca Nugent, the Stephen E. and Joyce Fienberg Professor in Statistics and Data Science and head of the department, was a standout experience.
"Professor Nugent is such an amazing person! She's such a vibrant teacher and so engaged in the classroom," Quaye said. "I began to see how broad statistics was. It spoke to my interests — from education to social justice, and tech and computer science. You can do so many different things with it."
And many things, Quaye has done.
While at CMU, Quaye has worked as a research assistant for CMU's CS Academy, helping to expand the program into Senegal. Quaye worked as a software development intern at TECH-nique, a nonprofit in their hometown of Louisville, Kentucky, that aims to bring computer science resources to underrepresented groups.
"I did not have a lot of access to computers from a young age. Coming to CMU and hearing people talk about doing programming from a young age — that wasn't me," Quaye said. "Being able to take everything I've learned at an institution like Carnegie Mellon and bring that home was an extremely valuable experience to me."
Through the Dietrich College of Humanities and Social Sciences' Pittsburgh Summer Internship Program, Quaye worked as a human resources information systems intern for the City of Pittsburgh cleaning data and helping to draft policy. In 2022, Quaye was among the three founders of Zodaj named Innovation Scholars by CMU's Swartz Center for Entrepreneurship. They also picked up a minor in creative writing, and wrote articles for The Tartan, CMU's student newspaper, from time to time.
"I chose Carnegie Mellon because there are so many ways to get involved. I wanted an environment where I was able to explore and figure out what I wanted to do, and I knew that other schools wouldn't have given me the same freedom to do that," Quaye said.
With time, Quaye had realized the impact that Orientation had on their CMU experience.
"Every time I would get frustrated, I would think back to Orientation. It was so fun. I met so many people and was very excited to get involved," Quaye said. "I told myself that I was going to become an Orientation Counselor. Mine had been so supportive, and I wanted to continue that tradition."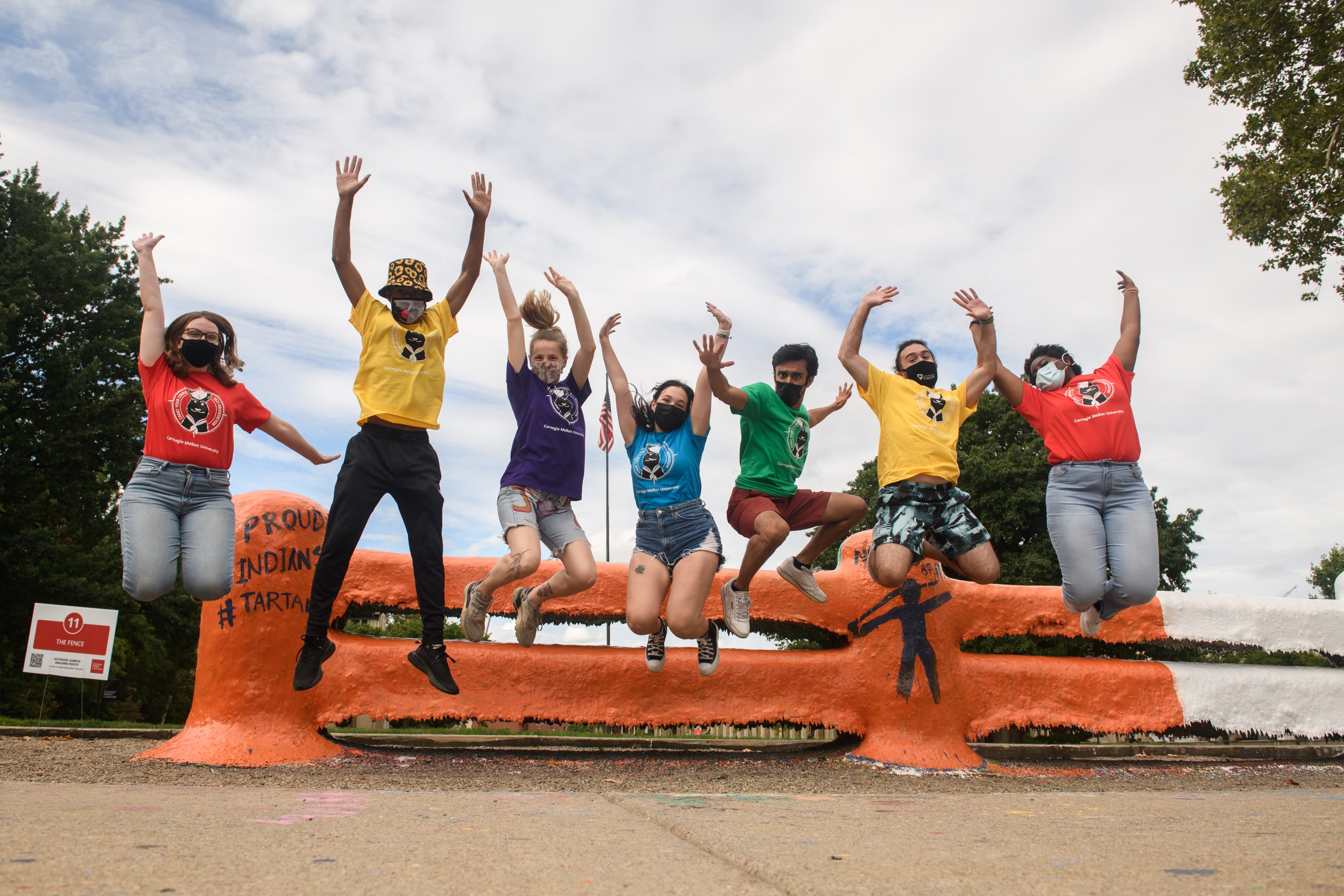 The 2021 Head Orientation Counselors are jumping for joy. Pictured from left to right are Riley Knavish, Andrew Thompson, Jesse Wallace, Alexis Ozimok, Govind Menon, Josh Morrow and Q Quaye.
Quaye became one of seven Head Orientation Counselors their senior year, taking charge of spring training, and events like the annual Multicultural BBQ and Community Day. Orientation has had such an impact on Quaye's life that they have decided to pursue a master's degree in higher education at the University of Pennsylvania this fall.
"The main undercurrent of everything I do is equity. It's trying to make sure that everyone has as many opportunities as they can to succeed," Quaye said. "I hope that I can have a positive impact in that space in the years to come.
"For people like me, who are underrepresented on Carnegie Mellon's campus, or have had a tough time figuring out exactly where they belong, I just want to say: Everyone who's at Carnegie Mellon belongs here. It's not an easy journey to make it from Orientation to graduation, but everyone can do it."