August 18, 2021
CMU Welcomes Class of 2025+; Orientation Returns to Campus
By Bruce Gerson bgerson(through)cmu.edu
First-year orientation is back, live and in-person.
After the last 10 months of planning, Julie Schultz and her team of staff and students are hosting an in-person orientation experience for the Class of 2025+ with a few new elements and measures designed to protect everyone from COVID-19.  Last year's program was fully remote.
"Our student leaders are incredible and very resilient. I think they have all learned how to be flexible and pivot," said Schultz, associate dean for parent and family engagement and first-year orientation. "Today's version is probably our fifth or sixth vision of how the program will run this year. And they're already making plans to pivot again if we have to."
Schultz, who is coordinating her fourth orientation program, said despite the uncertainties caused by the pandemic, the planning team's focus has always revolved around the Class of 2025+.
"The goals have always been the same," she said, "to welcome our new students, get them connected to campus resources so they have a good start to their first year, and to help them build community and make CMU feel like home."
This year's orientation theme is "Chart Your Course" and first-year students will be navigating through the award-winning weeklong program and its traditional marquee events with COVID-19 protocols in place. Students must participate in Tartan Testing, CMU's asymptomatic COVID-19 testing program, and vaccine clinics will be held for those who have not yet been vaccinated.
Everyone must wear facial coverings indoors and outdoors when six feet of physical distancing cannot be maintained.
Due to safety precautions, there will be no large orientation tent on the College of Fine Arts lawn to house the entire first-year class, so the president's welcome for first-year undergraduate students and families will be livestreamed. Smaller tents, a.k.a. touchdown spaces, will be placed across campus for informal small gatherings and meals.
"Our student leaders are incredible and very resilient. I think they have all learned how to be flexible and pivot." — Julie Schultz
Large outdoor events, like Playfair, the annual icebreaker for the entire first-year class; the class photo; House Wars, a playful competition among house communities; Community Collage, a first-year talent show; and Convocation, the annual academic kickoff for first-years, will be held a little differently as well.
"Our large outdoor events will still happen, but there will be a little more physical distance and a little more hand sanitizer involved," Schultz said. "Like the president's welcome, Community Collage and Convocation will be livestreamed presentations that will be simulcast to several different locations across campus."
Schultz said this year's class photo, traditionally held on the Cut with all first-year students, will be taken in smaller groups.
"We still want to offer a photo as a memento, but we need to do it within our safety guidelines. Photos will be taken within the House Wars teams. We will print them and have them on display in the house communities," she said.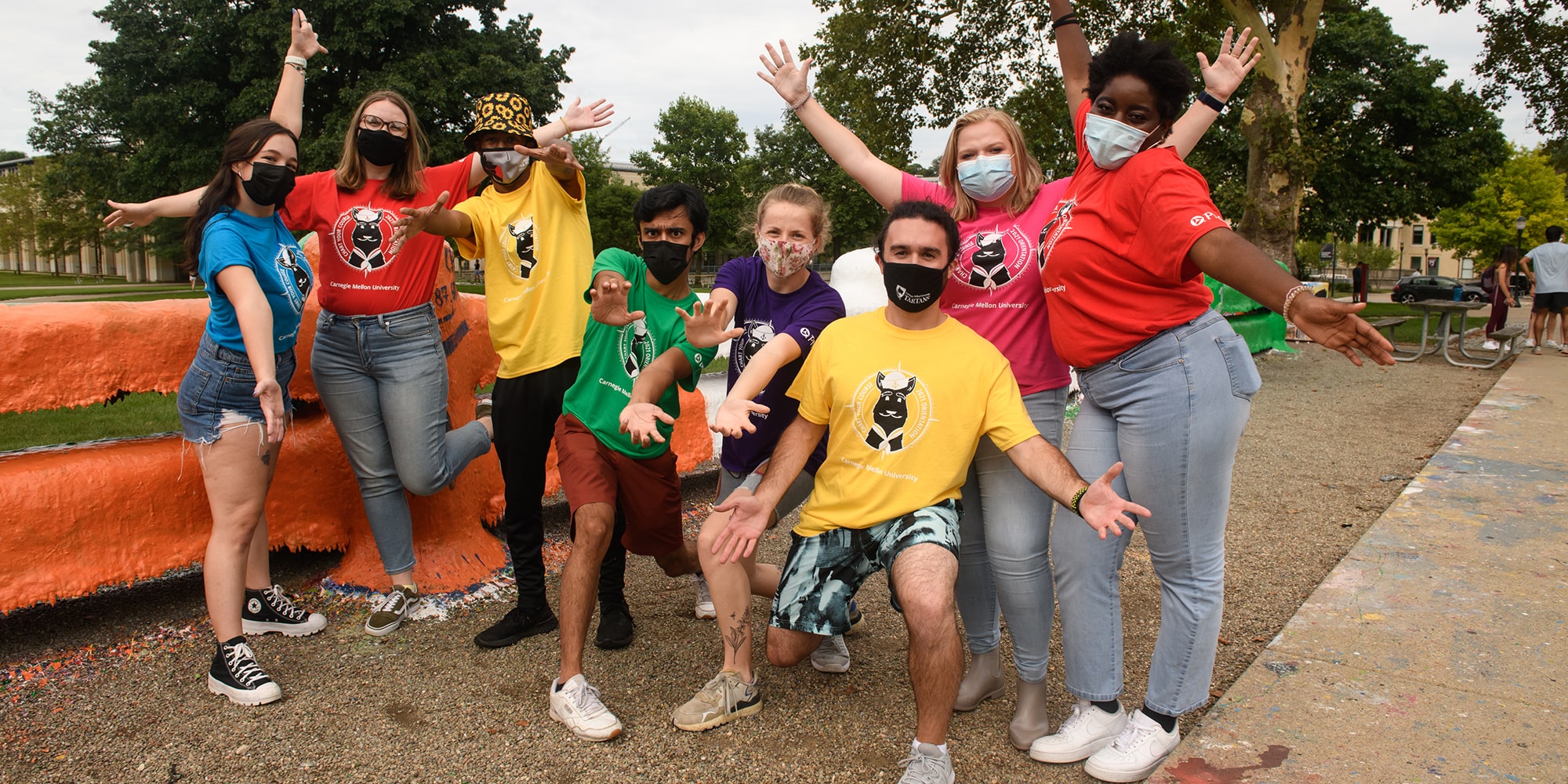 The head orientation counselors are joined by Lauryn Patt (2nd from right), orientation leader for the Fifth Avenue Neighborhood.

Several new components have been added to this year's program.
Tuesday will focus on community, diversity, equity and inclusion, and daily small group meetings among first-year students and their resident assistants (RAs) and orientation counselors (OCs) have been added to the schedule. Wanda Heading-Grant, vice provost for Diversity, Equity and Inclusion and chief diversity officer, will give a livestreamed keynote address that will be simulcast to the class.
"One of our core orientation goals is to make sure everyone feels welcome and that this is a place where they can be themselves and be their best self," Schultz said.
Daily small group meetings were introduced during the fully remote first-year orientation last year. They were received very well. Schultz said the RAs and OCs said it was one of the best parts of the remote experience.
"We're maintaining that small group touchpoint this year. It's important to have time to really bond with the group, make new friends and get to know each other," she said.
Another new element is Welcome Weekend, Aug. 27-29. The weekend is dedicated to the Class of 2024+, which participated in orientation remotely a year ago. They have been invited to attend information sessions with student organizations and administrative offices on topics such as undergraduate research and study abroad.
"It's not the same campus without our students here, so we're excited to be back in the in-person mode." — Julie Schultz
Two programs during Welcome Weekend are being held specifically for second-year students — "Speed Friending" and open houses in the colleges and schools with swag and food giveaways. A multicultural BBQ, drag bingo and live music also are a part of Welcome Weekend. 
Schultz said she and her team are excited to return to an in-person program.
"I think there's a level of excitement and connection, and community and relationship building that can be enhanced in person. Even seeing some of our staff coming back for training has brought the energy level up.
"It's not the same campus without our students here, so we're excited to be back in the in-person mode," she said.