August 24, 2021
Heading-Grant Delivers CMU's First Community Day Keynote
By Caroline Sheedy carolines(through)cmu.edu
Media Inquiries
Shilpa Bakre
University Communications & Marketing
Wanda Heading-Grant is starting the school year with her heart and mind wide open. Like the 1,911 students in the class of 2025+, she just became a Tartan, too.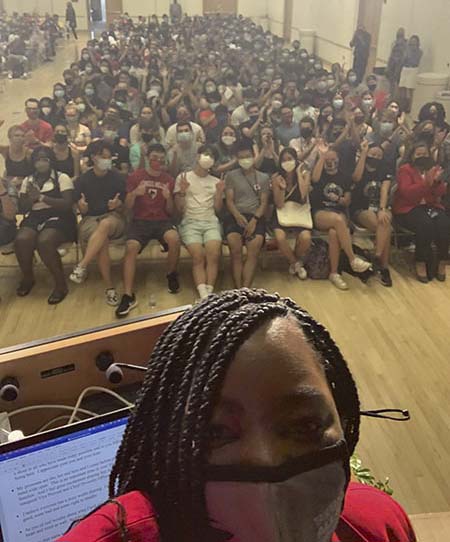 In her keynote speech on diversity, equity and inclusion (DEI), Carnegie Mellon University's inaugural vice provost for DEI and chief diversity officer kicked off Community Day by introducing new students to CMU's values, along with a little of her own story.
"I remember when [my children] went off to college. I cried, laughed, prayed not only for their safety but for their happiness as well. Handing my young adult children off to institutions that I could only hope would truly welcome them and make them feel like they belonged was hard," Heading-Grant said.
This year, Heading-Grant hopes to make all CMU students feel like they belong.
"My job here with you is to help you and I be seen and heard. Not just to raise my voice ... but to make your experience here be one that you and your families and your friends will be proud of and feel good about," she said.

Watch the full Keynote address here.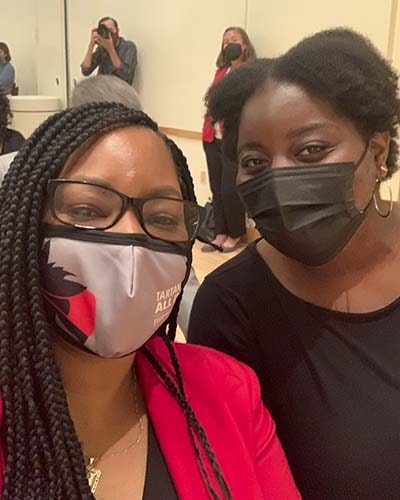 This is the first year Community Day has been part of Orientation. At the start of the day's activities, Akwellé (Q) Quaye (pictured with Heading-Grant at left), one of this year's head orientation counselors, said they noticed a gap in the experience CMU was providing to first-year students.
"We were bringing together a diverse student body, but not fully equipping them with the tools they needed to thrive in this environment," Quaye said. "It falls to us to strengthen the foundation for students to successfully work and grow with people who may not be similar to them."
Quaye said they worked with other student leaders and administrators across campus to create dedicated space during orientation week. They organized a day of small group meetings for first-year students and their resident assistants and orientation counselors.
Gina Casalegno, vice president for Student Affairs and dean of students, introduced Heading-Grant at her keynote address. Casalegno said that such a multicultural group of students has the power to change the university.
"You bring the leadership capacity and the commitment to your community to be the change makers we need to see a real impact in society." Casalegno said. "At CMU we are committed to being a place where every member of our heart and family is able to bring their authentic selves to this community where each of us can thrive."
After her keynote, Heading-Grant welcomed to the stage Mark D'Angelo, a DEI learning and development trainer from her office and Alaine Allen, associate dean for DEI in the College of Engineering. The panel took questions from the live and remote audiences.
When the panel was asked how they could make sure all students feel welcome, Heading-Grant emphasized the importance of speaking up in the community.
"I think it's important for you to engage, be involved, take advantage of all the opportunities that are put before you. Share, share, share, talk, talk, talk ... If I don't know you're hurting or unhappy, I can't respond," Heading-Grant said.