February 26, 2020
Pre-College Prepares High School Students for Campus Life
By Heidi Opdyke opdyke(through)andrew.cmu.edu
Media Inquiries
Jullia Mattera
Marketing and Communications
Carnegie Mellon University's Pre-College Programs offer high school students opportunities to explore college life.
"It gives students the ability to test drive what they think they want to major in as an undergrad," said Susie Rush, director of the Pre-College Programs.
The Pre-College summer programs draw on CMU's strengths in fields from the humanities and the arts to STEM-centered disciplines. The newest program, Writing & Culture, has an intensive, integrated humanities curriculum. It is being offered by the Department of English in the Dietrich College of Humanities and Social Sciences and is part of CMU's Humanities Initiative.
"In a world that is claiming that it is the 'soft skills' that make a difference, we need more people who can reason with empathy from multiple perspectives and human vantage points," said Danielle Zawodny Wetzel, a professor of rhetoric and English and director for both CMU's Writing & Communication Program and the Writing & Culture Pre-College Program.
In the Writing & Culture program, award-winning faculty, such as Lauren Shapiro, Stephen Wittek and Suguru Ishizaki, will lead students through courses that teach creative writing, analysis and visual design principles to write, design and publish their own writing.
"Students also will engage with activities that encourage them to explore their interests and possible trajectories for career paths in English," Wetzel said.
Classes for most of the programs are taught by CMU faculty members and instructors, which Rush said is a hallmark of the CMU Pre-College experience. For example, Professor Norman Bier, director of the Open Learning Initiative and executive director of the Simon Initiative, will be teaching principles of computing as part of Pre-College Summer Session Program. Stephen Neely, an assistant professor of Dalcroze Eurhythmics and past president of the Dalcroze Society of America, leads the Music Program.
"There's something really special about every one of the programs," Rush said. "Take drama, for example, the Pre-College students get exposure to the undergraduate faculty and instructors. That's a unique experience."

CMU's Pre-College program provides learning and development opportunities for rising juniors and seniors in high school both inside and outside of the classroom.
Amber Griffith participated in CMU's Advance Placement/Early Admission program, which is now called Pre-College Summer Session, which provides the opportunity to take two college courses.
"My pre-college experience gave me confidence in my abilities as an academic and it was also the first time I was really able to see what college life would be like," said Griffith, now a junior in CMU's School of Computer Science. "It made the transition from high school to college so much smoother because I knew roughly what I could expect and it took a lot of the anxiety out of the situation."
Outside of the classroom, the college experience continues. High school students live in CMU residence halls that are typically home for first-year undergraduate students. Each building is staffed with a team of resident advisors and a managing community advisor, who is responsible for creating community and shaping the lived experience.
"Resident advisors and teaching assistants in the classrooms are current CMU students," Rush said. "That's by design so the pre-college students can have mentors and guidance from actual CMU students, and it helps to give a realistic idea of what being a student at CMU would be like."
Grace Recavarren, a sophomore in CMU's Departments of Civil and Environmental Engineering and Engineering and Public Policy, participated in Summer Session during high school.
"I came out of that program knowing exactly what I wanted and how I should structure my senior year of high school to get there," she said. "I met some of my best friends and we've kept in touch consistently for the past three years. I even ended up going to college with some of them."
She also served as a resident assistant.
"It was a wonderful experience both times, yet drastically different," Recavarren said. "The program is run well and makes a huge difference in the lives of these high schoolers looking for direction. I would recommend it to everyone."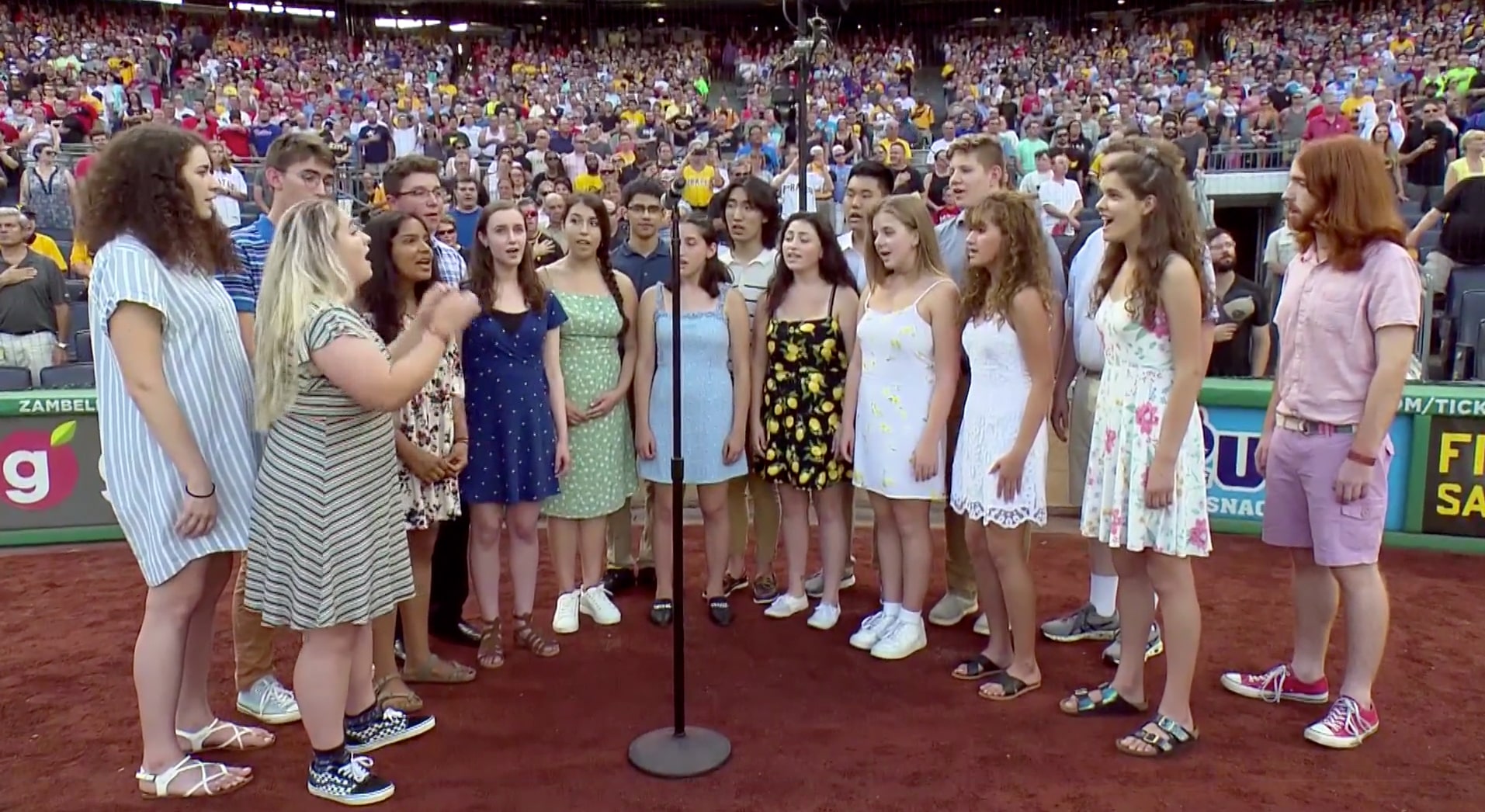 The Pre-College a capella club sang at National Anthem prior to a Pirates baseball game in 2019.
On nights and weekends on- and off-campus activities take place. One annual activity is an a cappella group comprised of pre-college students from many of our different programs sings the National Anthem at a Pittsburgh Pirates baseball game. And on July 4, the Pre-College program hosts a day of activities, live music and a fireworks show.
"The experience gives that holistic experience inside and outside of the classroom," Rush said. "It's a transformational experience for high school students. They learn independence and self-advocacy, and they learn how to navigate a college campus."
The application process for 2020 opened in November, and preferred applications must be submitted by March 1. The final application deadline is March 15. Students are accepted on a rolling basis.