August 09, 2019
SAMS Students Score Through Pinball Course
By Victoria Avery
Media Inquiries
Julianne Mattera
Marketing and Communications
Pinball machines may be all about fun, but they also can be the basis for serious science.
Students attending Carnegie Mellon University's Summer Academy for Math and Science (SAMS) are learning about the mechanics of the machines through the class "Engineering A Pinball Machine," taught by Garth Zeglin, a roboticist, and Lumi Barron, a rising senior in the College of Fine Arts.
"Roboticists like to claim everything as a robot. It is a very integrative discipline," Zeglin said. "I see pinball as an integrative engineering discipline. There is electrical engineering, mechanical engineering, software, but also game and graphics design, so that includes art under the radar."
SAMS is a six-week residential summer program for rising high school juniors and seniors aimed at engaging students in a rigorous curriculum related to science, technology, engineering and math. The program, which has 139 students this summer, is designed to increase the number of outstanding students from diverse backgrounds who pursue STEM disciplines at the nation's top colleges and universities. SAMS also exposes students to Carnegie Mellon's world-renowned faculty and staff, and supporting students as they engage in a collaborative and inclusive environment.
As one of the cornerstone programs offered through CMU's Center of Diversity and Inclusion, SAMS exemplifies the university's commitment to broadening access and advancing diversity and inclusion on campus and beyond, said CMU's Vice Provost for Education Amy Burkert. Since its inception, more than 1,500 students from across the United States, the District of Columbia, Puerto Rico and the Virgin Islands have attended SAMS. The program is possible in part due to generous support from gifts such as the Jennings Family Endowed Fund for the Summer Academy for Mathematics and Science.
"Through courses and team projects, SAMS students from diverse backgrounds and interests are learning by doing at the intersections of disciplines and perspectives to explore novel ideas and discover new knowledge," Burkert said. "This active engagement introduces the students to a fundamental approach taken at Carnegie Mellon, teaches important lessons, and furthers their understanding of the many educational and professional pathways they may wish to consider for their futures."

Watch SAMS students construct a pinball machine under the guidance of Garth Zeglin. 
Aaron Marshall, a high school student from Hammond, Louisiana, is looking at a career in chemical engineering. Along with the pinball project course, he is taking SAMS courses in math, physics and standardized test preparation. He said the experience has been helpful in thinking about how to approach college next year as he considers applying to CMU and other engineering powerhouses.
"I think it helps a lot because it teaches you how to fail, and not always accepting the easy way out," Marshall said. "It teaches you grit, how to want it and other healthy habits that you can translate into your future."
Makayla Williams, of Brooklyn, New York, said that she applied to SAMS to enhance skills she's learned in high school. She's considering studying adolescent psychology or a taking pre-med track.
"I have Carnegie Mellon on my list, also Emory, Georgetown, University of Pennsylvania, Syracuse and Stonybrook," Williams said. "SAMS has been a lot for me because I am not someone who is accustomed to being on my own and in a place by myself. It is helping me grow as a person and mature in the sense that I'm not relying on my parents or having teachers on my back to do something. It is giving me that role of independence that I'll have to have next year in college."
In the classroom, this collaborative environment is evident. Students are gathered around a whiteboard table, each equipped with markers and ideas for how to create a communal pinball machine. They ask and answer questions, sketch and erase ideas, and formulate their plans for the game all on their own, with subtle guidance from Zeglin and Barron.
"They have to learn how to work with others to make a lot of mistakes, to learn from mistakes. It is really the kind of project management and team building skills that are in some ways foremost," Zeglin said. "It's such a pace that we can't possibly embed an entire engineering curriculum into a couple weeks so the students get a thin layer of everything. But they get a taste of all these different areas."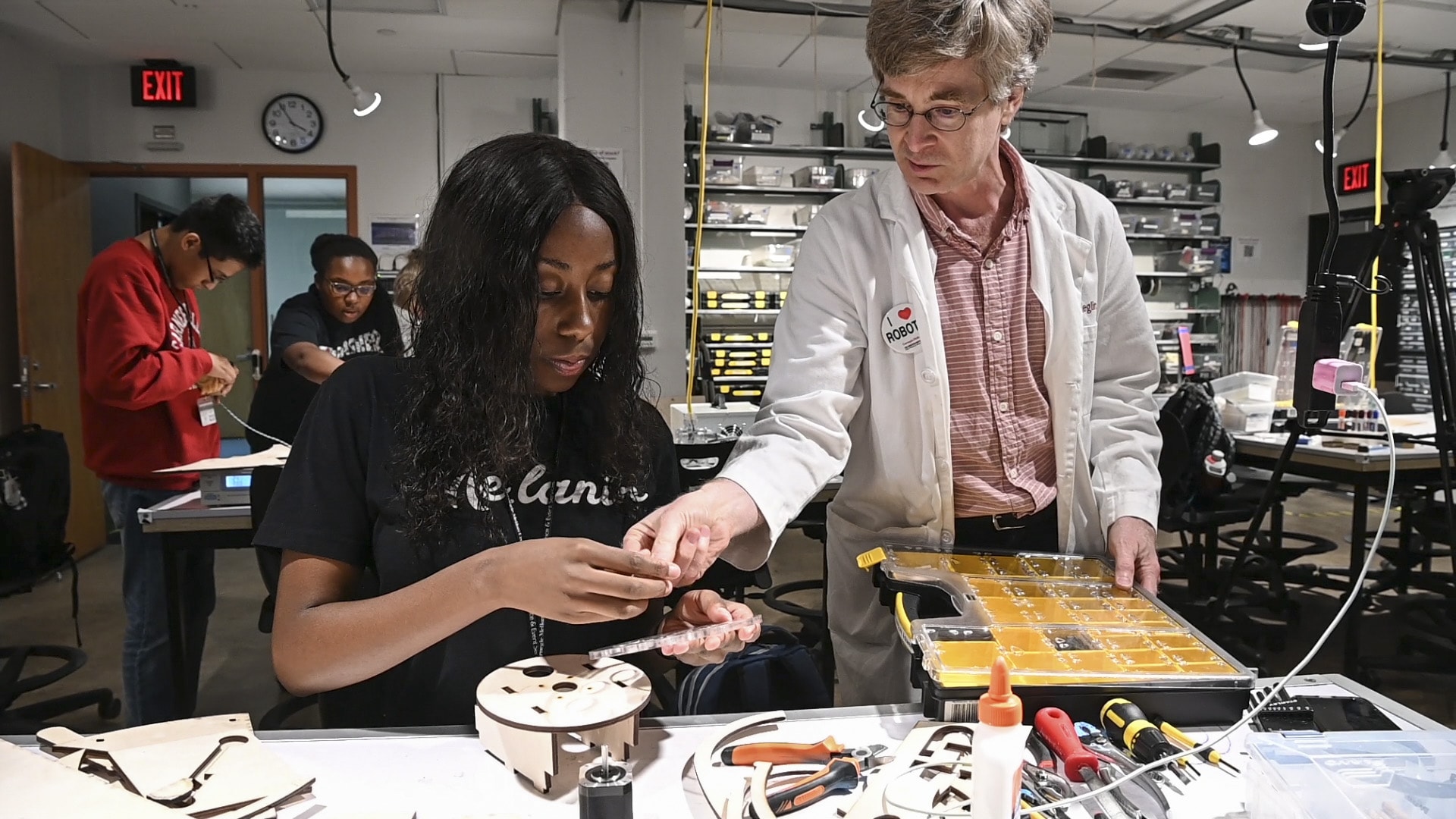 SAMS student Makayla Williams and Garth Zeglin work on a component of a pinball machine.
Because of the limited time the students have to work on the project, Zeglin and Barron provide a broad introduction of elementary electronics and mechanical design but the emphasize the goals is to end with a functional, but not polished, game to play.
"Playability is the main metric," Zeglin said. "You can see the outcome: It's a rough machine that has all the elements of a game, which is actually playable and creates a score, but is nowhere near the polish of an actual machine."
Zeglin, who is an instructor and project scientist in the Robotics Institute, is also a faculty member in IDeATe, Carnegie Mellon's Integrative Design, Arts, and Technology network. The pinball course is similar to some of the IDeATe courses and minors in that they merge technology and creativity through collaborations to solve complex problems.
"IDeATe has an agenda to teach interdisciplinary collaboration, and it requires the entire team to work together across boundaries. One of the things the students find out right away is how integrative all these problems are, and how every aspect of the game influences every other aspect," Zeglin said.
Barron, who studying in the School of Art, said IDeATe was one of the reasons she came to CMU.
"There is the opportunity to work with all of these things that you wouldn't be exposed to in traditional artistic practice," Barron said.
SAMS will wrap up Aug. 10 with a Student Symposium. Zeglin said the pinball machine will be available to play.