WiCyS 2022 Conference
March 17-19, 2022
March 10, 2022
INI Students Gear Up for WiCyS 2022
By Omasan Richardson
& Deana Lorenzo dlorenzo(through)andrew.cmu.edu
Media Inquiries
Kara Pasquinelli
Director of Strategic Communications
The annual Women in Cyber Security (WiCyS) conference will take place this week on March 17-19 at the Huntington Convention Center in Cleveland, OH.
Entering its ninth year, the WiCyS conference serves as an opportunity to connect, celebrate and advance women in cybersecurity, as well as encourage and inspire new talent. The INI has been a conference sponsor since 2014 and will be returning as a Gold Sponsor for this year's event.
Women have been historically underrepresented in the cybersecurity fields, but in recent years, there have been focused efforts to increase gender diversity. Now nearly 25 percent of the global cyber workforce identify as women, a significant increase from five years ago when women made up only 11 percent.
WiCyS conference is hugely popular among INI students and alumni. The connections they make at the event can spark new interests or drive them to deepen their security knowledge. Along with the chance to network with peers from academia and industry, including potential employers, WiCyS provides a number of hands-on learning and skill-building opportunities. Last year, a group of INI students hosted a workshop for CMU's picoCTF, a platform designed to engage more young people in cybersecurity in a fun and educational way. The workshop was a hit at the conference, drawing over 150 participants.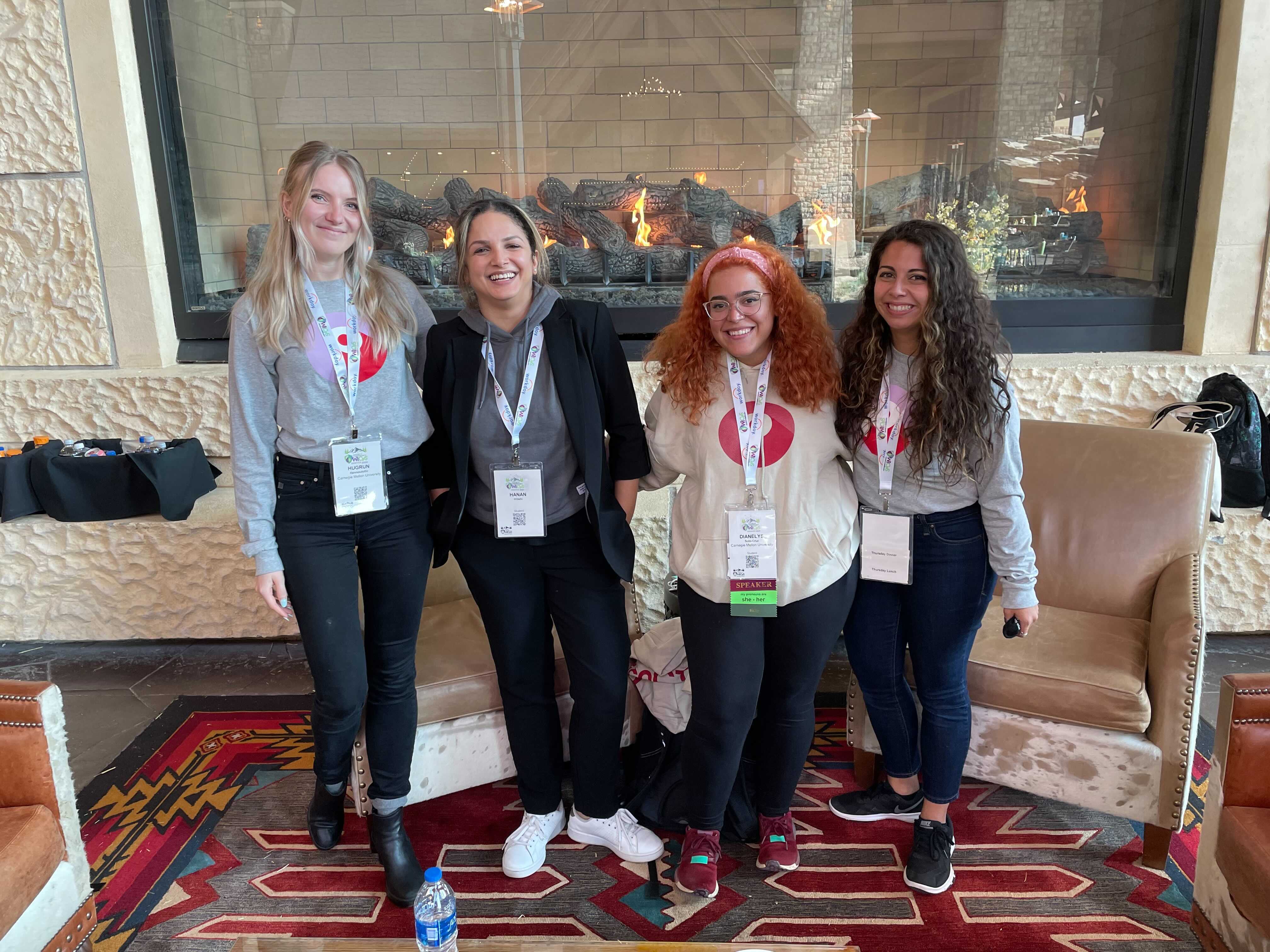 In partnership with the Software Engineering Institute (SEI), the INI provides scholarships and travel funding for students to attend WiCyS, with over a dozen INI students headed to Cleveland this year. Among them is Weijia Yan, an MSIT-IS student and a returning WiCyS participant who first attended the conference in 2020. Although the event was held virtually that year due to the pandemic, the experience proved very worthwhile. "Despite being a virtual conference, [the] organizers did a great job for making it interactive and fun," she said. "I was able to connect with professionals throughout the US, meeting with them in person later on."
It was at WiCyS the following year when Yan realized the INI was where she wanted to continue her studies. "I received a conference scholarship to attend WiCyS 2021 and met with CMU INI students, staff, and faculty," she explained. "Their welcomeness, kindness and deep understanding of security have solidified my thought of becoming a part of the family. When I received my acceptance letter, it was a dream come true."
"It was a dream come true."
While WiCyS attracts many returning participants, it's an exciting experience for newcomers and first-time attendees as well. INI student Gabriella Ayala had never of WiCyS until she came to CMU to pursue her MSMITE degree, but after hearing her professor and previous scholars talk about their experience her interest in WiCyS grew. "I am mostly looking forward to meeting and speaking with people in the same field as I and hopefully learning from their experiences and building relationships and connections as I go," she said. Ayala also hopes the conference will help her stay on top of relevant security topics and current innovations.
This will be Nikita Mishra's second WiCyS conference and she has plenty on her to-do list. The MSIT-IS student is most looking forward to attending featured talks and sessions hosted by industry veterans and experts. Likewise, MSIN student Yiran Che is also looking forward to talks and workshops that will help her delve deeper into security topics. "Although I don't have much background in security as many other INI attendees do, I always wanted to learn more about cryptography and security since my undergrad as a math major," Che explained. "I'm excited to attend WiCyS to get to learn from leading females in crypto and security."
"I'm excited to attend WiCyS to get to learn from leading females in crypto and security."
There's no doubt that events like WiCyS are crucial to promoting diversity and inclusivity in the cybersecurity community, and INI attendees are excited to see what the conference in Cleveland has to offer.
About WiCyS: The ninth annual WiCyS conference is not only the flagship conference for women in cybersecurity but, regardless of gender, is the largest cybersecurity conference with equal representation of professionals and students. Visit www.wicys.org to learn more.
Congrats, WiCyS 2022 Scholars. See you in Cleveland!
"I am attending this conference because I want to be a part of a community of women in security." - Ujvala Kollipara
"I am looking forward to networking with people from this industry and listening to their stories." - Xiaoxuan Cui
"I am mostly looking forward to meeting and speaking with people in the same field as I and hopefully learning from their experiences and building relationships and connections as I go." - Gabriella Ayala
"I served as an Events' Chair and helped form WiCyS India, where I got to meet so many members of the community. I loved the interactions and events even when it was online, I can only imagine how it would be in person." - Madhu VP
"I am excited to meet other people and learn about their journeys to the domains they are in. Super excited to represent INI and CMU at such a grand and collaborative platform." - Samhita Vempatti
"WiCyS is an amazing platform to get inspiration from people with roots in cybersecurity. Sessions by veterans and experts related to my interests, along with CTFs and improving cybersecurity field preparedness through gamification have attracted me a lot." - Nikita Mishra
"I'm looking forward to the talks and workshops! I also hope to connect with peers who share the same interests and build close relationships with them." - Yiran Che
"I benefited a lot from networking myself, and I'm looking forward to helping more women finding connections in security. I wish to use my strengths to help others as connecting people brings me a lot of joy and satisfaction." - Weijia Yan