June 04, 2019
2019 INI Diploma Ceremony
INI alumna Roseanne Silva inspires new INI graduates to 'nurture the network' at the Diploma Ceremony on May 19, 2019.
By Deana Lorenzo dlorenzo(through)andrew.cmu.edu
Sunday, May 19, 2019—The Information Networking Institute (INI)'s Class of 2019 gathered with friends and family to celebrate the two years of hard work behind their degrees in information networking, security, and mobility. As graduates, they are joining a diverse, global network of more than 2,000 alumni who create, shape, and innovate technology that changes the world. 
Before they received their diplomas, INI director Dr. Dena Haritos Tsamitis spoke to the 154 graduates about how important it is to "embrace what makes you different" throughout their lives and careers.
In her remarks, Haritos Tsamitis touched upon imposter syndrome, a phenomenon she's observed during her two decades as a mentor, leader and educator. "Seventy percent of professionals experience this in their careers—including me," she told them.
As the daughter of Greek immigrants who was the first of her family to attend college and later earned her master's degree and doctorate as a single working mother, Haritos Tsamitis followed a very different path from most of her peers at CMU.
"I used to attribute my success to being lucky or 'in the right place at the right time,' rather than acknowledging my accomplishments, and that my differences are my strengths," she said.
Haritos Tsamitis encouraged the Class of 2019 to do the same as they embark on the next phase of their lives. "Embrace what makes you different. Be supportive of and open to others who are not like you," she emphasized.
'Nurturing the Network'
Haritos Tsamitis introduced the keynote speaker, INI alumna Roseanne Silva (MS02, '91). In addition to serving as past chair of the INI Alumni Leadership Council, Silva was recently honored by Carnegie Mellon University (CMU) with a 2019 Alumni Service Award for her inspiring leadership, service and generosity.
Silva, a senior vice president and business chief technology officer at PNC Financial Services Group, drew from her own experiences in tech to share three important lessons with the next generation of industry leaders.
A key part of building a community of mentors, Silva told the graduates, is knowing when to ask for help, and to give help when asked.
"Through INI, you have access to some of the greatest minds in the technology field," she said. "I challenge you to nurture this network of mentors."
Next, she underscored the importance of being coachable. "You are never done learning," she said. "Instead of teachers, you'll now learn from coaches" who often "hide in plain sight" in the form of bosses, peers, and teams. "Ask yourself: am I working with people who challenge me, and am I open to their honest feedback and different perspectives…even when they are difficult to accept?"
Her last piece of advice focused on intentionality—particularly when it comes to creating a more diverse and inclusive work environment. To illustrate this point, Silva described how even small details can make a big difference.
At PNC, Silva helped launch Tech Connect, a resource group for women in tech. However, when a colleague suggested changing the mission from being 'for' women, to 'about' women, Silva experienced an "A-HA moment."
"By making the group 'for' women, we excluded men. Studies show that companies where men are actively included as allies achieve a 90 percent success rate. Companies that exclude men only reach 30 percent." They took their colleague's advice and made the group 'about' women, a small change that resulted in a more inclusive and successful program.
 In conclusion, Silva challenged the graduates to apply these lessons towards fostering communities that are inclusive, diverse, and intentional.
"As we say at INI, 'May your heart always be in the network.'"
Student Graduation Awards
Carolina Zarate, Nishchala Tangirala and Caitlin Hanley
Executive Women's Forum INI Fellows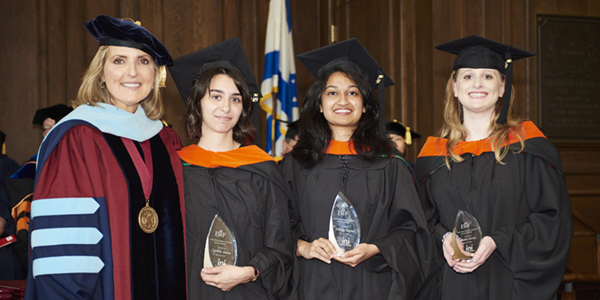 Since 2007, the INI has awarded this fellowship annually, in partnership with the Executive Women's Forum, to an exceptionally promising student. The recipient receives a full scholarship and attends the EWF national conference for women in information security, privacy and risk management.

This year was extraordinary because, for the first time, we had three EWF INI Fellows graduating: Carolina Zarate, Nishchala Tangirala and Caitlin Hanley.
Ankit Jena
Outstanding Student Service Award for a Research Assistant
Nominated by Dr. Patrick Tague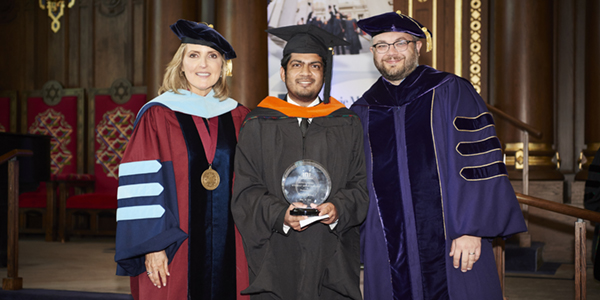 "Ankit worked with a group of INI and ECE students, alongside myself and a researcher from Ford Research & Innovation Center, on a project to catalog and evaluate open-source software analysis tools. Ankit played a critical role on the project team, as he was one of the longer-serving team members who provided continuity throughout the project year. His skills contributed greatly to the work, and his dedication was much appreciated by the project sponsor."
Carolina Zarate
Outstanding Student Service Award for a Teaching Assistant
Nominated by Vyas Sekar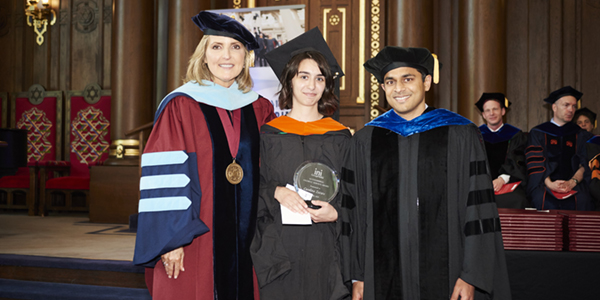 "Carolina is one of those rare students and teaching assistants who goes above and beyond the call of duty to help students in the class. I am grateful for her commitment and passion. She ensured students who were initially struggling were able to come out with flying colors at the end." 
Alex Fulton
INI Leadership Award
Nominated by Dr. Martin Carlisle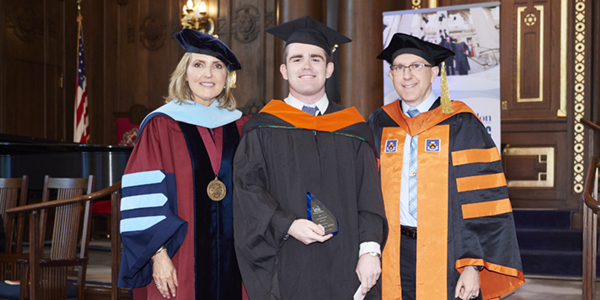 "Alex served as the problem development lead for picoCTF, an online outreach to middle and high school students to encourage them to pursue careers in computer security. picoCTF 2018 reached over 25,000 participants worldwide. I can't emphasize enough what a great job Alex did as a leader in this work, managing a team of busy students, alumni and external volunteers to bring together an outstanding product."
Sam Dlinn
Innocent Habiyaremye Memorial Award
Nominated by Dr. Patrick Tague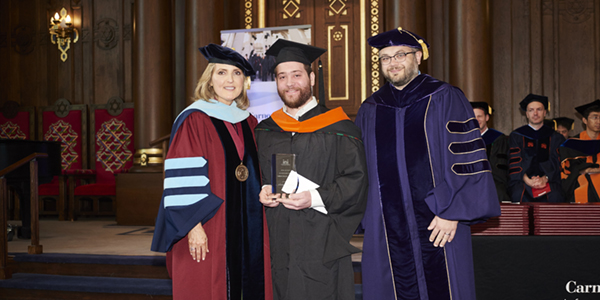 "Sam has been a constant presence in the INI and has really gone the extra mile to support his fellow students to create a happier, more enjoyable environment for his peers. I'm very proud of the way that he managed to spread his fun-loving nature to other INI students and to convince them that sometimes the best thing to do was take a break and relax."
The Innocent Habiyaremye Memorial Award is presented to a student who embodies a sense of community spirit, while holding to their academic and professional commitments. The INI established this fellowship in memory of an INI alumnus, who passed away much too young, but who inspired the people around him through his kindness and volunteer activities.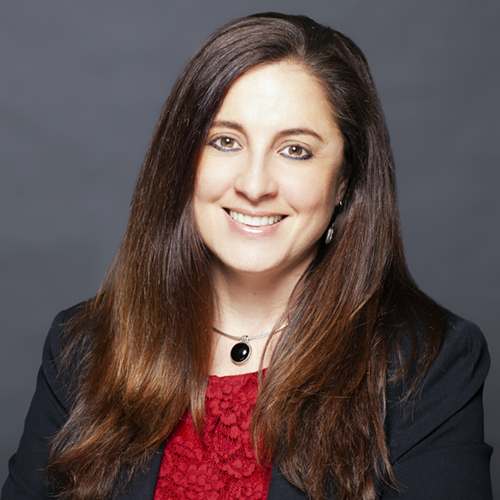 Education
M.S. in Information Networking at Carnegie Mellon University
B.S. in Electrical Engineering at the University of Minnesota
Certified PMP of the Project Management Institute
Awards & Recognition
1994: Open Computing "Top 100 Women in Information Services" 
2005: Top 10 "PNC Performance Award" Winner 
2013: Diversity Council Honors Award (PNC Technology Diversity & Inclusion Council)
2019: Carnegie Mellon University Alumni Service Awardee
Biography
Roseanne Silva is a Senior Vice-President and Business Chief Technology Officer (MyCTO) at PNC Financial Services Group.  She is responsible for technology infrastructure strategy, execution, and governance for Corporate & Institutional Banking, Wealth Management, Enterprise Data Management, and Enterprise Innovation. In addition, Rose is president of the PNC women in tech resource group (Tech Connect) and the business sponsor for the PNC partnership with the National Center for Women & IT (NCWIT) through which she takes an active role in building a diverse workforce and embracing a culture of inclusion.
Rose has over 25 years of experience in technology infrastructure operations, employee technology, application development, and program management, including mergers and acquisitions. In addition to her work at PNC, she has held positions at Financial Data Services (Fiserv), Bell Communications Research (Bellcore), and Control Data Corporation. 
She is active in her community as a mentor for the Greater Pittsburgh Big Brothers Big Sisters Mentor 2.0 STEAM program, a committee member of the Pittsburgh Foundation scholarship advisory board, a volunteer trip leader for Venture Outdoors, and a member of Ellevate, a global professional network of women. 
In addition, Rose has remained active in the Carnegie Mellon University alumni community as a Legacy Scholarship Donor, (former) president of the Information Networking Institute Alumni Leadership Council, a corporate host for the Take a Tartan to Work program, and a mentor to the WINI (Women@INI) cohort.