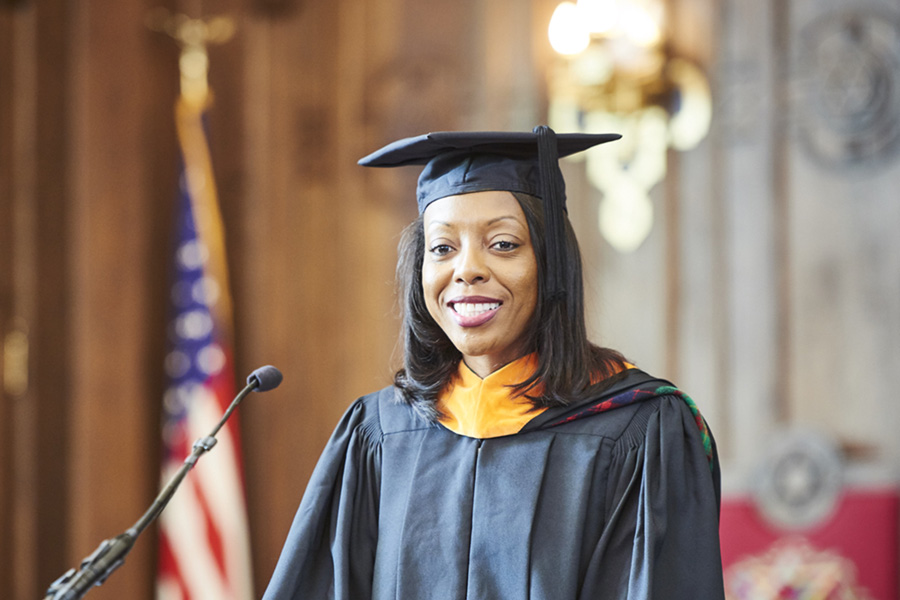 June 27, 2018
2018 INI Diploma Ceremony
By Jessica Corry jcorry(through)andrew.cmu.edu
Media Inquiries
Christa Jones
Director of Marketing and Communications
On Sunday, May 20, 2018, the Information Networking Institute (INI) director Dena Haritos Tsamitis looked out into the audience of 142 graduating students and saw the faces of brilliant women and men who came to Carnegie Mellon University (CMU) because they wanted to change the world.
In a few short weeks, these graduates would take their hard-earned knowledge and invaluable technical and leadership skills and start the next chapter of their careers. Some joined technology companies, like Amazon, Google or Microsoft, others headed to research organizations and government agencies.

Noting that a Carnegie Mellon degree, and new knowledge and skills, comes with immense responsibility, Haritos Tsamitis urged graduates to consider one question: "what role do you, as technologists, play in society?" Read and watch her remarks
Advocating for the Marachels and the Michaels 
Haritos Tsamitis then introduced INI alumna Marachel Knight (MS07) as the keynote speaker, praising her as a fearless leader and a talented executive who has risen up the ranks at AT&T over two decades. As the Senior Vice President of Technology Planning and Engineering with AT&T, Knight is responsible for technology planning and engineering of AT&T's wireless and wireline network – managing a multi-billion-dollar capital plan and integrating acquired network access.
In challenging graduates to consciously tackle the technology industry's racial disparity and gender equality issues, Knight urged students to be aware and engaged, and to lead with their actions.

She began with a story, set 20 years ago at CMU. A young woman confidently walks across campus to meet her randomly-assigned partner for a class project. Outside Knight conveys confidence, but inside she is a ball of nerves. When they meet, he declares a mistake has been made – he's looking for Michael, not Marachel. Her excitement is replaced with self-doubt, but she does not quit. 
"As the first African American female to graduate from INI, it's really an honor to be here with you today," Knight said. "I truly believe in my heart that it's critical for all of us in the tech world to openly discuss and address this issue, especially for you as the talented group of leaders that you will become."
Building on the three R's of risk, resiliency and reward, Knight outlined how each graduate could use their influence to help everyone get a seat at the table, both the Marachels and the Michaels.

"As a new generation of tech creators, dreamers and leaders, this is the time to be part of the solution, to build a brighter future for everyone and to accept the responsibility before you," she concluded. "The sheer potential represented in this room to create more equality in the world, to help alleviate global issues through tech and to bring us all closer together as people with empathy and respect is limitless."
Student Awards
Several graduates were recognized with student awards for their exemplary work:
Outstanding Student Service Award for Research Assistant – Tiemoko Ballo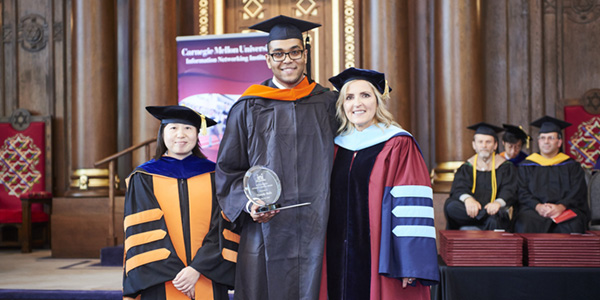 "The way Tiemoko approached a research problem is on par with the best junior PhD students at CMU," said Professor Limin Jia. "I was also amazed by his technical skills. When he started to work on the project, he had no problem understanding and modifying a large code base developed by other PhD students. He is the exemplary master's research assistant that I will refer to for years to come."

Outstanding Student Service Award for Teaching Assistant – Pooja Nilangekar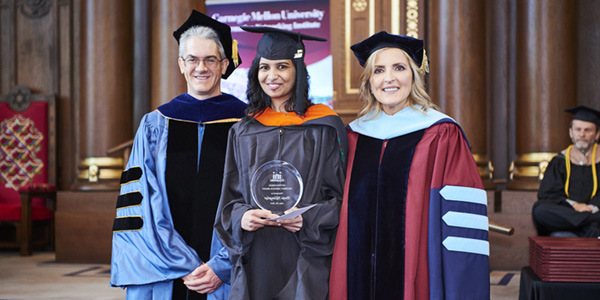 "She's been exceptional… clearly in the top of tier of excellent TAs that I've worked with over the years," said Professor Greg Ganger. "To my mind, what sets her apart is her combination of patience, clarity, and willingness to jump in to help students and others of the teaching staff."

Professor Majd Sakr added: "What's unique about Pooja, beyond her level of dedication, quality of work, and complete ownership of her tasks, is how thoughtful she is about student learning."

INI Leadership Award – Pouria Pezeshkian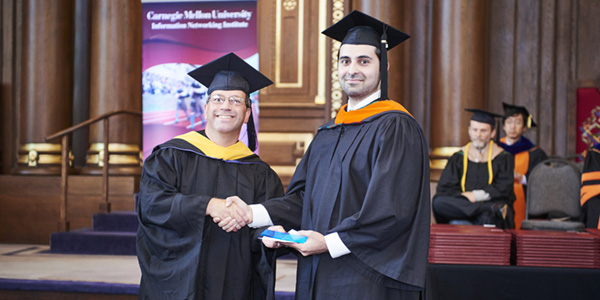 "Pouria's leadership abilities are well-known to all in INI circles. He served this year as the GoINI president and, in that role, has enthusiastically promoted their program of activity and a sense of inclusive camaraderie among students, faculty, and staff alike," said Professor Greg Kesden. "Pouria is a force of nature, a scholar, and a leader within the community."

The Innocent Habiyaremye Memorial Award – Alin Nagraj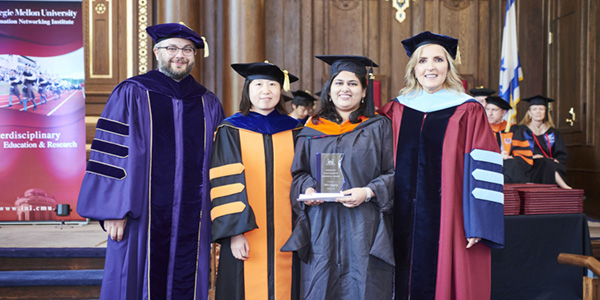 Professors Patrick Tague and Limin Jia describe Alin as a leader who gives back to her community. As an officer of Women@INI, Alin has been an exemplary leader who reaches out to the community, ensuring that activities reflect the organizational mission of giving back.

Notably, following her participation with the "Stop Hunger Now" event held at the Pittsburgh campus, Alin arranged a similar event at CMU Silicon Valley to benefit a local food bank. She is also a mentor to peers in the MS29 class. Her hard work and contributions to the INI community make her an excellent candidate for this award.
---
The graduation ceremony took place at 4:00 PM on May 20, 2018 at Rodef Shalom, located on 5th Avenue in Oakland. 142 students graduated from INI's information networking, information security and bicoastal mobility and information security programs.
---
MARACHEL KNIGHT
Marachel is a senior vice president of technology planning and engineering at AT&T. She has responsibility for technology planning and engineering of AT&T's wireless and wireline network, managing the multi-billion-dollar capital plan and integrating acquired network assets.
Marachel says the INI has been a game changer in her life. Beyond the value of INI's reputation opening doors, the vast and diverse knowledge gained in the program has enabled her to make invaluable contributions to AT&T and the tech industry.
Over the past 20 years, Knight has served in a variety of technology leadership positions at AT&T while honing her specializations in technology operations, project management and network architecture and design. Marachel holds a bachelor's degree in electrical engineering from Florida State University and received her Master of Science in Information Networking (MSIN) at Carnegie Mellon University (CMU) in 1996.
Today, she gives back to the INI community by serving on the INI Alumni Leadership Council (ALC). For her achievements, Marachel received the 2016 Top 100 under 50 Diverse Executive Leaders Award from Diversity MBA Magazine, the 2014 Women of Color Professional Achievement Award and the 2013 Black Engineer of the Year President's Award.
In addition to her longstanding career at AT&T, Knight gives back to the community by serving on the board of directors of the National Action Council for Minorities in Engineering, Inc. and on the advisory board of After School Matters. She is also a co-founder and national advisor for AT&T Women of Technology.