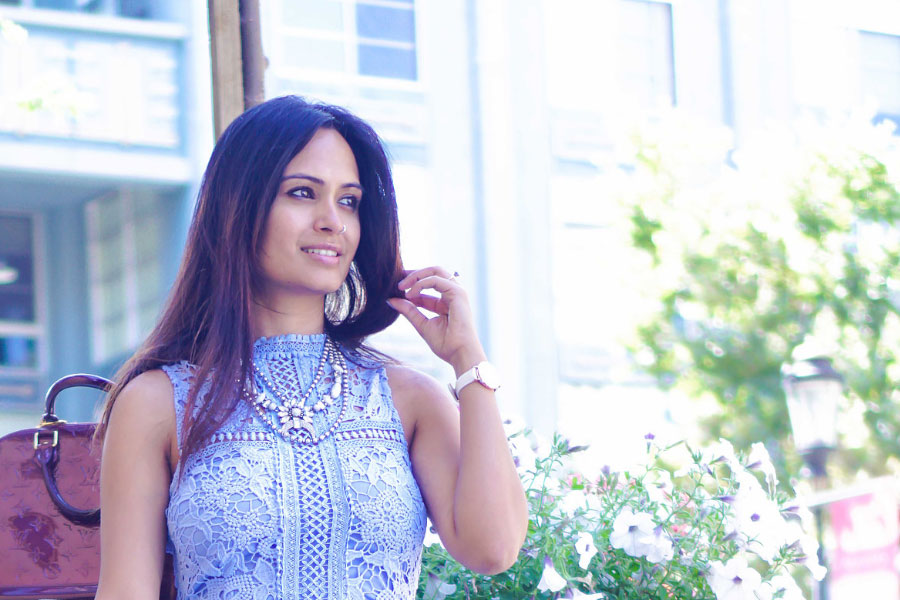 January 23, 2017
Alumna leads global product management for Hitachi
Deboshree Dutta (MS19)
By Jessica Corry jcorry(through)andrew.cmu.edu
Today, Deboshree Dutta is a Senior Product Manager at PayPal. This article focuses on her previous career at Hitachi.
It was a hot August day in Santa Clara, California and Deboshree Dutta (MS19) was standing before the President and CEO of Hitachi Ltd. As lead product manager for the company's Public Safety and Smart City portfolio, she explained how Hitachi's flagship Internet of Things (IoT) product makes the world a safer place. Although her legs may have shaken just a little bit, the Information Networking Institute (INI) alumna aced the presentation, as has become customary for her in a role that requires at least three demonstrations each week for customers, executives and partners.
"I love that every day is a new challenge," said Dutta, a 2009 graduate of the Master of Science in Information Networking (MSIN) program. She leads global product management for Hitachi Insight Group's Public Safety and Smart City Portfolio. As product manager (PM), Dutta interfaces with 22 different functions within her company, everything from marketing and sales to support and legal.
Over the next quarter, Hitachi will be taking seven products to market and Dutta is managing the process from start to finish. In a typical week, she meets daily with engineering teams to ensure they are executing on the roadmap and attends go-to-market meetings with other functional areas to keep the proof of concept, launch and delivery process on track.  
"Product management is a very demanding job, as your success depends on everyone else's success," she said. "That involves a lot of relationship building, in addition to technical expertise and team management."
 Yet she says one of the biggest advantages to her role is working in the technology sector.
"I work in an environment where creativity and innovation are given maximum importance, independent of your age, gender and experience," she explained. "We are respected for our contributions to the technology, product and society."
Making the World a Safer Place
Working in the space of public safety also contributes to her passion for the job. Hitachi Visualization Suite (HVS) – the subject of her August presentation to the company's President and CEO – is a cloud-based solution that supports the public safety initiatives of law enforcement and first responder agencies.
The HVS enhances situational awareness through geospatial correlation by integrating with data published by a multitude of disparate smart city systems, like traffic systems, license plate recognition (LPR), CAD/911 calls and gunshot events.
By integrating real-time social media and Internet data feeds with sophisticated analytics, HVS provides intelligent insights, such as highly-accurate crime predictions and video analytics. 
"While innovation is a huge component of our product, its applicability in really solving crime is key," she explained. "Seeing it being used by law enforcement who put their lives in danger every day, trusting our products to protect them, and help make this world a safer place is the most satisfying part of my job!"
INI and Beyond
According to the MS19 alumna, attending the INI was a particularly life-altering experience.
"I started out wanting to be a true engineer but wasn't aware of how critical it is for an engineer to understand the business and policies that govern the market our products are built for," Dutta said.
The INI's interdisciplinary courses gave her the opportunity to explore all aspects of building a successful product, and this background helped her transition from a software engineering role to a PM role over the last seven years. 
Despite the challenges of being a PM at one of the world's leading tech companies, Dutta is incredibly thankful for the opportunity to do what she does.
"I'm grateful to be working alongside our leaders on their vision to make the world a safer place" she said. 
Dutta lives in San Jose with her husband and two dogs. In her free time, she blogs about fashion, DIY projects, home décor, travel and general lifestyle. 
"I love dwelling on aesthetics and am constantly trying to make things pretty – whether it's fashion or home décor," she said. 
Connect with Dutta on LinkedIn.