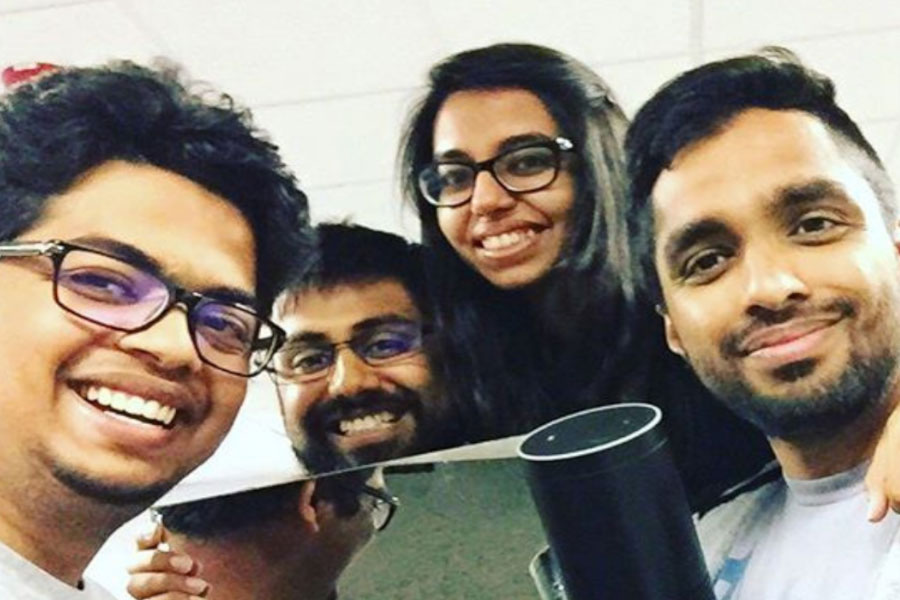 June 15, 2016
Their mirror is smarter than yours
By Jessica Corry jcorry(through)andrew.cmu.edu
Mirror, mirror on the wall, who's the best app creator of them all?
At the AT&T Mobile App Hackathon – Bay Area, the answer was four Carnegie Mellon alumni. The team's SmartMirror application secured a second place win for "Best Mobile App or Internet of Things (IoT) Solution" at the June 10 and 11 event organized by the AT&T Developer Program.
Three Information Networking Institute (INI) Master of Science in Information Technology (MSIT) MS26 alumni – Akshay Pushparaja (MSIT-Mobility), Ishan Vashishtha (MSIT-Mobility) and Madhur Shrimal (MSIT-Software Management) – teamed up with fellow Carnegie Mellon graduate, Bhawna Juneja (LTI, Computer Science), to develop this smart tool.
As the name suggests, the Smart Mirror merges the user's reflection with the functionality of an iPad. Imagine starting your day with a look at your schedule, health goals, and blood pressure, all while brushing your teeth.
The mirror accepts instruction through voice command, thanks to Amazon Echo, syncs health information through Fitbit and integrates calendar and routes with Google APIs.
"To simulate the mirror experience, we used a mirror that allows light to pass through both directions," said Vashishtha, a software engineer at Yelp. Securing an iPad behind the two-way mirror and covering one side of the remaining mirror surface ensured only the important information was visible to the user.
"The vision is much bigger than this initial draft," said Vashishtha. "In the future, we expect the mirror to do mood detection, suggest clothing and other more challenging stuff."
The AT&T Mobile App Hackathon was held at GSV Labs in Redwood City. Attendees hacked hardware and built app/mobile apps while competing for prizes across different categories. Beyond the competitive experience, the event was also an opportunity to meet new people and scout for teammates to work on new or current projects.
Armed with their laptops, skills and ideas, the Carnegie Mellon team wowed judges with the Smart Mirror and walked away with a $500 Amazon gift card.
"All of us are interested in IoT and intelligent systems," said Vashishtha. "And hacking is both fun and a learning opportunity."
Team Members:
Akshay Pushparaja - Research Engineer at Technicolor |INI, MSIT-Mobility
Bhawna Juneja - Software engineer at Apple |CMU-LTI, M.S. in Intelligent Information Systems
Ishan Vashishtha - Software engineer at Yelp | INI, MSIT-Mobility
Madhur Shrimal – Future Software Developer at Microsoft | INI, MSIT-Software Management