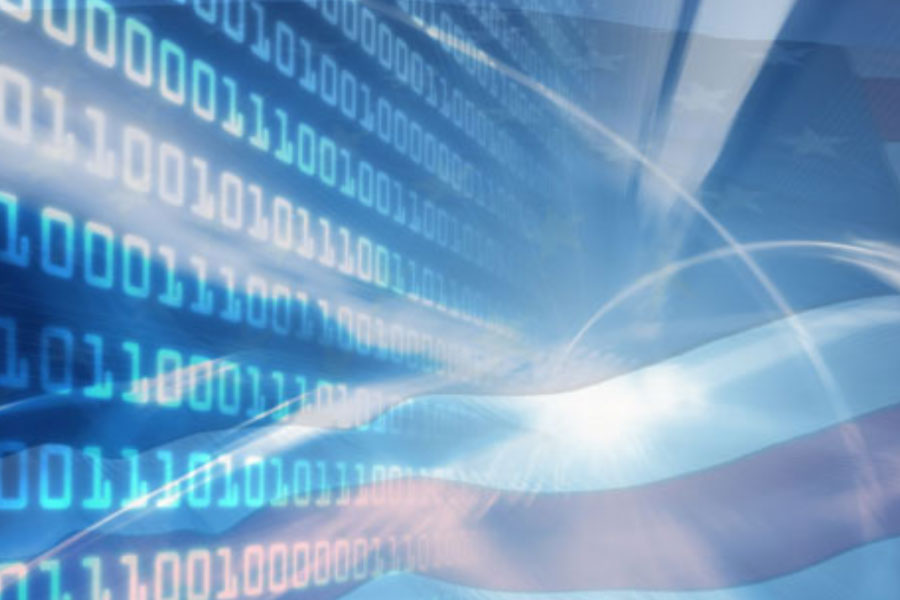 March 14, 2016
Scholarship program strengthens federal cybersecurity corps
By Jessica Corry jcorry(through)andrew.cmu.edu
If not for the CyberCorps® Scholarship for Service (SFS), Landon Fraser (MS17, '07) might have landed a tech job in the private sector. Instead, she joined the ranks of the federal government's cyberwarriors.
"My job is ultimately to protect the U.S. military and support efforts overseas," she said. "There are not too many other places where one can have the impact that I feel every day."
For students like Fraser, the SFS program at Carnegie Mellon University offers a full-tuition scholarship, funding for professional development, books and a generous stipend for living expenses in exchange for government service upon graduation. In order to participate, students must be a U.S. Citizen or Permanent Resident. 
A longstanding participant in the program, Carnegie Mellon currently has 21 SFS students. Since 2001, the university has received more than $21.6 million in grants and graduated 178 SFS students who have gone on to work for the CIA, FBI, NSA, Federally Funded Research and Development Centers, and other federal agencies.
After Fraser's two-year service commitment ended, she remained as a team lead in the Department of Defense. She credits the SFS program with enabling her to graduate debt-free from a prestigious institution — she earned her Master of Science in Information Security (MSIS) through the Information Networking Institute (INI) in 2007 — and secure a job that she loves going to every morning.
Answering the Call
With the recently announced Cyber National Action Plan, President Barack Obama seeks to strengthen the federal corps of cybersecurity personnel by expanding the SFS program and offering additional scholarships in exchange for service.
Amidst stiff competition from Silicon Valley and Wall Street employers, this recruitment strategy aims to position government employment as an attractive option for outstanding candidates like Fraser.
In doing so, the White House takes a vital first step in solving the 'people problem' that has long plagued the cybersecurity field: a lack of skilled professionals.
"Right now cyber workforce needs are planned to grow at 2.5 times that of other occupations, and 50 percent faster than computer science," said David Brumley, director of Carnegie Mellon CyLab, the university-wide cybersecurity research institute. "We need people, and SFS is a key component for addressing that demand within the government sector."
Closing this cyber-skills gap is an issue that Carnegie Mellon tackled early on. The INI invested in hiring cybersecurity faculty within the College of Engineering prior to 9/11 and later contributed to the launch of CyLab in 2003.
Today, the INI offers three information security graduate degree programs in Pittsburgh, Silicon Valley and Japan. These programs offer a rigorous technical curriculum while incorporating business and policy perspectives, preparing graduates to pioneer solutions, advance technologies and protect our nation's critical information infrastructure.
In order to be eligible for the SFS program, students must be enrolled in the INI's Pittsburgh-based MSIS program or the H. John Heinz III College's Master of Science in Information Security Policy and Management (MSIS-PM) program.
"Carnegie Mellon's programs develop cybersecurity experts well-positioned to tackle the challenges faced by government, as proven by the success of our alumni," said INI Director Dena Haritos Tsamitis, who leads the SFS program at Carnegie Mellon as principal investigator. "SFS graduates from the INI and Heinz College are sought after by government agencies and receive multiple offers when job hunting."
Carnegie Mellon is one of 10 universities to receive three federal designations as a National Center for Academic Excellence in Information Assurance/Cyber Defense Education, Information Assurance/Cyber Defense Research and Cyber Operations. These designations certify the strength of CMU's cybersecurity curriculum and research, enabling the university to participate in the SFS program.
In 2015, Tsamitis secured the largest award to date for the SFS program, $5.6 million, and led the program in attaining 100 percent job placement of its graduates.
Tsamitis said one of the primary strengths of the SFS program is the CyLab faculty conducting important research — often with SFS students involved — and integrating the latest developments into the core courses they teach.
A Network of Support
Michael Cook (HNZ 2014), now a cybersecurity engineer in the Software Engineering Institute's CERT Division, cites the SFS alumni network as another major strength.
"My career goal was to be able to utilize my experience and education in a position that would help to advance the security of the federal government," Cook said. "The awesome alumni network, which not only helped mentor me through a difficult certification [Offensive Security Certified Professional] (OSCP), was the ultimate avenue through which I received my ideal job offer."
After completing her spring internship with CERT's Secure Coding Initiative, current SFS student Jennifer Burns (E 2017) is headed to MITRE Corporation for a summer technical internship. She connected with the company at an SFS information session in the fall. These are held weekly and feature representatives from federal agencies and centers, many of whom are SFS alumni.
"It's been about nine months since I received the Scholarship for Service and joined the INI, and I'm already able to utilize specific security-related skills learned in my courses at my current internship with CERT," Burns said.
Like Fraser, Burns' longterm goal is a leadership position in the federal government where she can use her skills to positively impact and protect others.
"President Obama has identified a great need for cybersecurity professionals, and this opportunity allows me to serve my country and community using what I have available to contribute, my technical skills and passion for knowledge," she said. "I am quite grateful to receive funding from the U.S. government for such a fantastic education so that I can pay it forward in my current and future positions."
About the Scholarship for Service Program:
Focused on information assurance education, the CyberCorps® Scholarship for Service (SFS) program gives students scholarship funds in exchange for service in the federal government for a period equivalent to the length of their scholarship, typically two years. As a result of the SFS program, federal agencies are able to select from a highly qualified pool of student applicants for internships and permanent positions.
The SFS program provides full financial assistance to a few highly qualified candidates each year who satisfy the following requirements:
U.S. Citizen or Permanent Resident
Accepted into the MSIS Program
Eligible for federal employment
Able to obtain a security clearance