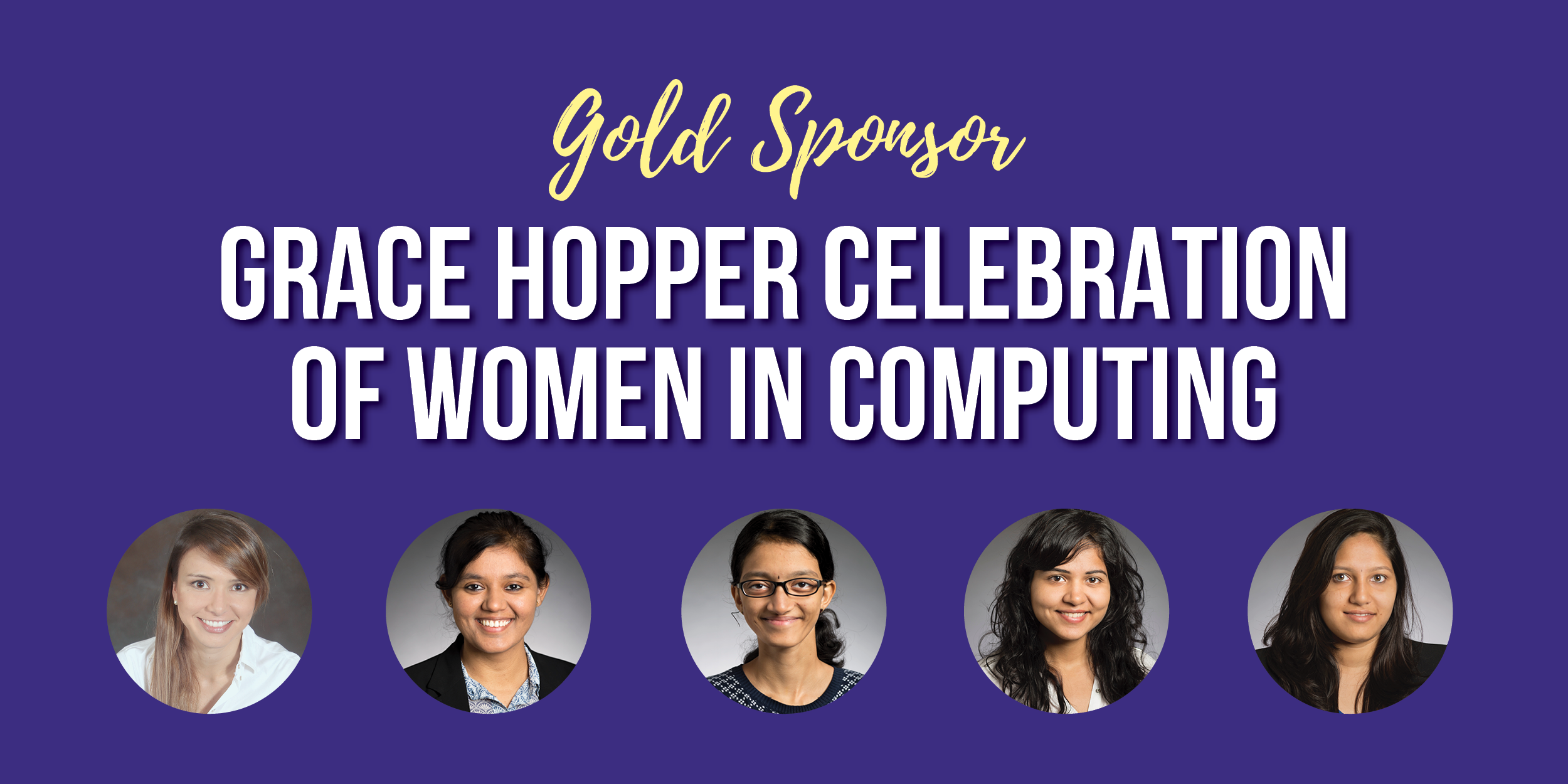 October 19, 2016
Five INI students attend Grace Hopper
By Jessica Corry jcorry(through)andrew.cmu.edu
Nearly 15,000 women technologists will flock to Houston, Texas for the Grace Hopper Celebration of Women in Computing Conference (GHC) from October 19-21. Among these female scientists, researchers and entrepreneurs will be Information Networking Institute (INI) students and alumnae representing Carnegie Mellon University (CMU) for the tenth year at the GHC.
Over the course of three days, attendees will discuss how to increase the participation of women in technology, hear from industry leaders like the CEO of IBM and the U.S. Chief Technology Officer, secure jobs and internships at the career fair and explore topics in domains ranging from artificial intelligence to Internet of Things (IoT).
"I want to attend the conference to celebrate the brilliance of women in tech who have paved the way for us," said Tanima Makkad (MS27, MSIT-Software Management), who was awarded a Women@INI scholarship to attend this year's conference. "Sometime in the future, I aspire to become as inspiring as these women are to me."
For the past 10 years, the INI has supported the annual conference and selected at least six INI students to attend through Women@INI scholarships. In 2012, the INI became a gold-level academic sponsor of the GHC.
In addition to Makkad, the 2016 scholarship winners include Raquel Rodriguez Jimenez (MS27, MSIT-Mobility), Aparna Sridhar Murthy (MS27, MSIT-Mobility), Andal Jayaseelan (MS28, MSIN) and Vidya Gopalakrishnan (MS28, MSIS).
It was the incredible experience of other INI students at the conference last year that piqued Makkad's interest in attending the GHC.
"Honestly, I had no idea what to expect from an all-women's conference," Makkad explained. After friends returned from GHC 2015 extremely determined and energized, she decided to step out of her comfort zone and apply for a scholarship.
"I perceive this conference as a chance to network with like-minded, female stalwarts of their domain and get inspired by the best minds of the industry," she said. "It is downright exhilarating for newbies like us to learn from the experiences of established women in the STEM field and to learn from their challenges and struggles faced."
Indeed, a major facet of GHC is enabling women and other underrepresented groups from all different backgrounds, genders and abilities to simply spend time together and learn from one another. In a male-dominated field, this experience can be invaluable.
"Attending and sponsoring Grace Hopper for the past decade is just one example of the INI's long-standing commitment to increasing diversity in the field of engineering," said Dena Haritos Tsamitis, director of the INI. "I hope that our students leave the conference feeling inspired and awed, and bring that enthusiasm back to share with their classmates. Together, we can create a culture of diversity and inclusion in the fields of engineering and computing."
Year after year, INI alumnae from companies like Apple, Google, Facebook, Yahoo, Hewlett-Packard and Cisco return to the GHC to recruit, network and learn. This year, an INI alumna is among the expert speakers in the security/privacy track. Luz Jaramillo, senior IT compliance specialist at Electronic Arts, will give a talk on October 20 called "Security is our game."
Having the opportunity to connect with women like Jaramillo from all over the world is the number one conference highlight for Rodriquez Jimenez.
"We are bombarded by these numbers about inequality and how difficult it is for girls to stay in tech, but when you see so many talented women together you feel encouraged to work hard towards making this problem disappear," she explained. "It's a great way for girls to see that tech is a field for women, there's lots of us and we love what we do."
Whether searching for a job or internship, seeking technical expertise or simply looking to be inspired by female role models, the INI's five student attendees of GHC 2016 are guaranteed a life-changing experience.
As Arushi Grover, a second-year MSIN student who attended last year, concluded: "After GHC, you come back as a totally different person. A woman more confident, a woman more tolerant, a woman who now knows how to take on the world."
---
Rodriquez Jimenez interned as a platform engineer at Runkeeper this summer, where she built a framework to use machine learning models to predict user behavior. After graduation, she will pursue a career in big data, and she is eager to attend the GHC workshops within the data science track.
Jayaseelan is a first-year INI student, and will attend sessions in computer systems and networking that align with her career goals. She hopes the conference will allow her to reach new heights in computing and learn about opportunities for future growth.
Gopalakrishnan is a first-year INI student with ambitions to become a security researcher in malware analysis and forensics. She is excited to attend the keynote address of Dr. Latanya Sweeney, founder and Director of the Data Privacy Lab at Harvard University.
Makkad interned as a software engineer on the cloud development team at VISA this summer, a learning experience that matches her interests in cloud computing and data analytics. She seeks a leadership role in technology and looks forward to GHC's inspirational talks, career fair and networking events.
Sridhar Murthy interned as a product manager at ROBLOX Corporation this summer, where she learned firsthand the immense impact product managers can have on a company. She aspires to take her learnings and start something on her own to make a difference in people's lives.