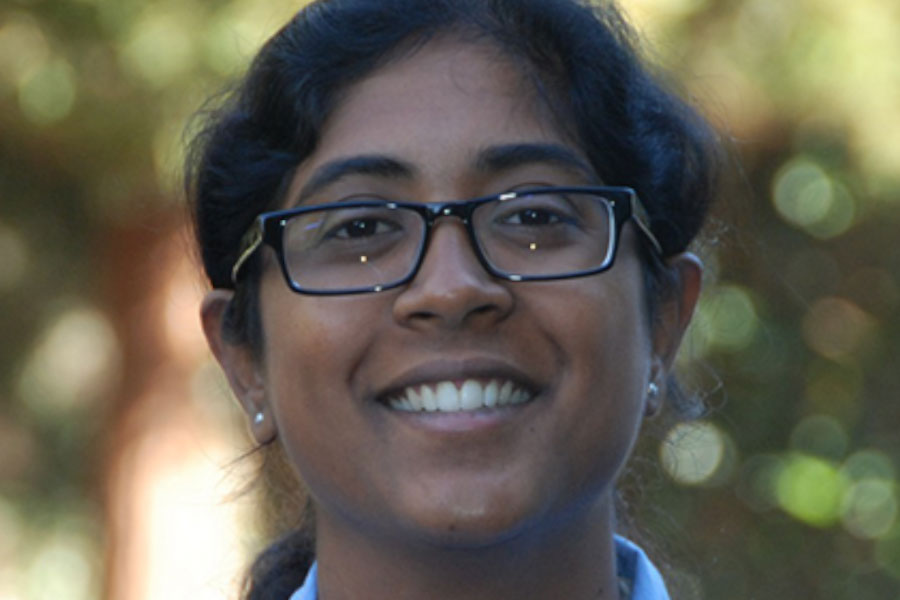 January 12, 2016
Alumna engineers 'Yelp' for hospitals
By Jessica Corry jcorry(through)andrew.cmu.edu
As a society, we are keen on rating everything from restaurants to hair salons, but no such online platform existed for hospitals until alumna Pooja Gada (MS23, '12) engineered a solution.
"We built a tool where users can simply enter the name of a hospital in the United States and quickly understand how their hospital ranks in terms of efficiency and experience," explained Gada, a full stack engineer at Qventus.

The concept of ranking hospitals using publicly available data emerged during a weekend team brainstorming session. Unlike Yelp, which relies on reviews by the public, Qventus' website rates hospitals based on data from the Center for Medicare & Medicaid Services (CMS) about emergency department performance, patient satisfaction and in-patient cost efficiency.
According to Gada, who served as the project's main engineer, data that was previously difficult for the average person to access and understand is now conveniently indexed with the end user in mind. The website's evolution from weekend idea to a serious tool that gained coverage in TIME and Fortune magazines is just one example of Qventus' commitment to advancing health care using technology.
The tech startup from Palo Alto, California builds software that helps make hospital operations more efficient. When Gada was hired in 2014 as the company's first engineer, AnalyticsMD worked with two hospitals. That number has since grown to seven hospitals across the nation, an accomplishment Gada says is humbling for a small team seeking to do something revolutionary in health care.
"You know how a lot of people complain about Mondays? Well, at a startup you actually look forward to a Monday," Gada said. "Every day has its own set of challenges and, as an engineer, getting to work on some of these problems is truly fascinating."
As a full stack engineer, Gada works on and develops every component of the stack. The depth and breadth of the problems she tackles are unlike those in a bigger, more established organization. Instead, every engineer at Qventus "owns" the features they are working on, which translates to working closely with customers and seeing impact from features just days after developing them.
Of the many Information Networking Institute (INI) courses she took, Gada identifies "Information Security" with Nicolas Christin as the one with the greatest impact on her career. It made her more aware of security's role in software development, which is key in a field like health care.
"INI offers some of the best programs centered and tailored around information security, and hence it was a clear choice," she said of the bicoastal information security degree. "The program attracts the brightest students from around the world, and it was a privilege to study alongside world-renowned professors and exceptional students."
Completing the second half of the bicoastal program in Silicon Valley connected Gada with what she regards as a highlight of her time with the INI: hackathons. On a whim one night in the midst of working on their practicum project, Gada and her female roommates decided to compete in their first hackathon, hosted by ESPN at Stanford University.
After 24 hours of caffeine-powered brainstorming and coding, the team won first place with an app called iSports. In addition to being featured in WIRED magazine, Gada's team earned a VIP tour of ESPN's headquarters and enjoyed lunch with the CEO of Mashery. They kept up their winning ways at hackathon events held by Electronic Arts and AT&T, often competing as one of the few all-women teams.
"Engineering is a male dominated area, but in the past few years, things are starting to change," Gada said. She was the first hire for Qventus and says being the only woman on the team never crossed her mind.
"If you are passionate about an idea, just go for it," she said. "Do not let anything act as a roadblock for you not getting to where you want to be."
Her advice to INI students is to accept uncertainty and never be intimidated.
"Let this be the driving force to push yourself to the next level," she said. "At the end of the day, you are worth more, and can accomplish more, than what you can even imagine at this very moment."
Please Note: On March 1, 2017, analyticsMD announced that it has changed its name to Qventus.