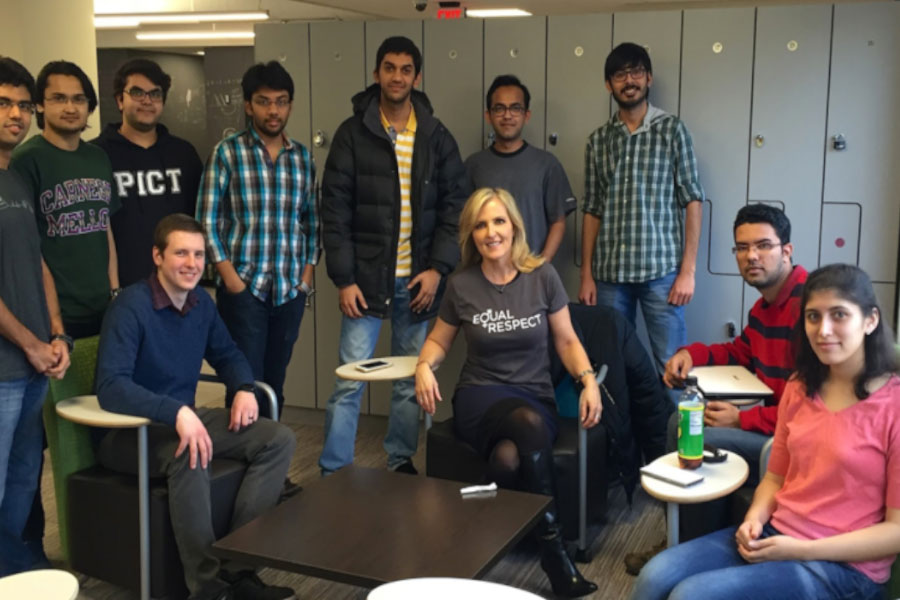 October 19, 2016
INI's director is creating an inclusive culture for all
By Dr. Dena Haritos Tsamitis dena(through)cmu.edu
Media Inquiries
Christa Jones
Director of Marketing and Communications
Dr. Dena Haritos Tsamitis is the director of the Information Networking Institute. She recently joined the team of information security experts at ITSP Magazine and wrote an Equal Respect blog post about the INI's efforts to create an inclusive culture for all.
To read the article on ITSP Magazine's website, click here.

By: Dr. Dena Haritos Tsamitis | @INIDena
In 2002, when I became the Associate Director of the Information Networking Institute (INI) at Carnegie Mellon University, there were only two women in our incoming class of 34 students. That's just under 6 percent.
After becoming the INI's Director in 2004, I made a commitment to figure out why this was the case and to find a way to change this. How could we increase our enrollment of women while also creating a culture of support and inclusion that sustains the community? In reviewing the research of my colleagues, Carol Frieze and Lenore Blum from CMU's School of Computer Science (SCS), we found that culture matters.
To attract and retain more women, we needed to create an educational environment that embraces and is welcoming towards women.
An equal playing field and equal respect are what we strive for with Women@INI, an organization that Dr. Chenxi Wang and I established in 2005 to create a nurturing and inspiring learning environment that promotes and celebrates gender and cultural equality and diversity, both within and beyond the INI.
WINI fosters a respectful, inclusive environment that allows women to openly discuss the common struggles they face as women in the field, demonstrate their qualifications with confidence, and serve as role models for the next generation of women in STEM. WINI also cultivates leadership qualities in our female students, provides unique networking and mentoring opportunities between current students and alumnae, and promotes careers in STEM to young girls and boys.
Male students are encouraged to participate in certain events to create awareness of the unique challenges that their female peers face and to encourage their advocacy.
This past year, WINI celebrated its tenth anniversary by welcoming an incoming class that consisted of 34 percent women — a huge jump up from 6 percent, which I am immensely proud of — but increasing numbers in one academic department is only a starting point. Much more needs to be done in changing the mindset, hiring and promotion practices, and to the overall culture of academic environments and workplaces so that they are supportive and inclusive of all.
Through WINI meetings and one-on-ones with my students, I hear about the gender bias and disparity that our students face as women in the tech field. Last year a student approached me after Carnegie Mellon's Technical Opportunities Conference (TOC) and told me that her excitement of receiving offers from big-name companies was squashed by her male peers' judgment that she had only been offered such opportunities to meet a gender quota. The student wanted reassurance that this was not the case. I assured her that she was highly qualified based on my knowledge of her background and academic performance, but I could not offer her insights on the company's hiring practices.
More recently, a student shared her story about an employer prior to her enrollment with the INI. She was offered a job following two interviews — skipping over the technical interview — and thought that she had really blown them out of the water. As she later found out, the company systematically enabled female hires to bypass the technical interview. This not only created resentment among males towards their female coworkers, but also created a culture of inequality and disparity in technical roles by gender. This student expressed that she would have preferred to have the technical interview in order to fully demonstrate her qualifications and earn the respect of her male colleagues.
She wanted an equal playing field and equal respect. Period.
As time goes on, more of these stories (from women in all fields) arise: tales of both implicit and explicit gender bias that, when shared, are confirmed by other women around them. Just this past week, many watched the first presidential debate between Donald Trump and Hillary Clinton. In this debate, Trump "broke the rules" and interrupted Clinton 51 times (whereas she interrupted him 17). Of these interruptions by Trump, 40 happened in the first 26 minutes of the debate.
Twitter and other social media channels exploded with countless women posting that they had been treated similarly by male peers in professional situations throughout their careers and that they'd trained themselves to rise above it. Politics aside, reading these accounts by other women resonated with me as I have personally experienced this in my career and have heard similar stories shared by WINI members over the last ten years about their experiences both in the classroom and in the workplace. When do we stop "rising above it" and how do we change the playing field so that everyone is held to the same rules?
WINI has created a culture of paying it forward: many of our alumnae go on to create similar groups that center around supporting women in tech. This has had a powerful ripple effect from within the INI outwards towards the larger community and into their own professional careers.
Alumna Saralee Kunlong, who is a Senior Software Engineer for YP℠ (formerly Yellow Pages), started a women's organization called YP Women. Part of her motivation to do so was her membership in WINI and attending the Grace Hopper Celebration of Women in Computing Conference as an INI student. As a minority in the field, she recognized that women face challenges and feel out of place.
"When you are exposed to other women who are also in the same fight that you are, you don't feel alone anymore," said Kunlong. "You feel more encouraged to continue on, not just for you, but for other women in your group as well, and for me, also for the next generation."
When I asked alumna Divya Ashok, Director of Product Management for Strategic Customers Initiatives at Salesforce, to comment on how WINI shaped her experience, she responded:
"I'd always felt very strongly about women's empowerment and the fact that while men and women are different, there was no need for one gender to be acquiescent. Being one among the many girls of a strong women household, I had heard of issues many women faced but didn't know how to help them. A part of my CMU journey was discovering that I could help women's empowerment and teach kids about security but also equality.
Being WINI's chair of outreach led me to take an active part at Salesforce and outside work in efforts to help those that were in distress or had lost hope. As Chairwoman of Philanthropy for Salesforce Women's Network, we embarked on helping women and children's empowerment. Some of our activities included empowering more than 100+ kids in a year with interviewing skills, creating awareness of multiple NGOs to allow employees to spend their VTO (Volunteering Time Off) hours. Today, as VP of the Women's Network, I am hoping our committees can move forward and help enable more organizations globally and do our little part in making our dreams from WINI days a reality."
The statistics of women gaining the same opportunities as men are harrowing, but we can work on changing this narrative. For instance:
A 2013 study led by the American Association of University Women (AAUW) found that women only make up 26% of computing professionals and 12% of engineering professionals — which means that women are less represented in tech now than they were 25 years ago.

The 2020 Gender Diversity Index found that women only represent 17.9% of Fortune 1000 board members and that there are only 23 female CEOs in the Forbes 500 (4.6%).

The recently published "Women in the Workplace: Corporate Pipeline" study done by LeanIn.Org and McKinsey & Company found that promotion rates for women in the workforce are well behind men. For every 100 women that are promoted to a management position, 130 men are promoted — meaning that fewer women are on the path to leadership and even fewer have the possibility of becoming CEO.
Scientific American writer Katherine Phillips said it best:
"People who are different from one another in race, gender, and other dimensions bring unique information and experiences to bear on the task at hand…. [and] companies that prioritized innovation saw greater financial gains when women were part of the top leadership ranks."
With organizations like WINI, YP Women, and Salesforce Women's Network establishing themselves as a valuable resource in organizations, I know that we can create an equal playing field with equal respect for all and create  a culture shift in organizations.
As WINI enters its eleventh year, I hope that we can inspire our students, other schools, and larger organizations to create similar programs that encourage women in STEM. I couldn't be more proud of my students and alumni — and for the ripple effect that they've created in breaking down barriers and gender disparity in the STEM fields.