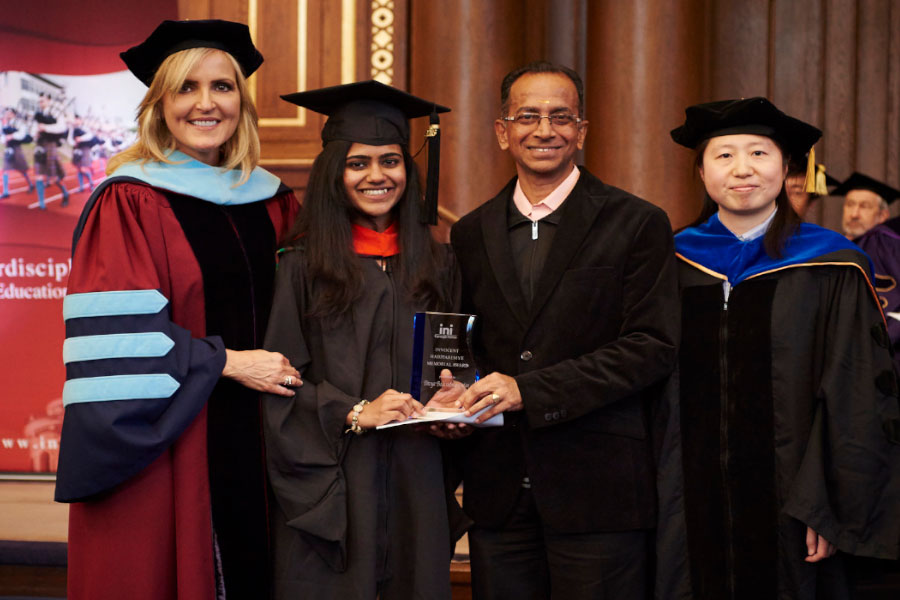 June 03, 2016
2016 INI Diploma Ceremony
By Jessica Corry jcorry(through)andrew.cmu.edu
For the Class of 2016, the Information Networking Institute's (INI) diploma ceremony was not an ending but rather the beginning of what keynote speaker Michelle Dennedy predicts will be a wild and grand adventure.
"Don't waste a moment. Just live," urged Dennedy, Cisco's Vice President and Chief Privacy Officer. "What lies ahead is a brilliant sea of kaleidoscopic possibilities."
Indeed, the commencement on Sunday, May 15, 2016 marked the culmination of many years of hard work and dedication for the 142 graduates.
Armed with a degree from Carnegie Mellon University (CMU), the MS26 class is diving headfirst into careers at Amazon, Apple, Facebook, FireEye, Google, Hulu, LinkedIn, Microsoft, Salesforce, Twitter, Uber and VMWare, to name a few.
Noting the first web page was published only about 25 years ago, Dennedy reminded graduates it is a tremendously exciting time to enter the technology field.
As one of the first fully connected generations the world has known, the Class of 2016 has experienced how the Internet, smartphones and social media have changed everything from family life and entertainment to presidential races and government.
"We know that change and evolution are two inevitable things about technology," added Dennedy. "And for that reason, all of you have been likely been preparing for future professions that don't yet exist today."
Echoing Dennedy's sentiment, INI Director Dena Haritos Tsamitis encouraged graduates to take risks.
"Continue to follow your passion, even if it changes, because it probably will. What you are passionate about now may be completely different from what you are passionate about in 5 or 10 years," she said. "And that is okay. You have the knowledge, skills and degree to adapt."
Furthermore, INI graduates also have one another to count on.
"You did not take this journey alone," added Tsamitis. "Seated around you are the INI classmates who have supported your journey to this moment, and will continue to do so for many years to come, both personally and professionally."
Diplomas were awarded for the INI's six programs: the Master of Science in Information Networking, the Master of Science in Information Security, the Kobe Master of Science in Information Technology—Information Security and the three Pittsburgh – Silicon Valley Master of Science in Information Technology programs in Mobility, Information Security and Software Management.
Several graduates were recognized with student awards for their exemplary work.
Outstanding Student Service Award for Teaching Assistant – Mayank Shishodia
Outstanding Student Service Award for Research Assistant – Harshad Shriwadkar
INI Leadership Award – Keane Lucas
Innocent Habiyaremye Memorial Award – Divya Balasubramanian
Additionally, Hana Habib and Chrysanthi Vandera were recognized as the recipients of the Executive Women's Forum Fellowship and Roseanne Silva Named Fellowship, respectively.
In closing, Dennedy requested that INI's graduates remember her mother, Norma Jean Finneran.
A familiar face to those who took Dennedy's Privacy Engineering course, Finneran passed away suddenly on April 28, 2016.
"What would it take for you to share your gifts, your many, many gifts with a world of Norma Jeans, most of whom you'll never get to meet but you might sense in her love, in her dreams, in her care for you?" asked Dennedy.
In the ever-changing world of technology, it is this very human concept that is pivotal to success. Energized and inspired, INI's graduates accepted Dennedy's challenge. Only time will tell what great things they will make, accomplish and discover.
Congratulations, to the INI's MS26 class!
For photos from the diploma ceremony and reception, please visit the INI's Flickr: https://www.flickr.com/photos/ini_cmu/albums
About Michelle Dennedy
Michelle Dennedy is the Vice President and Chief Privacy Officer at Cisco, where she works to raise awareness and create tools that promote privacy, quality, respect, trust, and asset level possibilities for data. Michelle is a visionary in both the privacy profession and the information technology industry. She is the founder of The iDennedy Project, changing how people think about information and data, and the author of "The Privacy Engineer's Manifesto." Michelle has been a guest speaker for the INI's Lean In Series and 25th anniversary panel talks; she has also taught as an adjunct instructor for the INI at the Silicon Valley Campus.