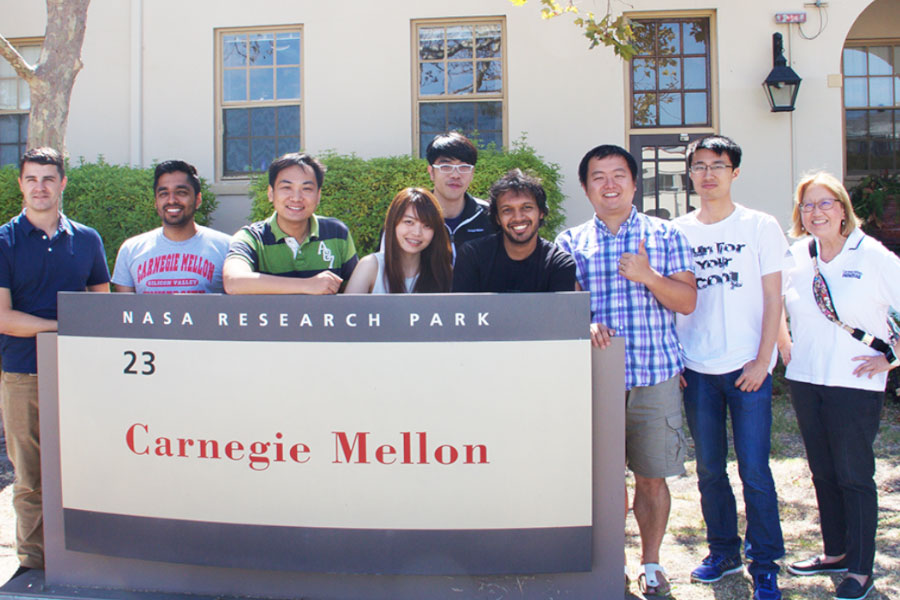 February 12, 2016
To Click or Not to Click: Cheetah Mobile Practicum
By Jessica Corry jcorry(through)andrew.cmu.edu
Banner ads and pop-ups were just the beginning. Mobile advertising continues to evolve as companies look for new ways to engage customers.
Four Carnegie Mellon University (CMU) students in the Master of Science in Information Technology — Mobility program spent last semester exploring innovative mobile advertising techniques in a flagship practicum course sponsored by Cheetah Mobile, the leading developer of mobile utility applications.
Under Cheetah Mobile's mentorship, Information Networking Institute (INI) graduate students Akshay Pushparaja (E 2015), Xi Wang (E 2015), Kailiang Chen (E 2015) and Vinay Ramkrishnan (E 2015) developed two mobile applications and compared the pros and cons of various ad formats.
With smartphones in hand one November afternoon, nearly 50 of their classmates play tested "What the Gif" and "PicKick." While play testing parties are a common occurrence at Carnegie Mellon in Silicon Valley (CMU-SV), this one was different.
Instead of grilling testers about whether they enjoyed the visual blogging platform of "What the Gif" or the ability to take panorama photos in "PicKick," the INI students wanted feedback on in-app advertisements.
Their answers informed the team's research. For Ramkrishnan, he said he was most surprised to the extent to which mobile advertising is rooted in science.
"It is far beyond the small banner at the bottom of a page, which was the traditional form of mobile advertising," he said. "When done and presented the right way, it can really boost your revenues without annoying your users."

Identifying advertising strategies that mobile users prefer is a problem the industry has grappled with in recent years.
Faced with the challenge of improving engagement with people via mobile devices Cheetah Mobile tapped into bright minds at Carnegie Mellon.
The Alumni Connection
It all began with CMU alumnus David Wu (HNZ 1999). As the leader of Cheetah Mobile's global marketing, Wu sought ways to attract talent and build the Beijing-based mobile media company's brand in the U.S. He approached his alma mater about forming a partnership, and the relationship kicked off last fall with the INI's mobile advertising practicum.
"CMU played a critical role in launching my career, so this is my chance to pay it forward for a new generation of students," Wu said, noting the practicum tackled one of Silicon Valley's hottest topics. "When students enter the workforce with experience solving problems for industry-leading companies, they have a terrific head start over other students whose education has only focused on the theoretical."
The collaboration with Cheetah Mobile is just one example of the practicum course project, which connects the INI's bicoastal information security and mobility students at CMU-SV with clients like Google, Intel, Ericsson and NASA to solve real-world problems. With the dual benefit of experiential learning and invaluable connections, practicums are an opportunity for companies to try out new ideas.
"Through industry-sponsored practicums, real-world becomes the classroom," INI director Dena Haritos Tsamitis said. "Our partnership with Cheetah Mobile has offered students the incredible opportunity to learn, grow and thrive at the pulse of the ever–evolving mobile applications field."
The INI practicum team presented its findings to Cheetah Mobile in December. The team concluded that native advertising, which aims at making a meaningful relationship between a site and ad material, and was pioneered by Facebook, has better in-stream experience than more traditional ad formats. The approach requires significant effort for developers, but the team said the future of the mobile ad market was moving in that direction.
Working on cutting-edge technology and sophisticated algorithms alongside an industry leader was an incredible capstone experience for the INI practicum team.
"I believe CMU and INI helped me develop the necessary skills to succeed. I've had the opportunity to work with like-minded people and companies, and learn from them," Ramkrishnan said. "From here, I can continue on this path and do something really amazing on my own."
The practicum ended in December, but CMU's partnership with Cheetah Mobile has continued.
CMU Distinguished Service Professor Stuart Evans participated on a panel at Cheetah Mobile's Connect 2016 conference on Jan. 14, at which Al Gore, former U.S. Vice President and 2008 CMU keynote commencement speaker, spoke. Cheetah Mobile also sponsored a Carnegie Mellon alumni event in San Francisco marking the Chinese New Year.
In addition to these networking and conference opportunities, plans are underway for Cheetah Mobile to teach a mobile advertising mini-course at CMU-SV.
"I feel partnering with Carnegie Mellon and INI is a very meaningful step for Cheetah Mobile," Wu said. "It's also a very meaningful way of giving back for me, as I really hope to lead Cheetah Mobile in pulling together all the resources that can contribute to the best knowledge for fellow students."
Watch the Cheetah Mobile video "Research Innovative: Mobile Ad Techniques with Cheetah Mobile" featuring INI students: